Patsy Weldon
SEÁN O'CASEY'S The Plough and the Stars opened at the Abbey Theatre Dublin; there was a failed assassination attempt on Al Capone; a new political party Fianna Fáil was formed, and launched by leading republicans including Éamon de Valera and Seán Lemass; Harry Houdini died and Patsy Weldon was born.
The year was 1926 and the Syddan stalwart celebrated his 90th birthday with family and friends in style during the summer with a big bash in Dooley's of Edmondstown. Among those in attendance to wish him well was former Meath legend Graham Geraghty.
A regular at football matches down the decades Patsy has witnessed the high and lows of the Royal County as well as his beloved Syddan. Even to this day the clubs' most ardent supporter hardly ever misses a game, not even a challenge match in Ludlow Park.
Pasty was born on June 30th, and went to school in Newtown at the age of six and stayed there until he was 14.
He started playing football as a juvenile with Syddan and was a member of the team that won the championship in in 1939. The captain of that side was Eamon Meegan who along with Patsy, and the likes of George Clare, Phil O'Brien and Jimmy Gammons went go on to taste glory at senior level during a golden spell in the clubs history.
On leaving school Patsy went to work on a farm with Mrs O'Reilly in Johnsfort, before going to Meades of Footstown in 1944.
He remained there until 1947 and then went to work in McDonnell's of Manistown, had another spell back in Footstown and then went to Patsy Meade in Rathkenny.
Patsy played junior football for three or four years but never played at minor or under-21 level. He then progress to the senior team and enjoyed tremendous success and was part of senior championship winning teams in 1951, 1952 and 1956. He also won a Feis Cup medal in 1952.
The 1956 victory was particularly sweet as the Keegan Cup returned to the parish for the first and only time.
Patsy had the honour of playing with some of the best footballers in the country at the time, including Bill Halpenny, Paddy Meegan and Mattie Maguire. He also lined out against some of the best, the likes of Paddy O'Brien and Mattie McDonnell.
The style of football played was a far cry from the present day, it was mostly catch and kick and Patsy had the ability to outfield the best of them. According to Patsy there were no problems with being able to field a team in those days as there were few other distractions. However if there was a field of hay down in the parish and the weather was good then players could be in short supply.
A life-long follower of the county team Patsy witnessed Meath first ever senior All-Ireland final appearance when they lost to Kerry in the 1939 final. The then 13-year-old remembers being lifted over the turnstile by his uncle Paddy Doolan. He watched the match sitting on a barrier on Hill 16 which had a sandy surface and no terracing.
He can also recall great day's when the Royals lifted the Sam Maguire Cup, especially 1949, 1954 and 1967. Patsy has attended football matches in every county in Ireland except two – Kilkenny and Clare.
As well as his proud collection of medals won on the field, Patsy also cherishes a Meath junior championship medal which belonged to his father Henry who was a member of the successful Syddan 1927 team.
As 2016 draws to a close everyone in Syddan would like to wish Patsy many more years of health and happiness and maybe he will have some silverware, both a county and club level, to cheer along the way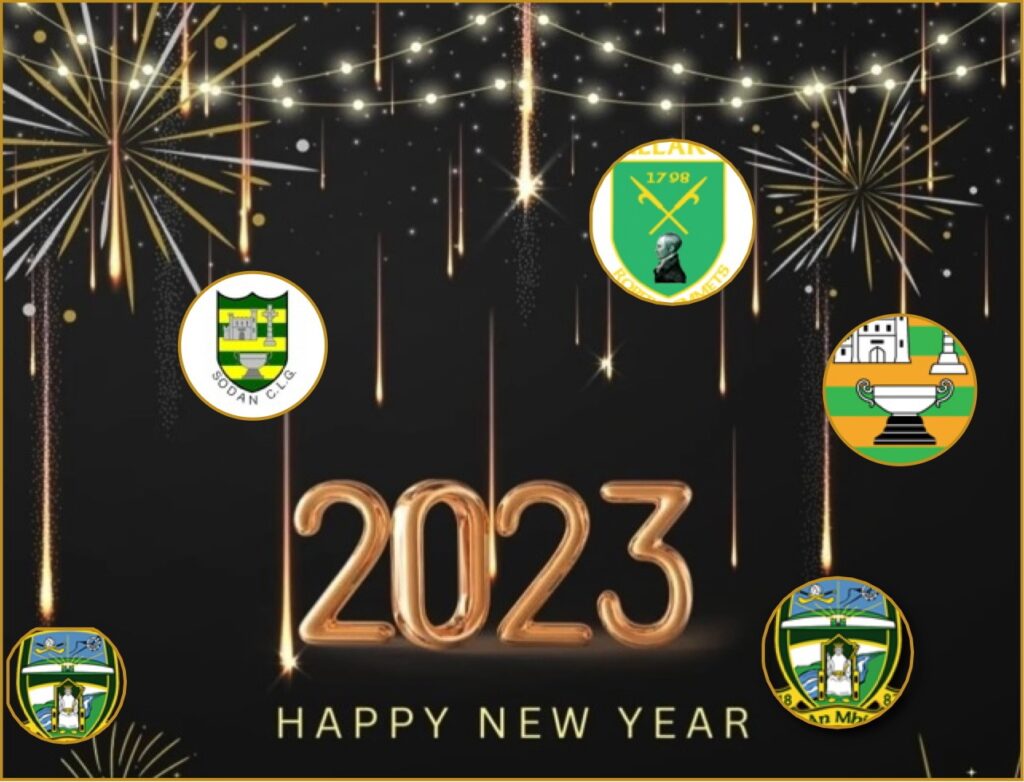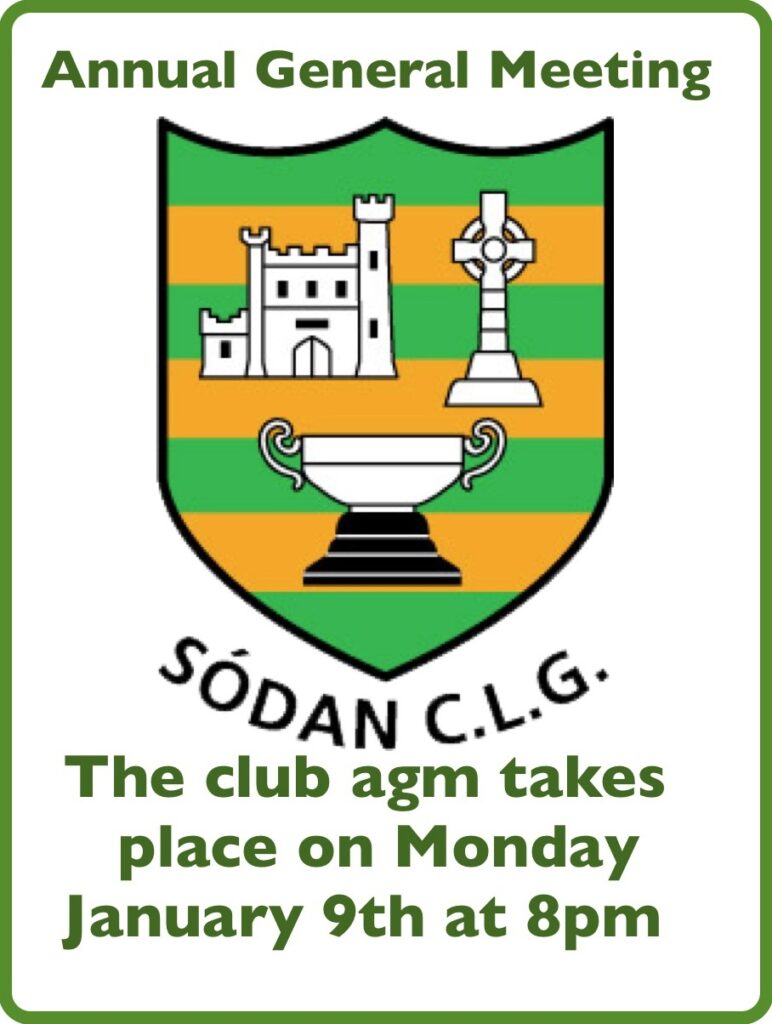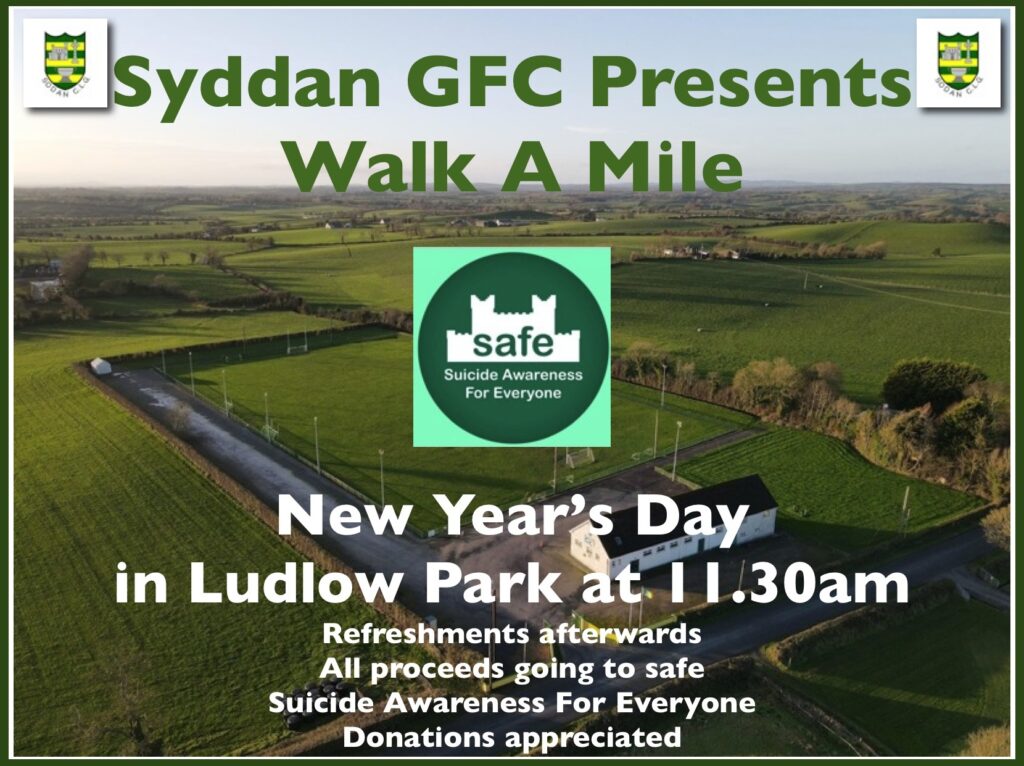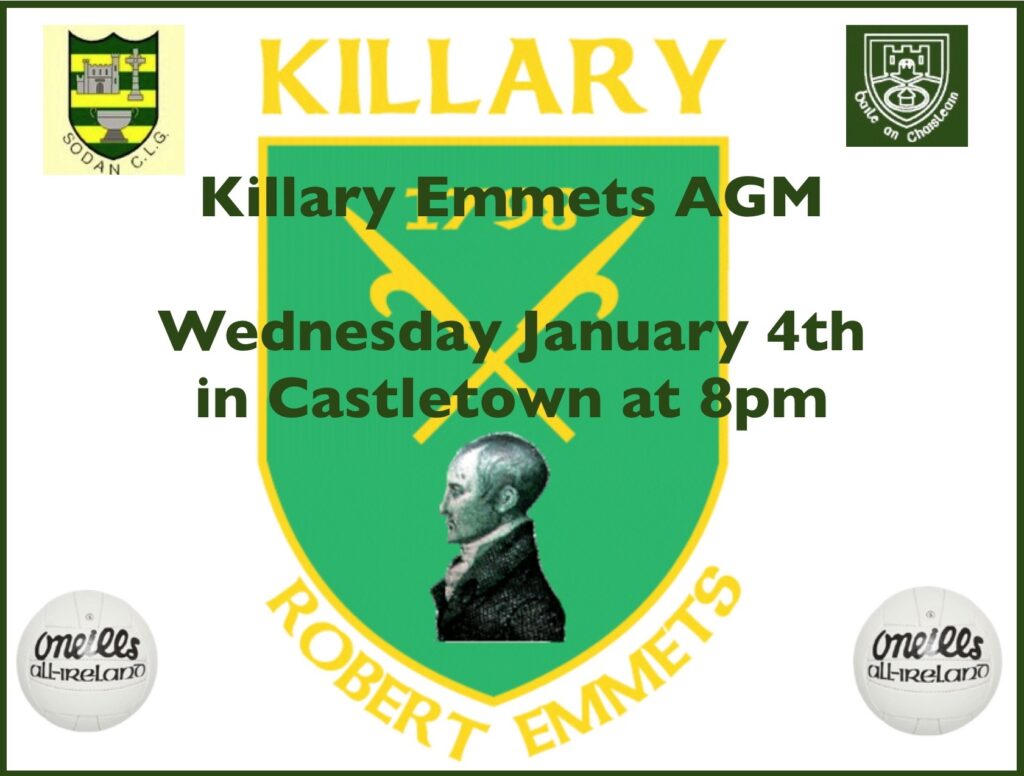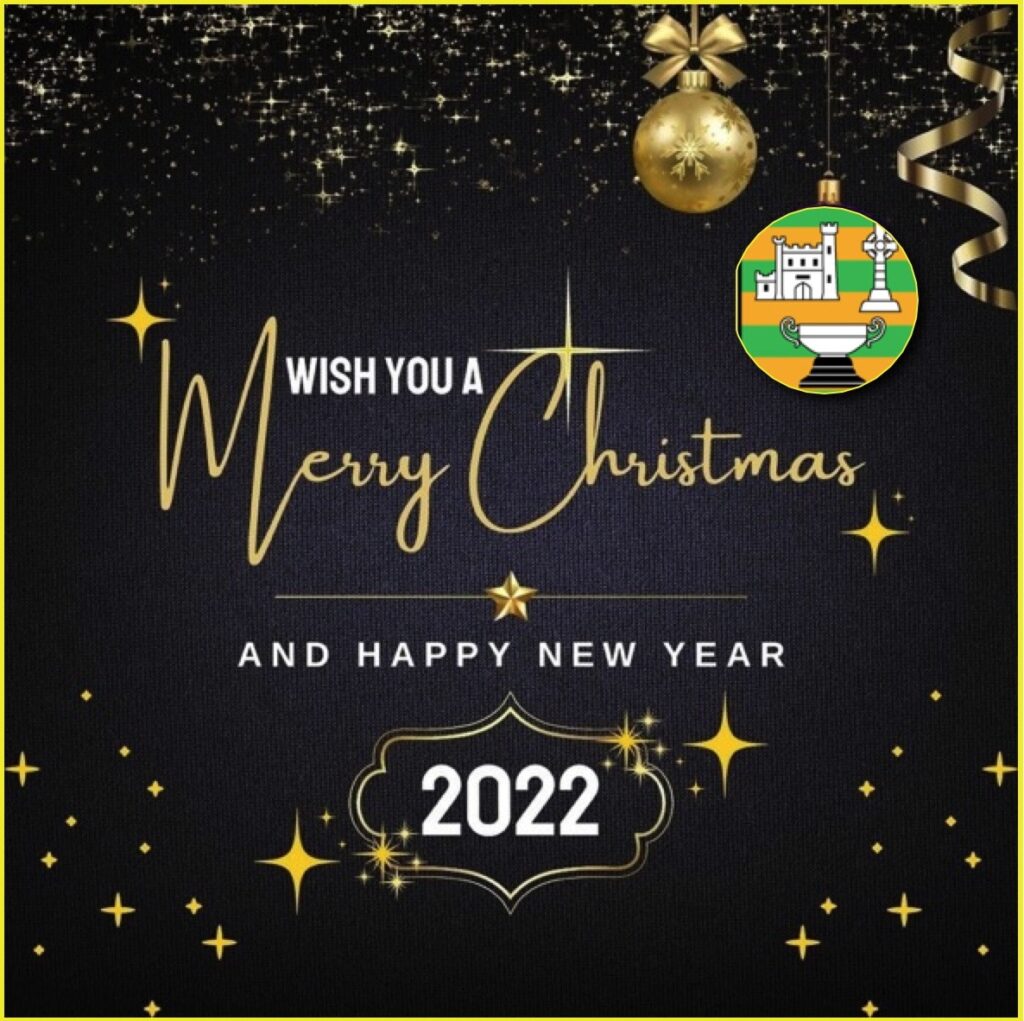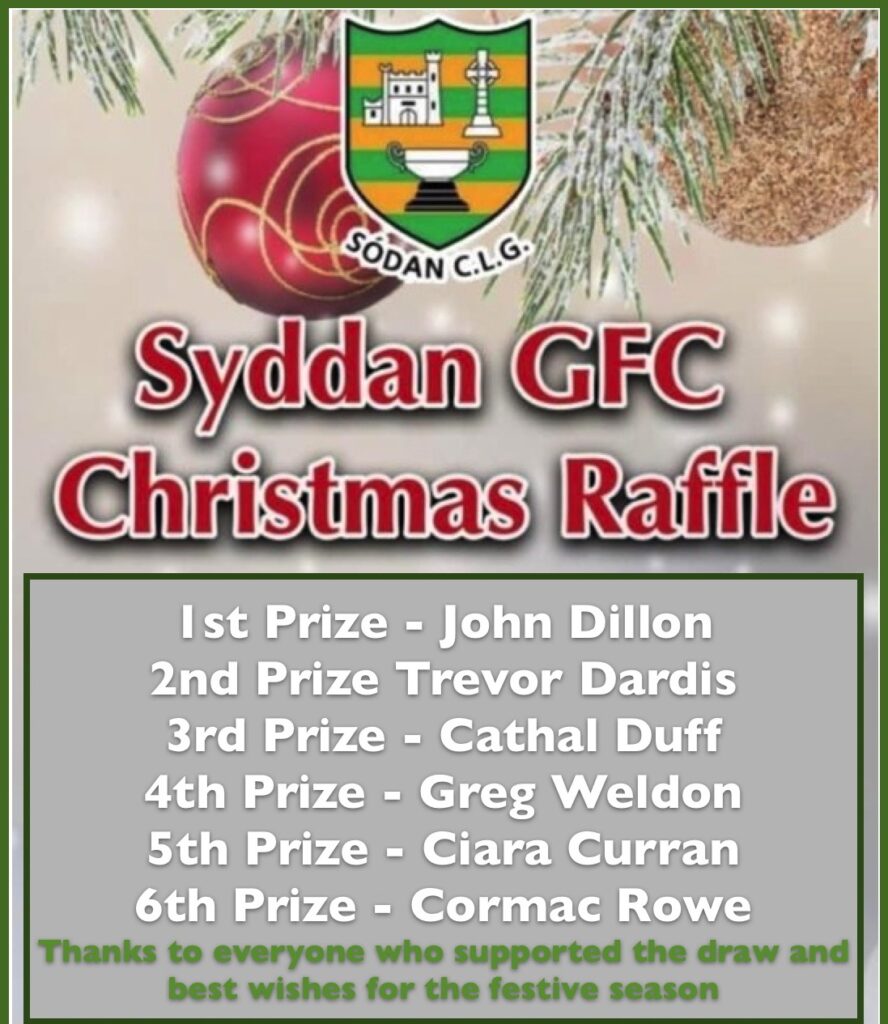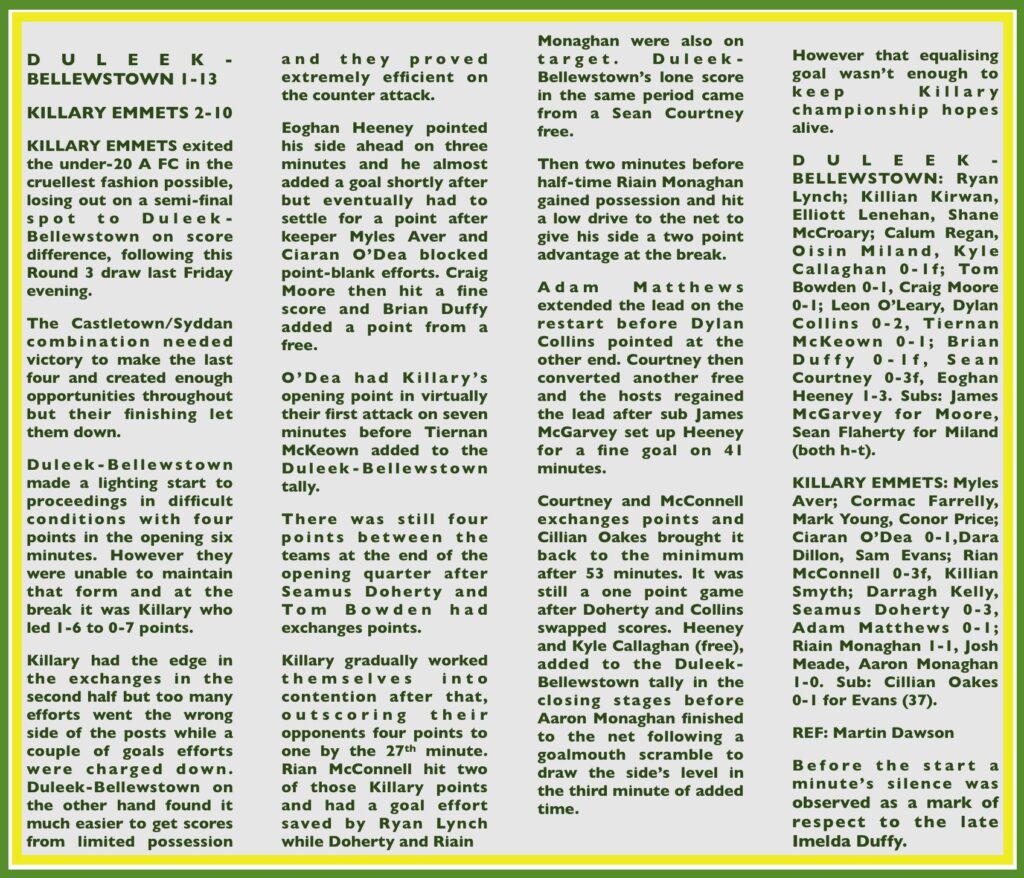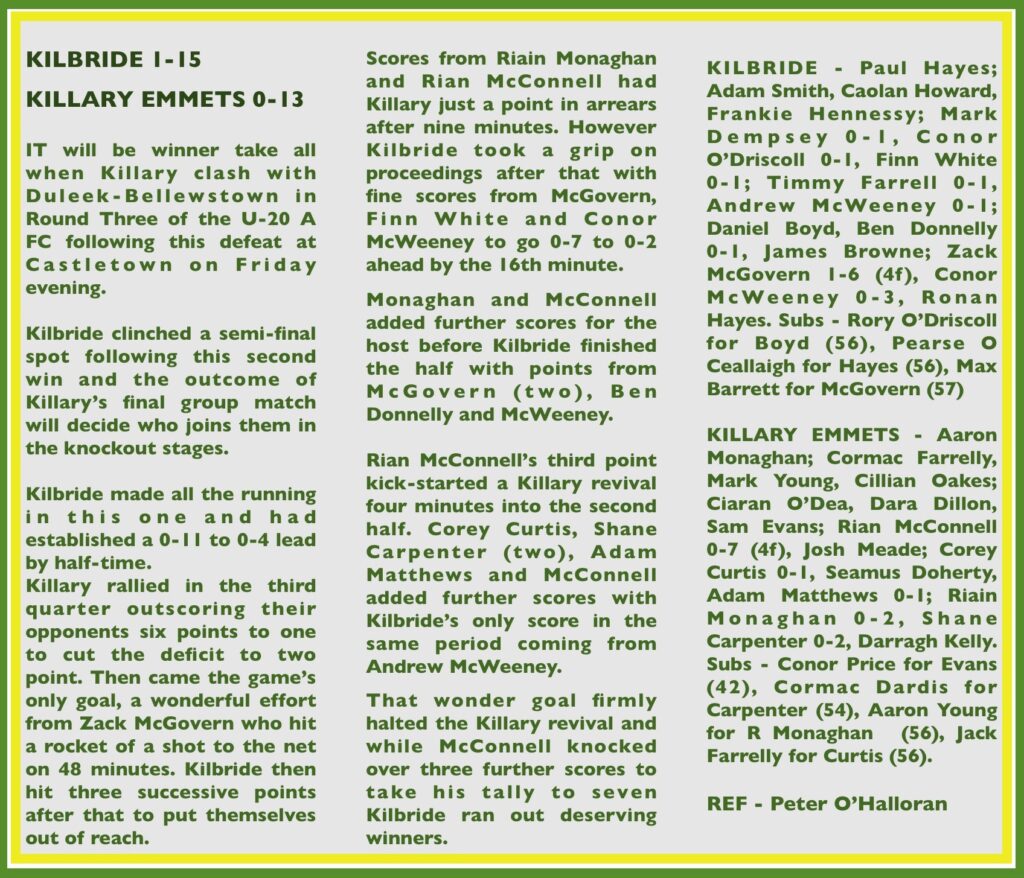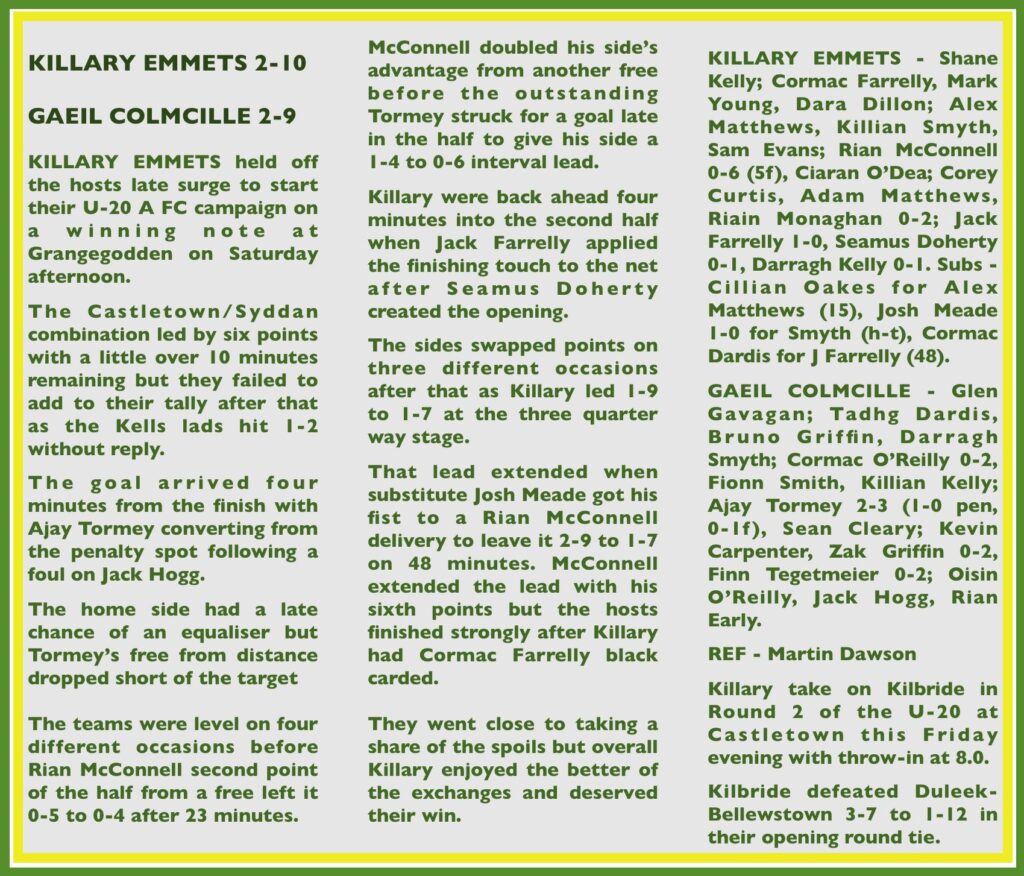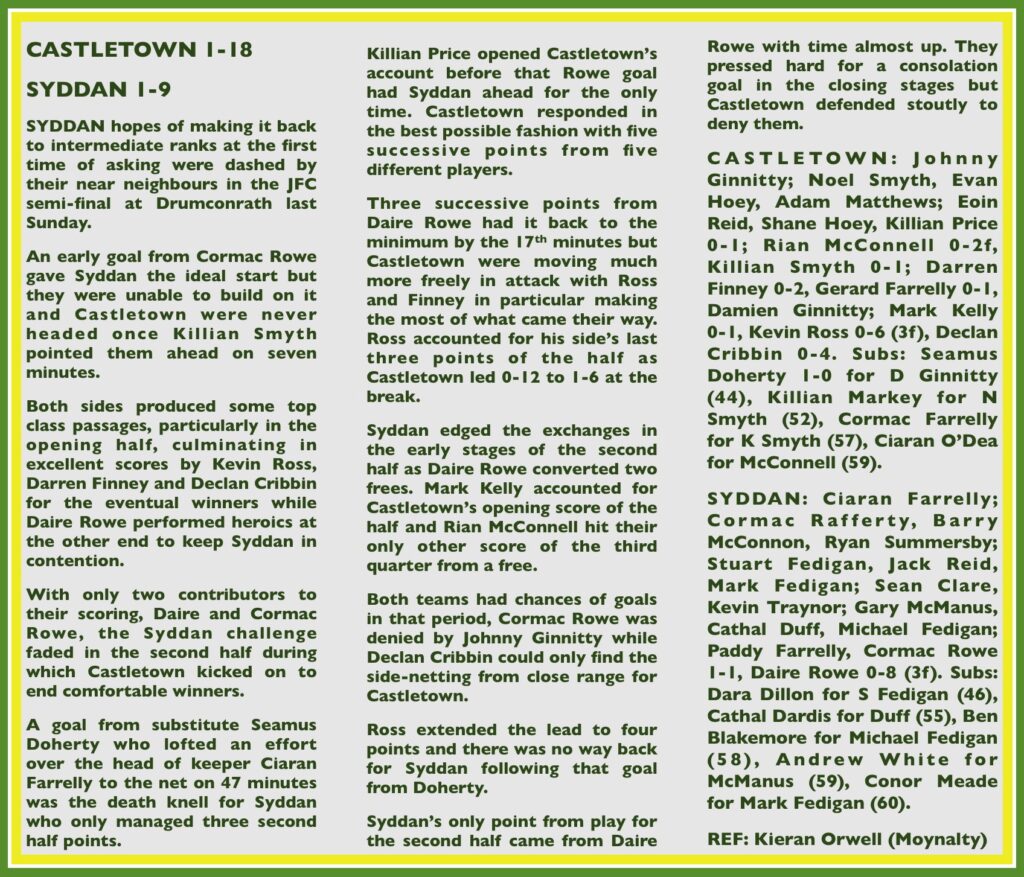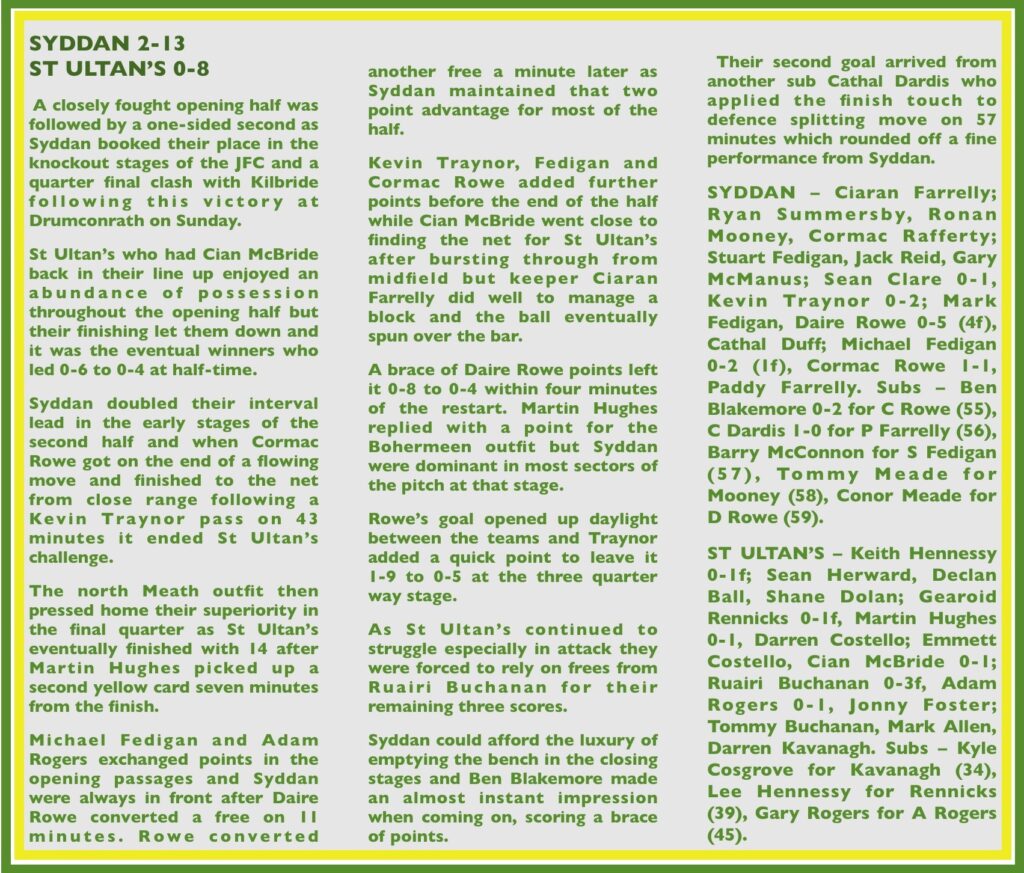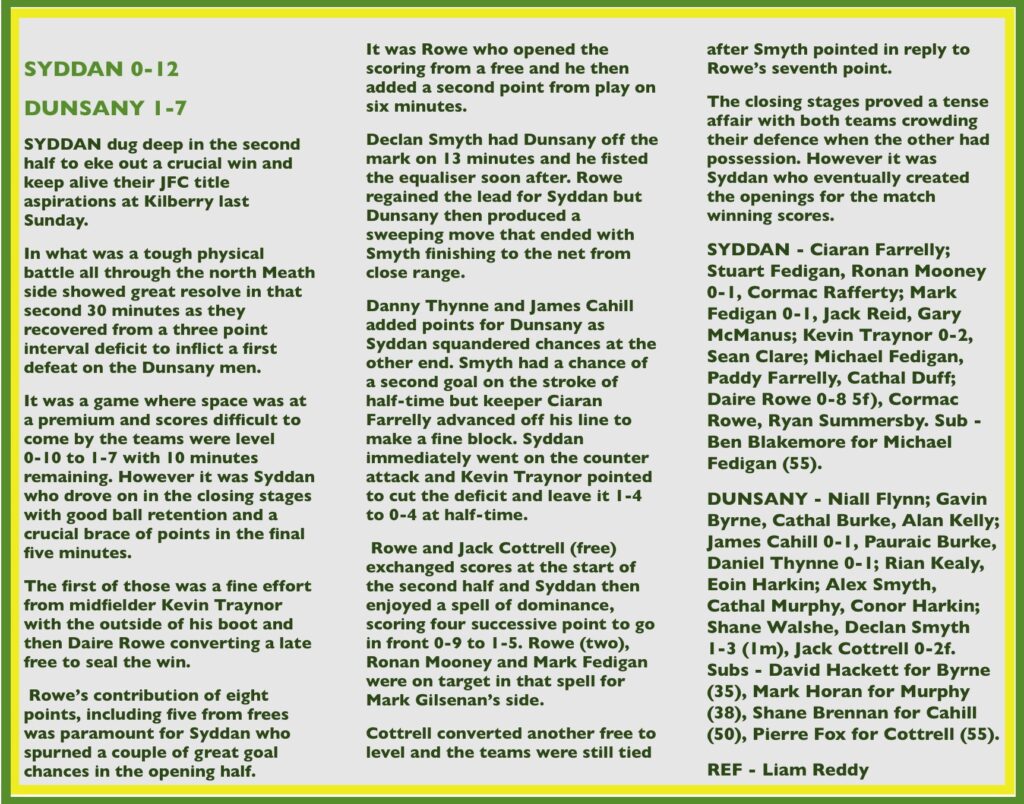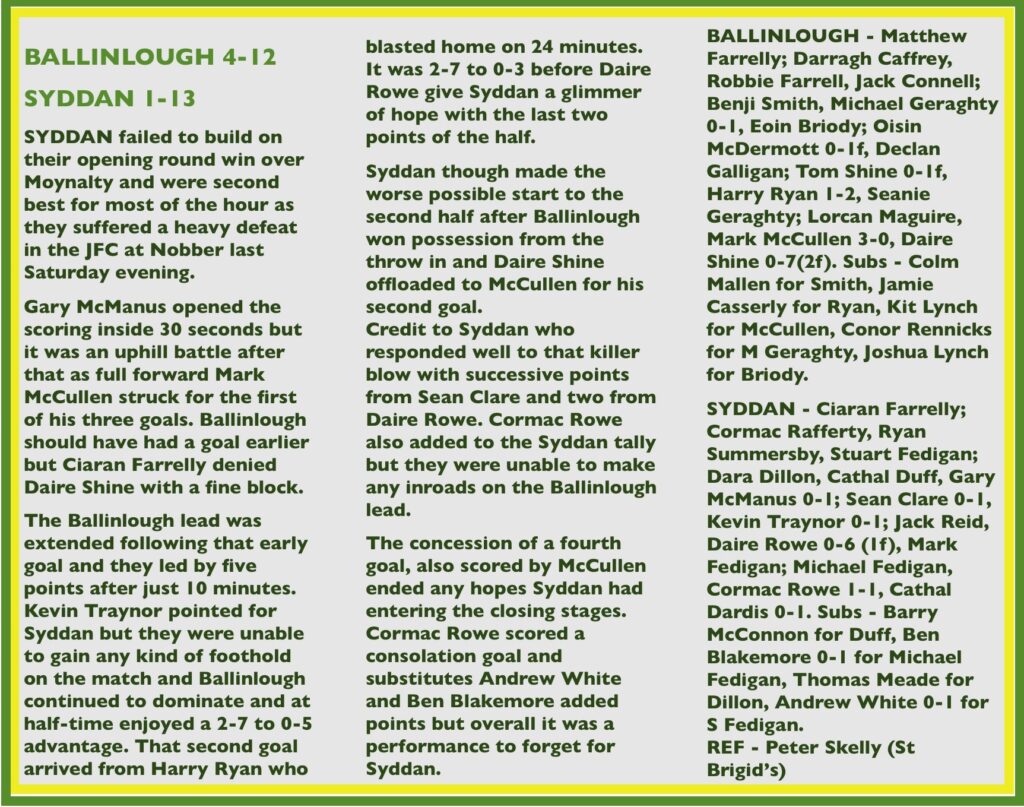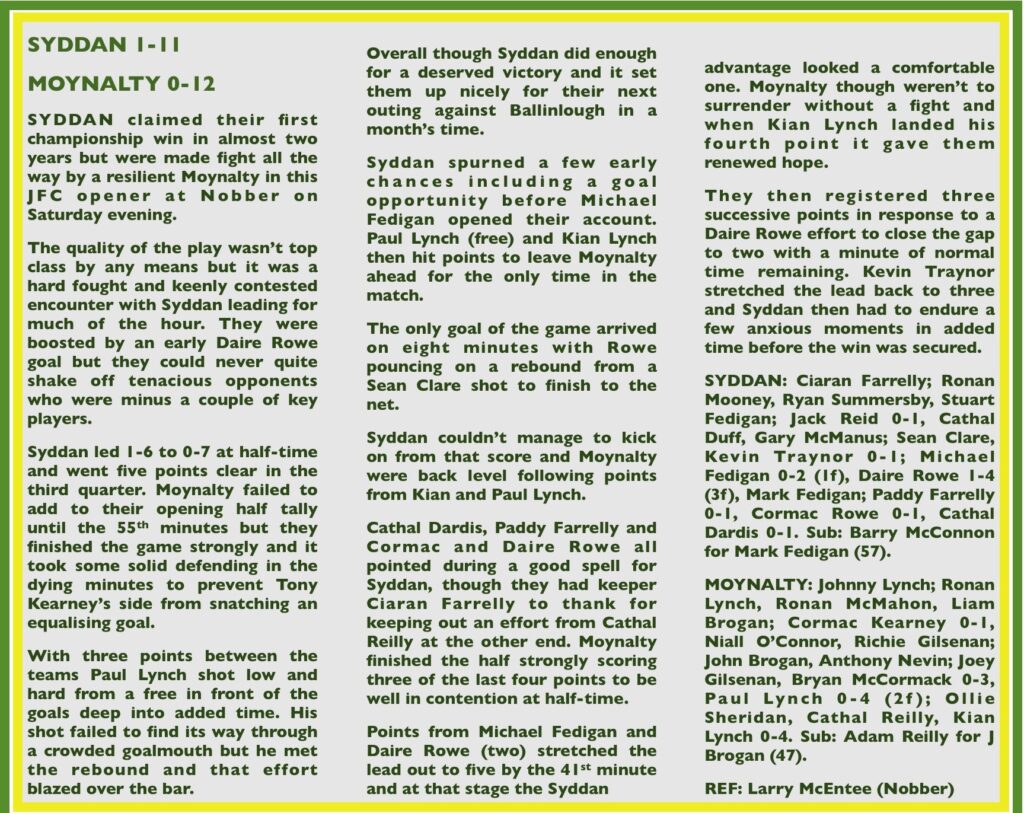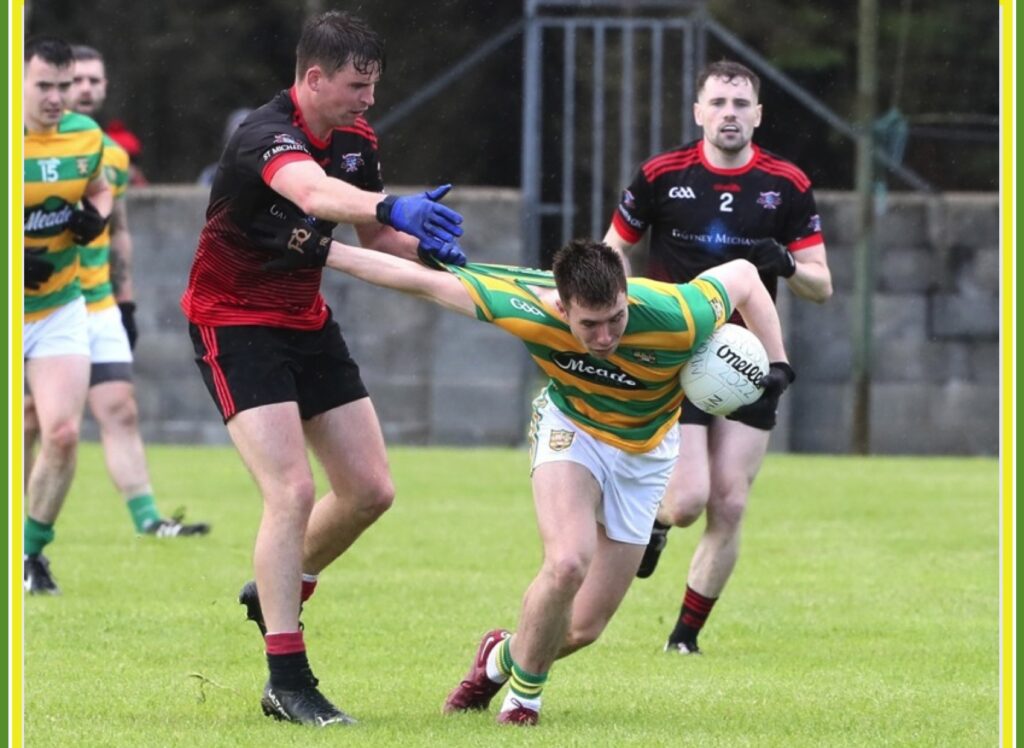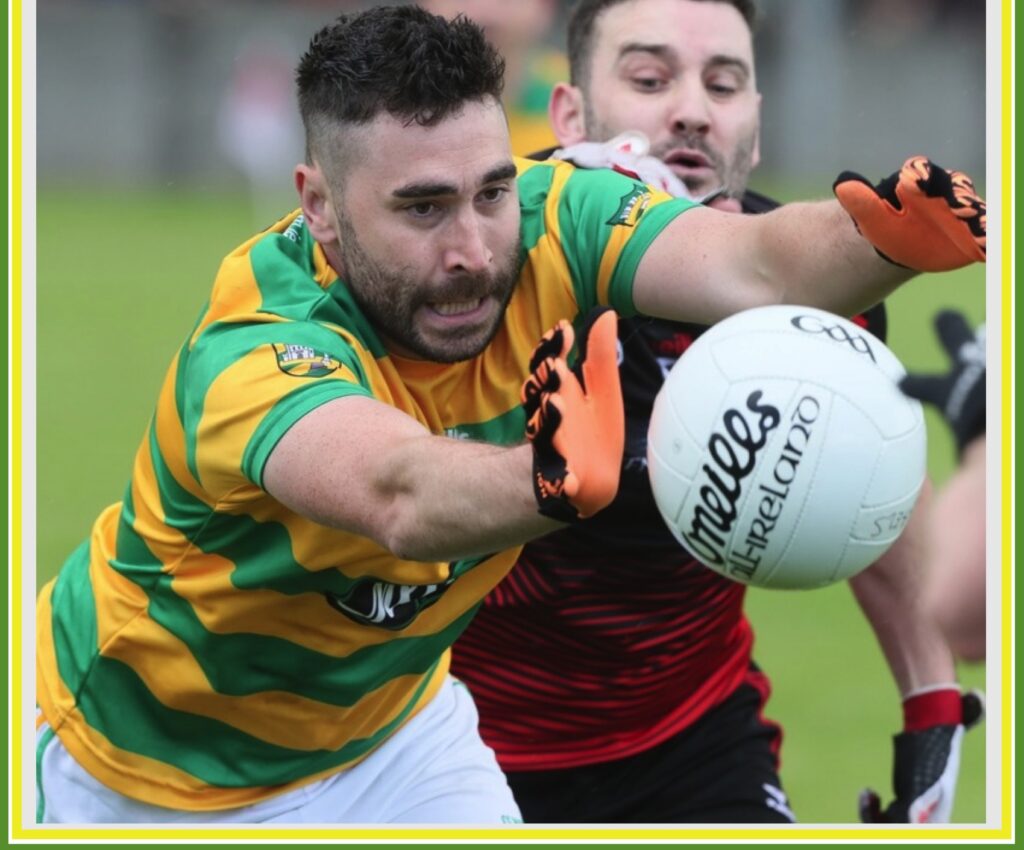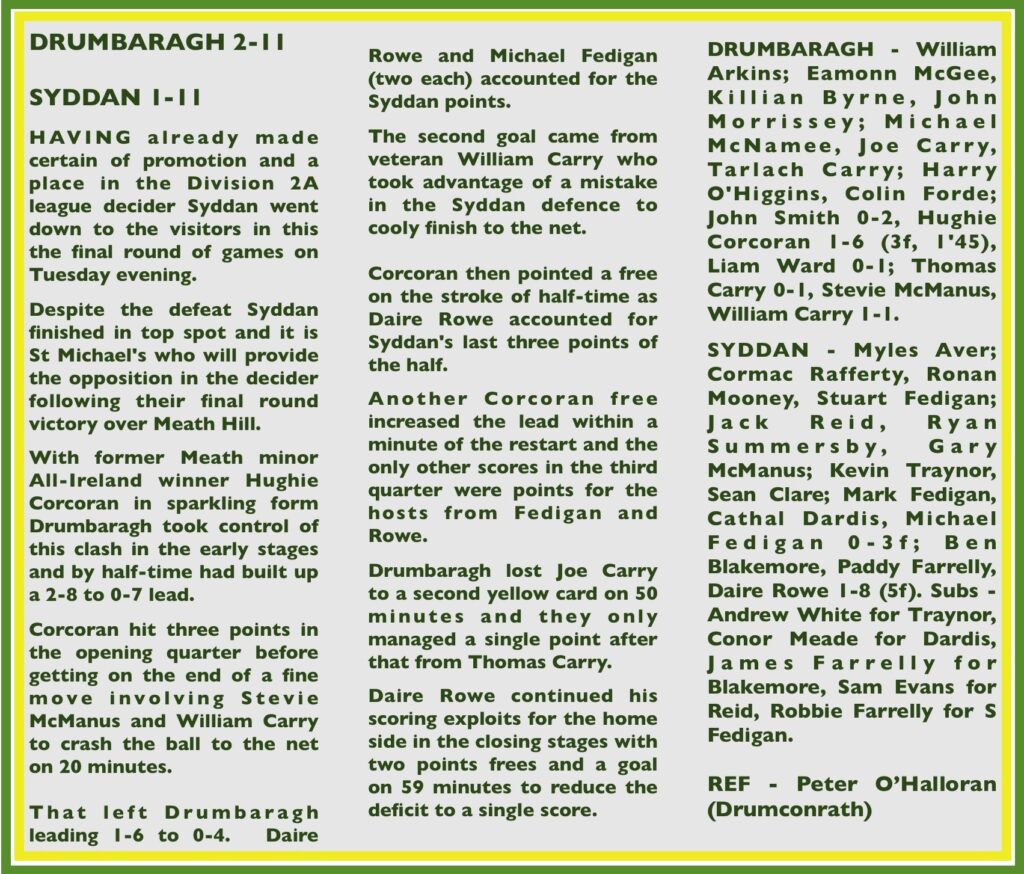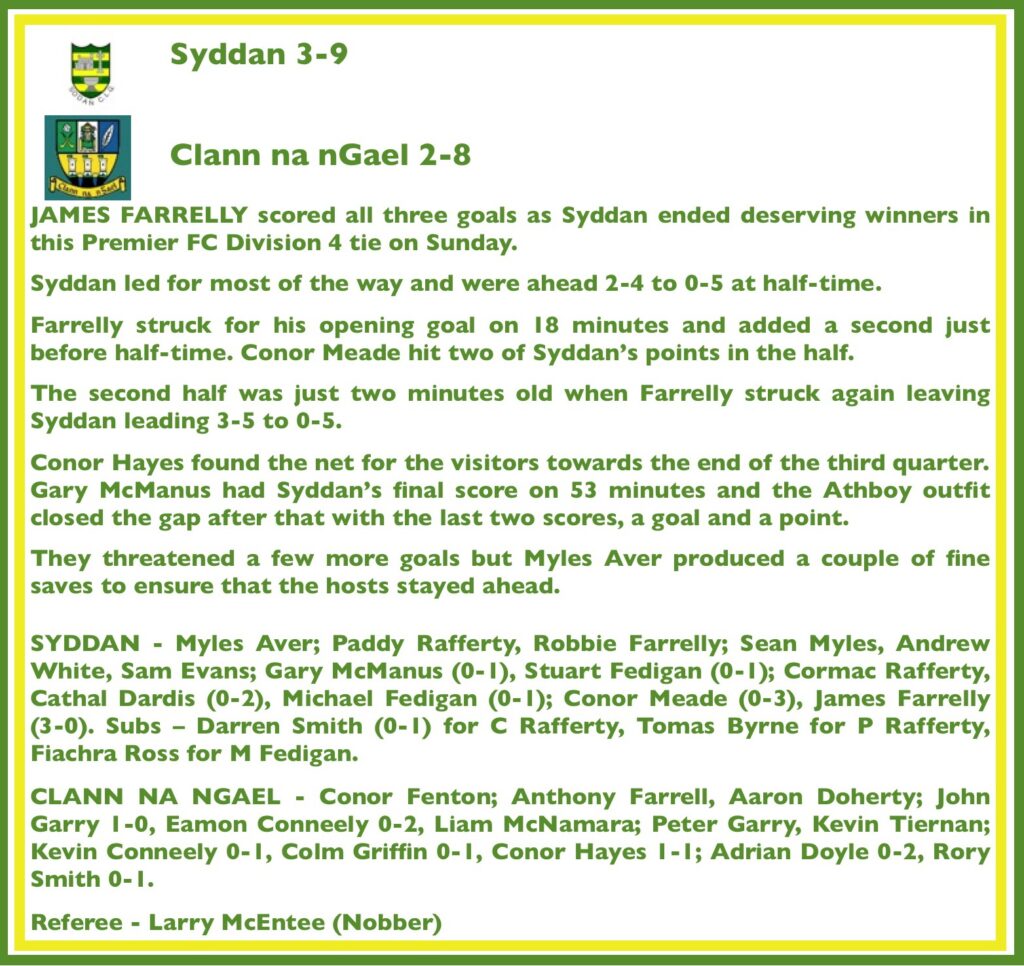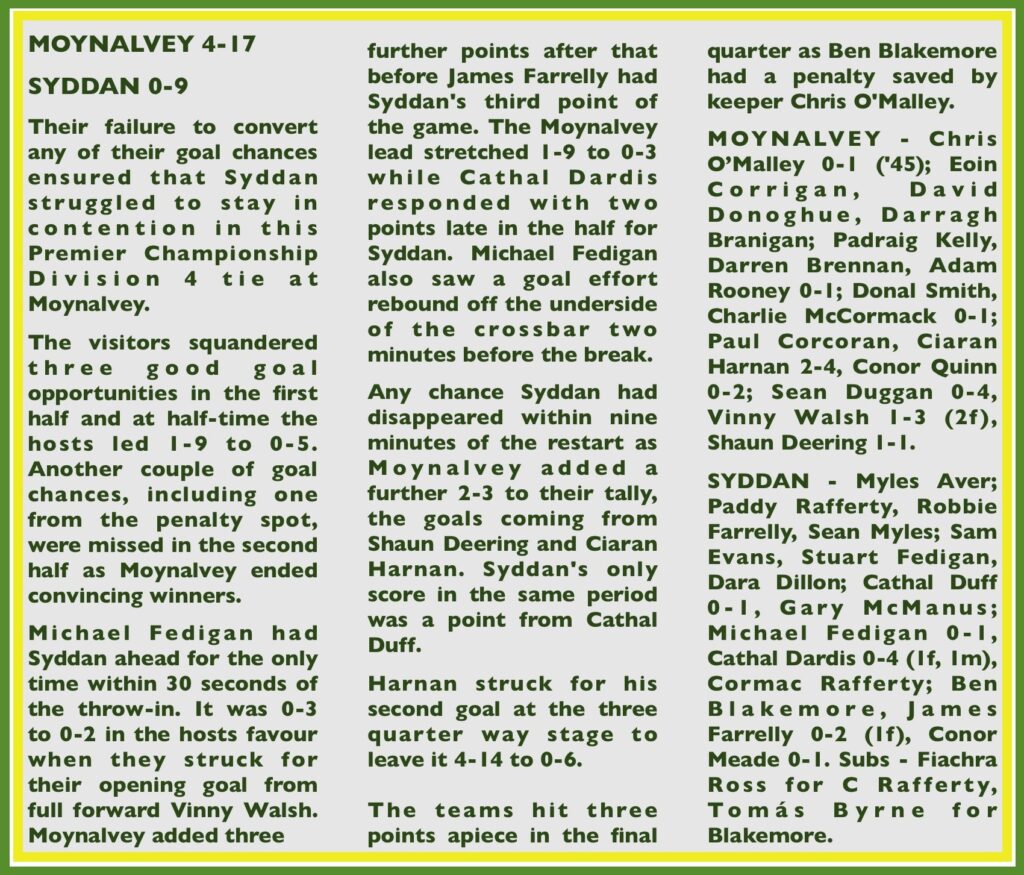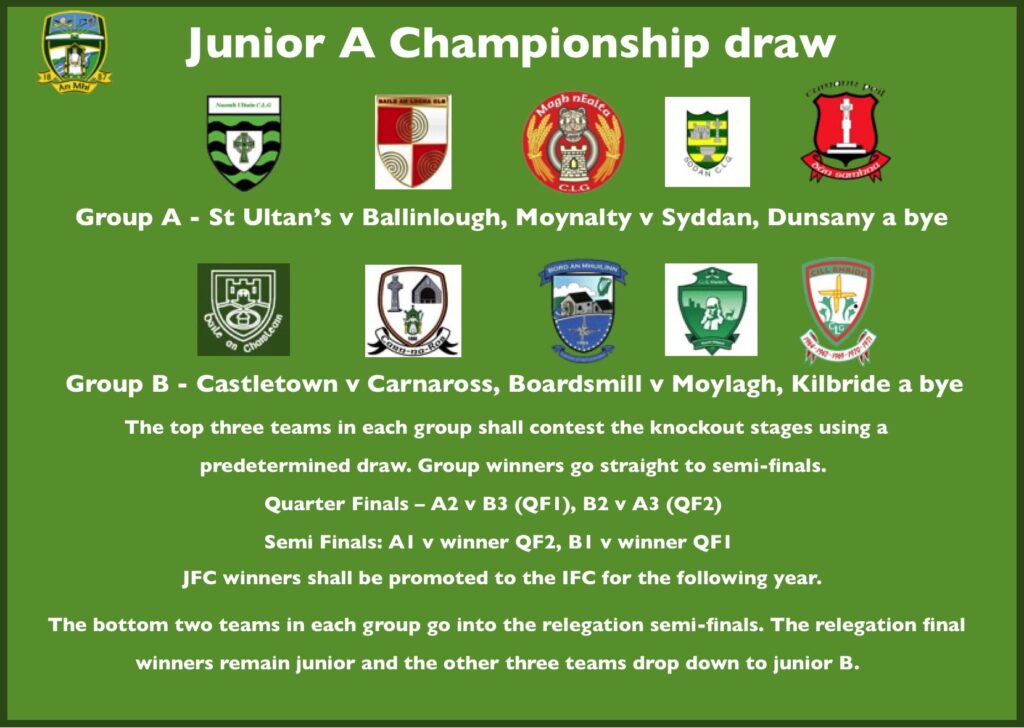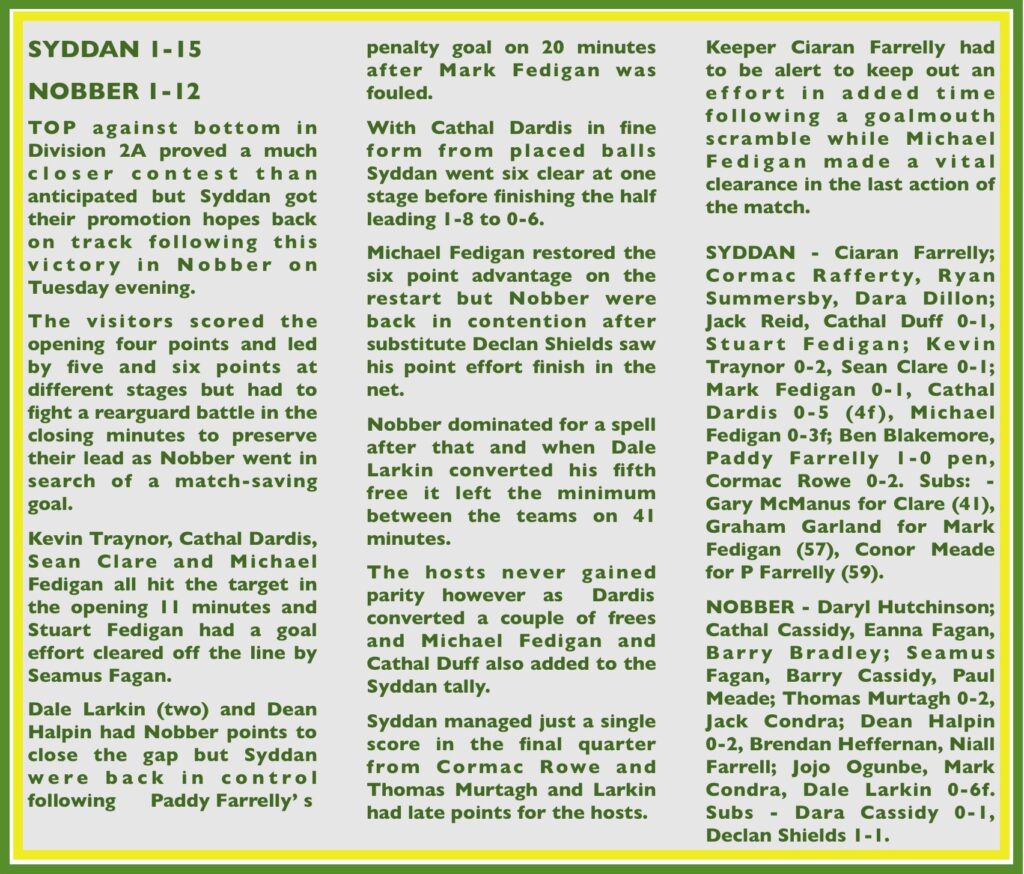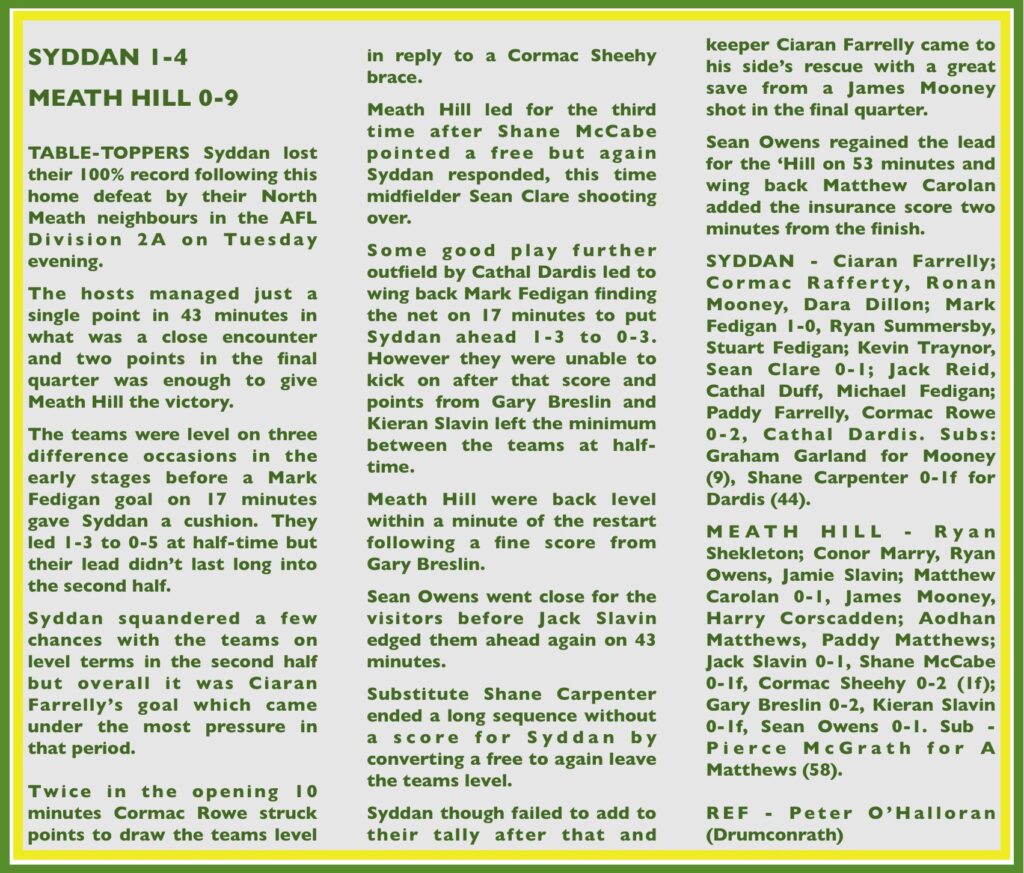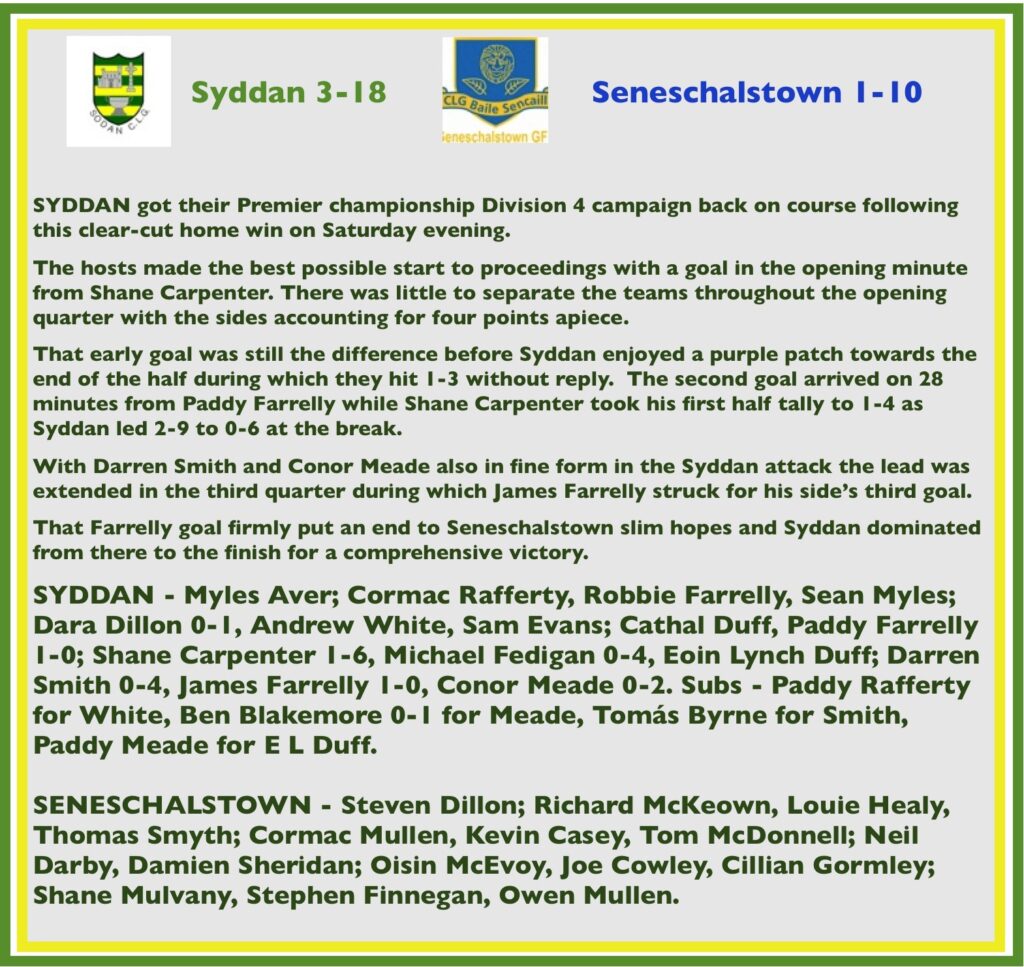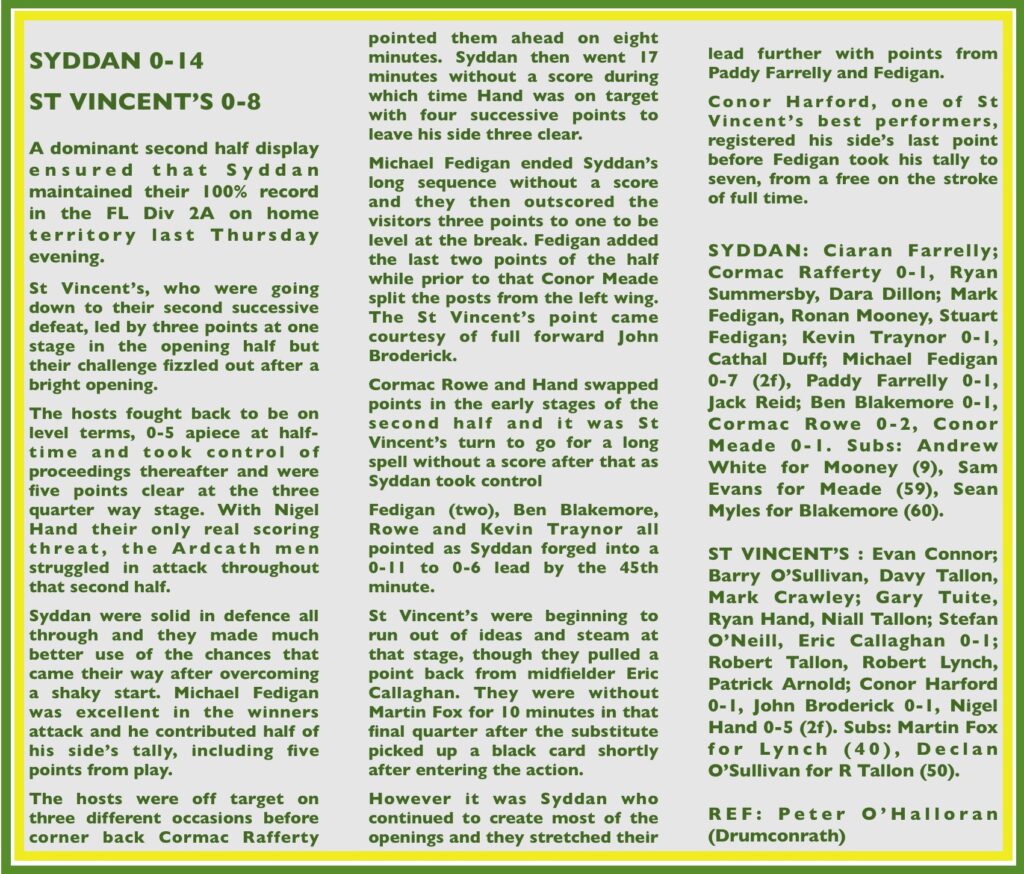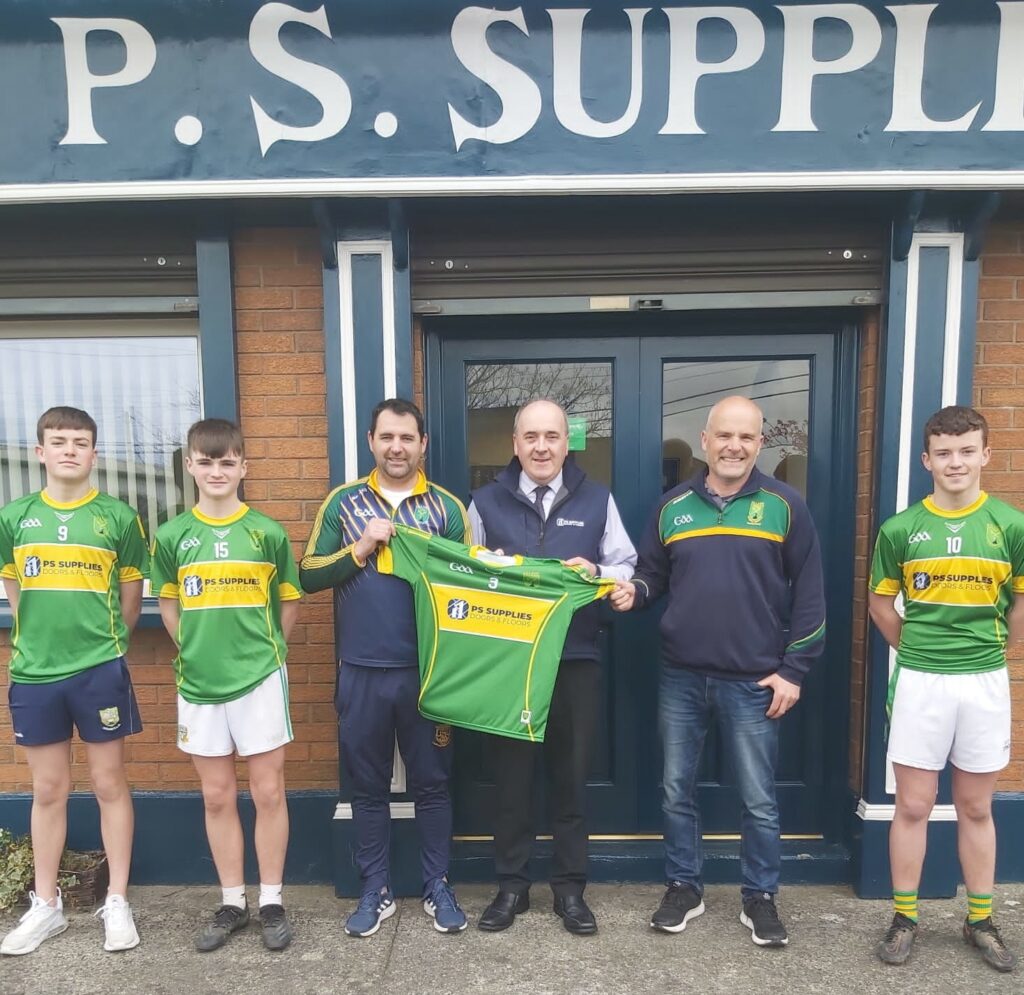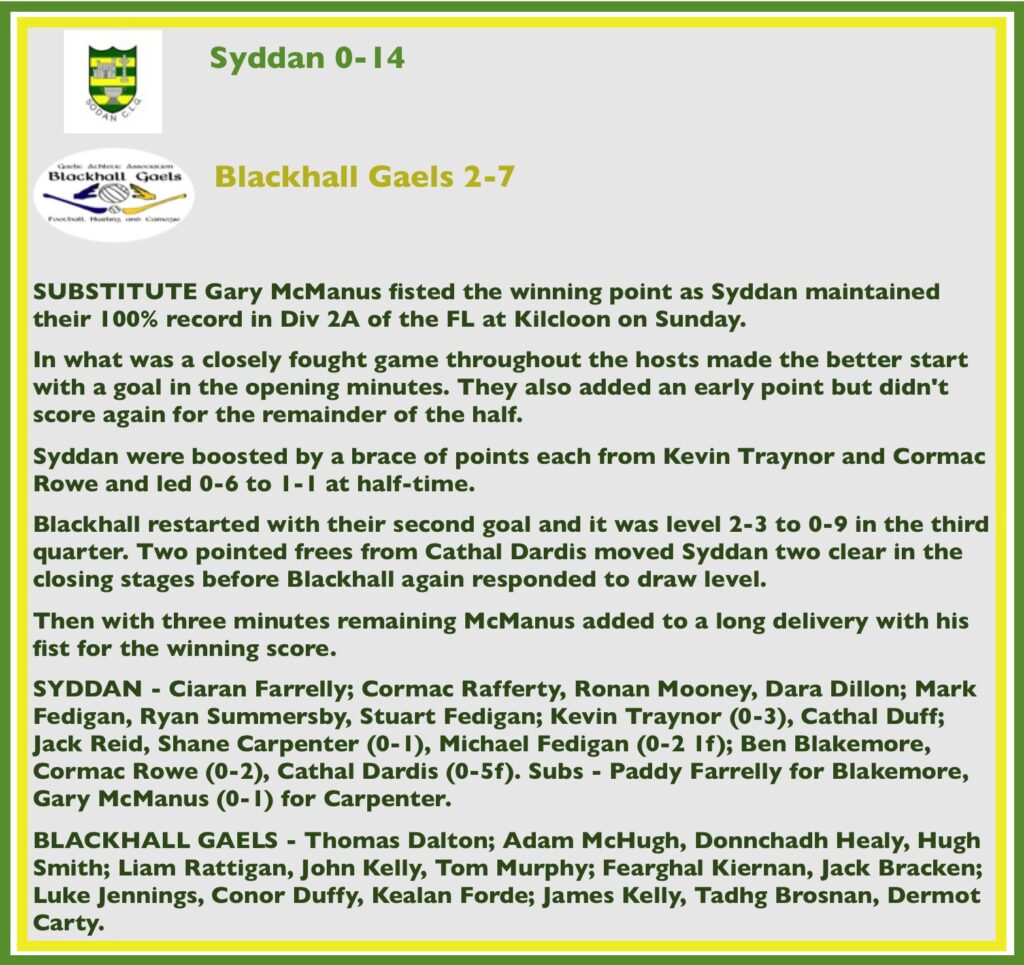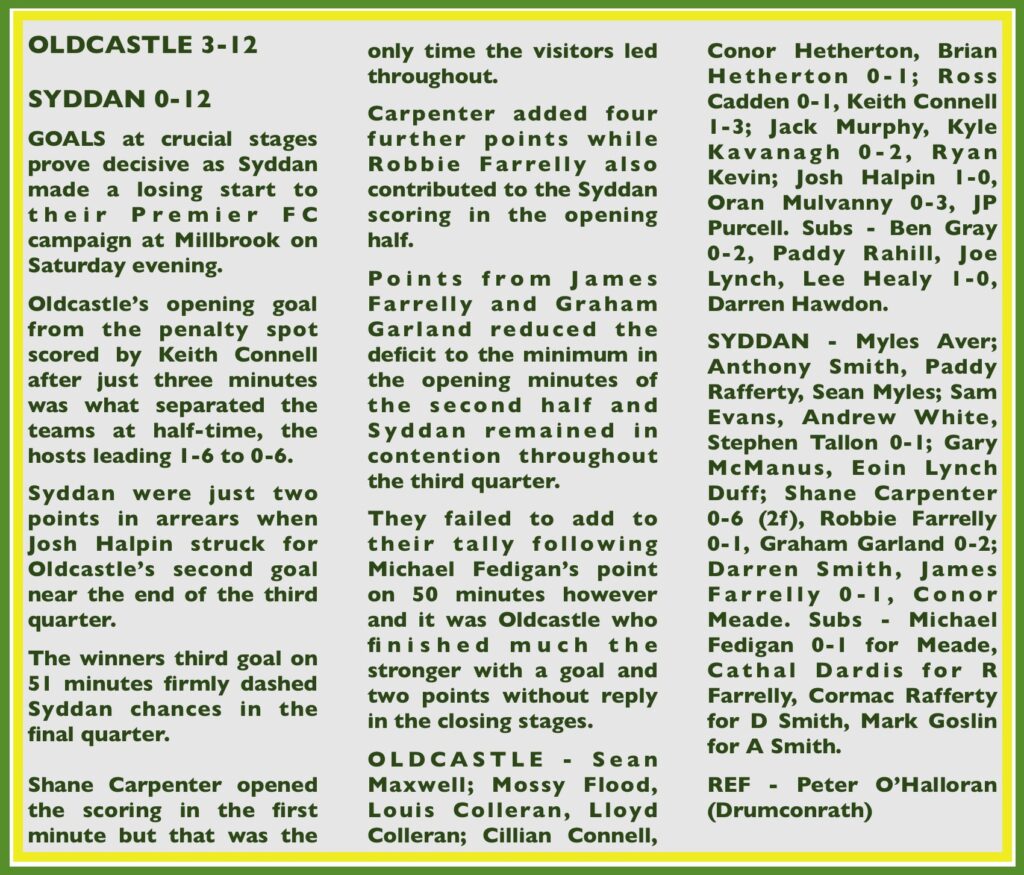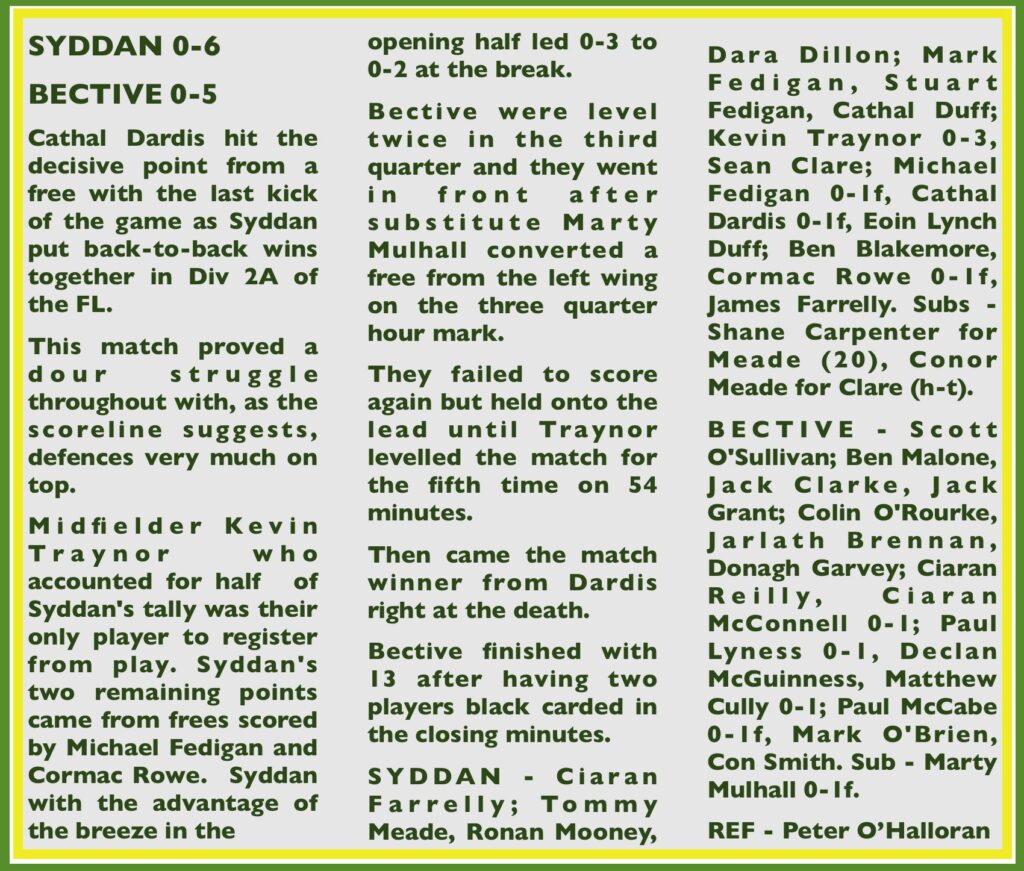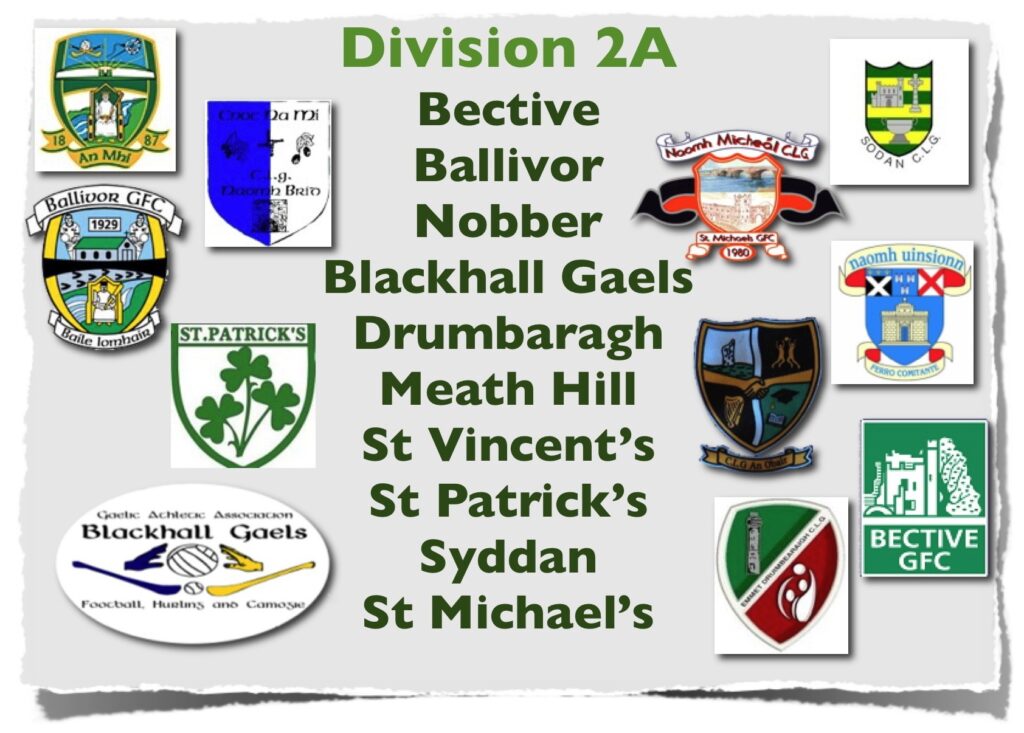 Please note all club games scheduled for this weekend have been postponed due to the ongoing inclement weather. This is to ensure that pitches will be playable ahead of the commencement of the A Leagues.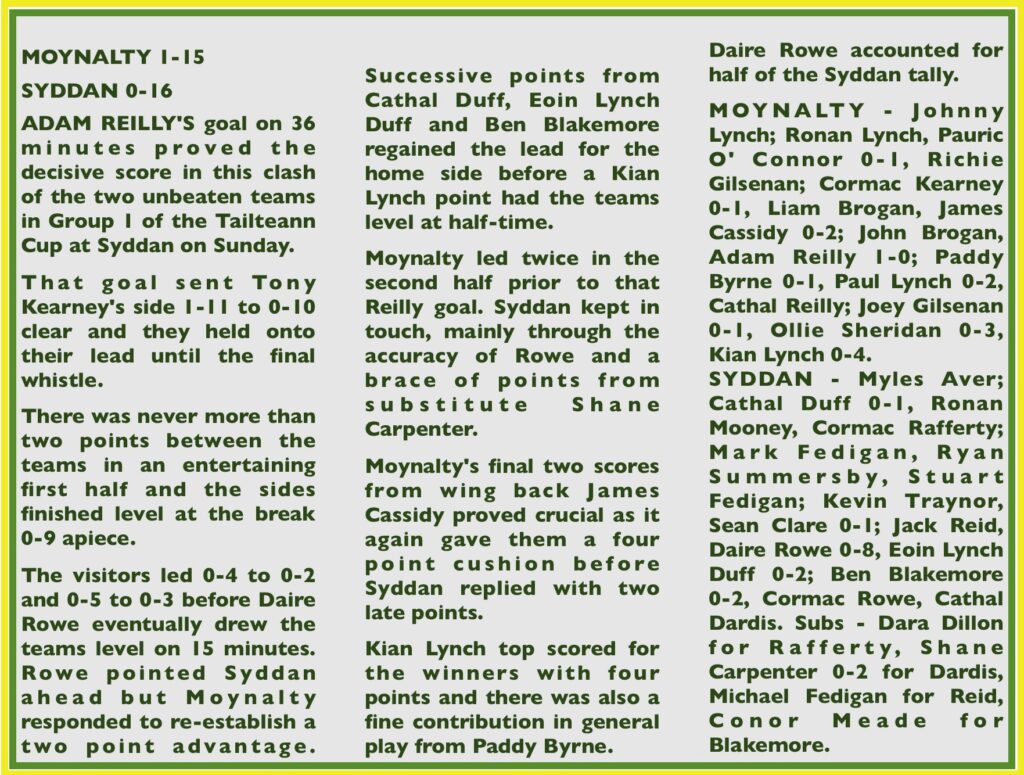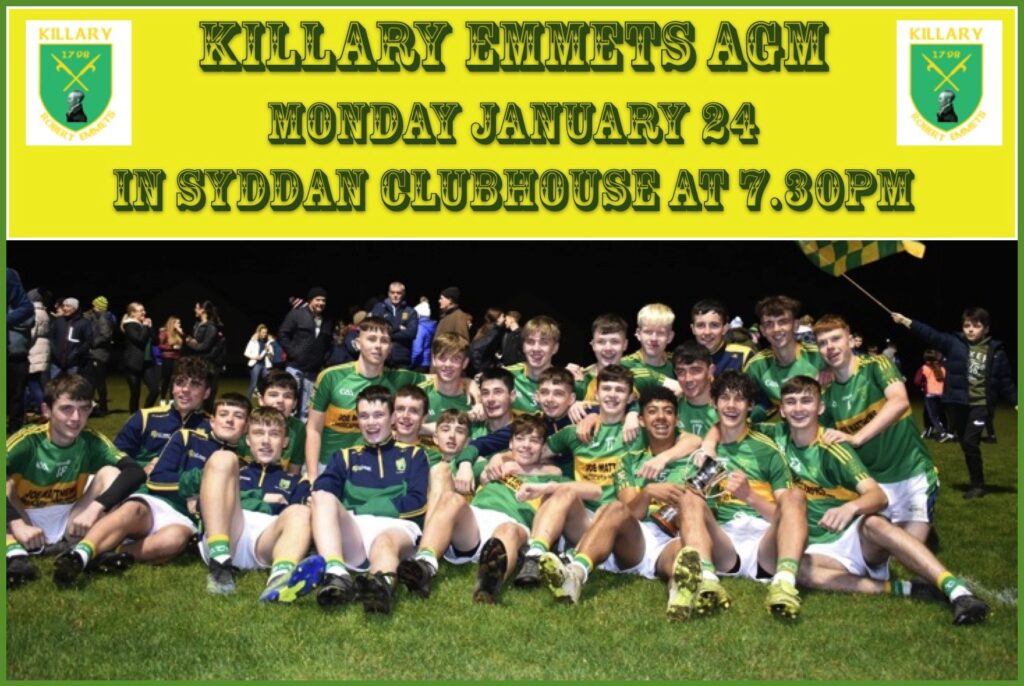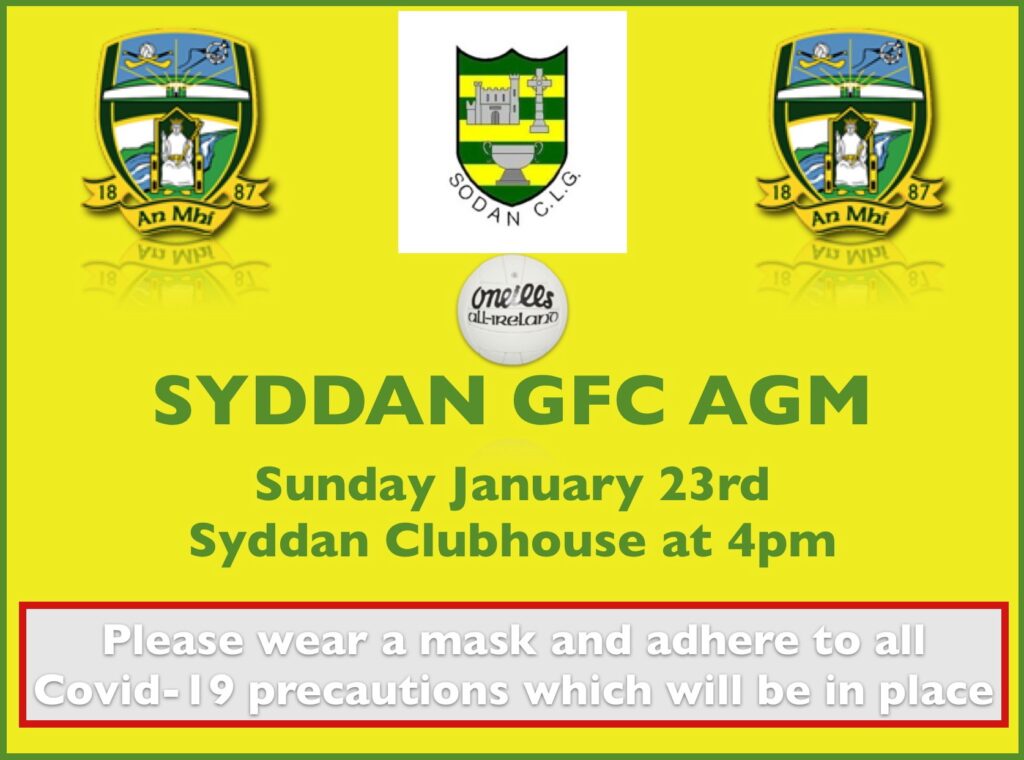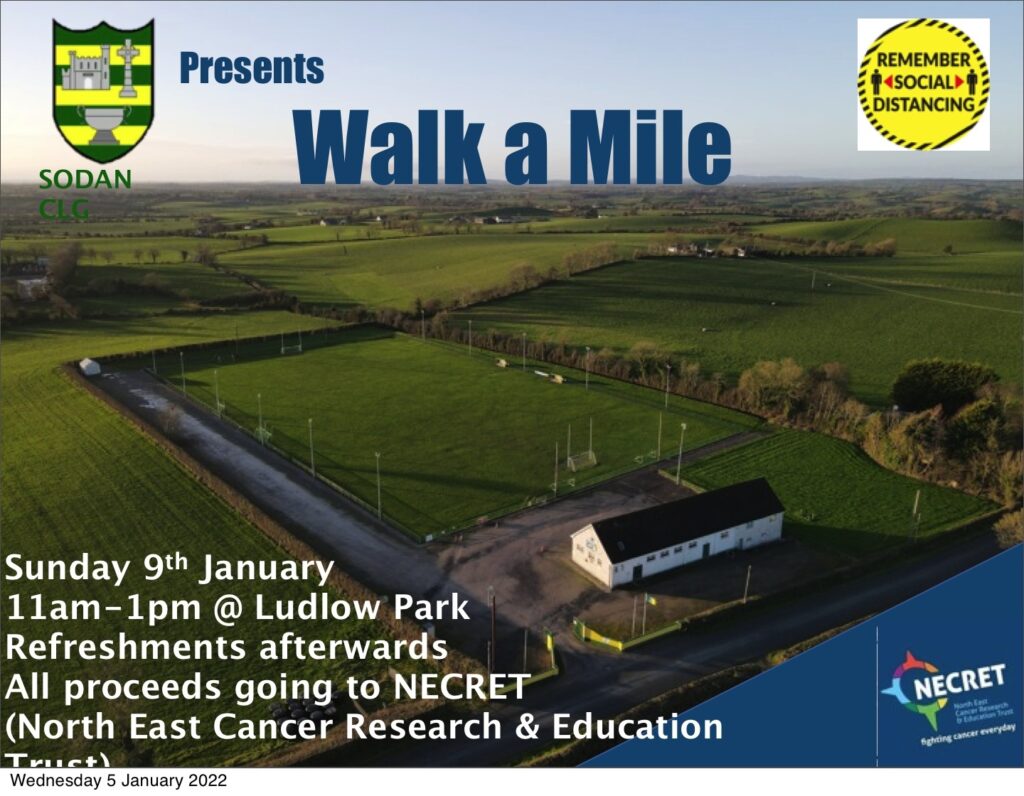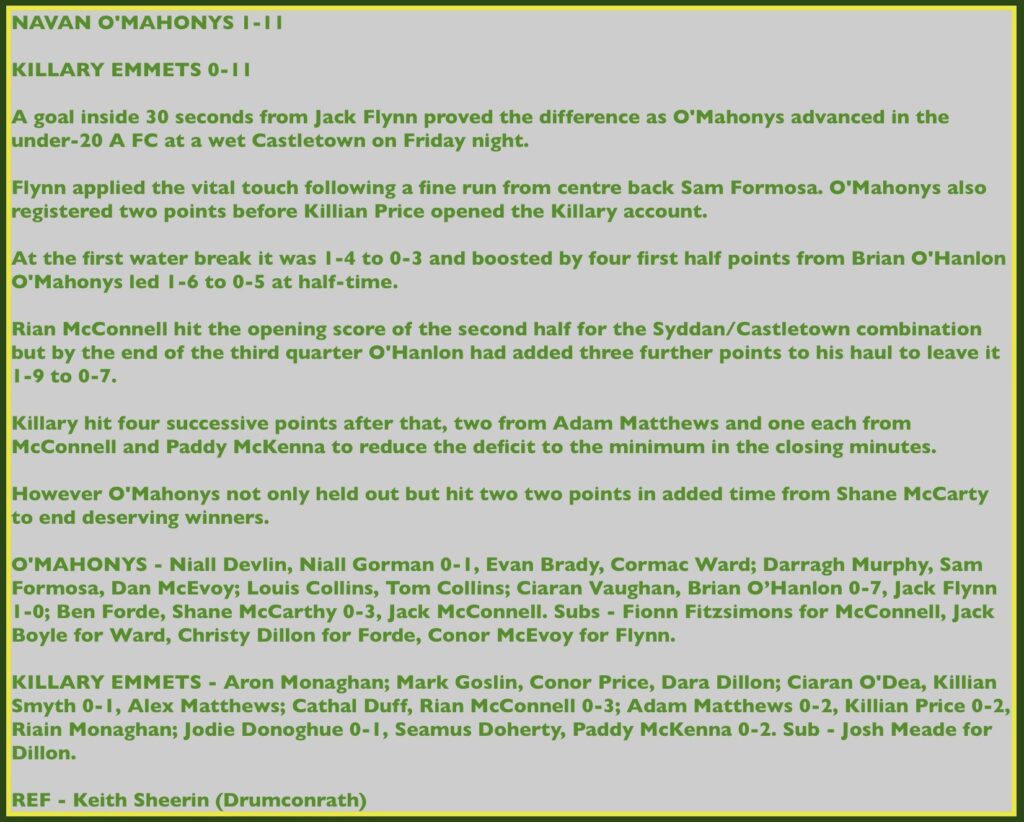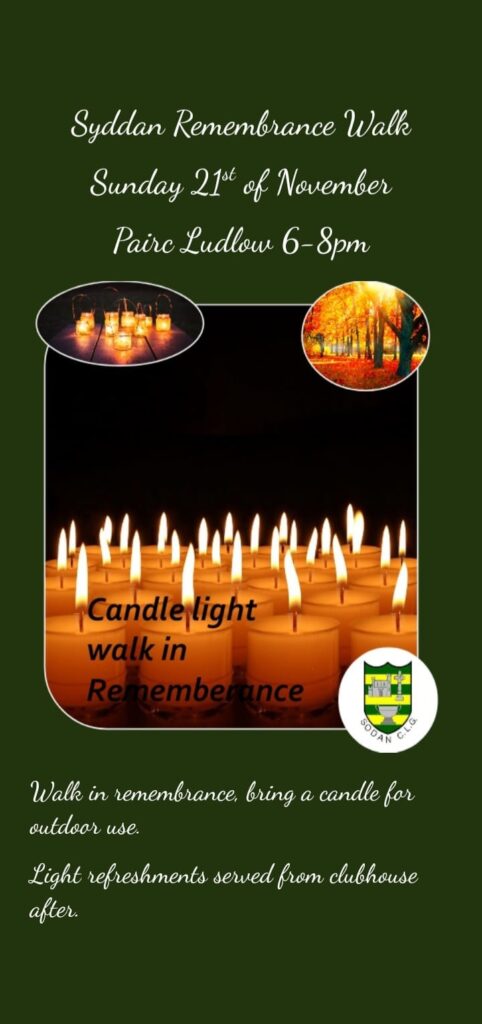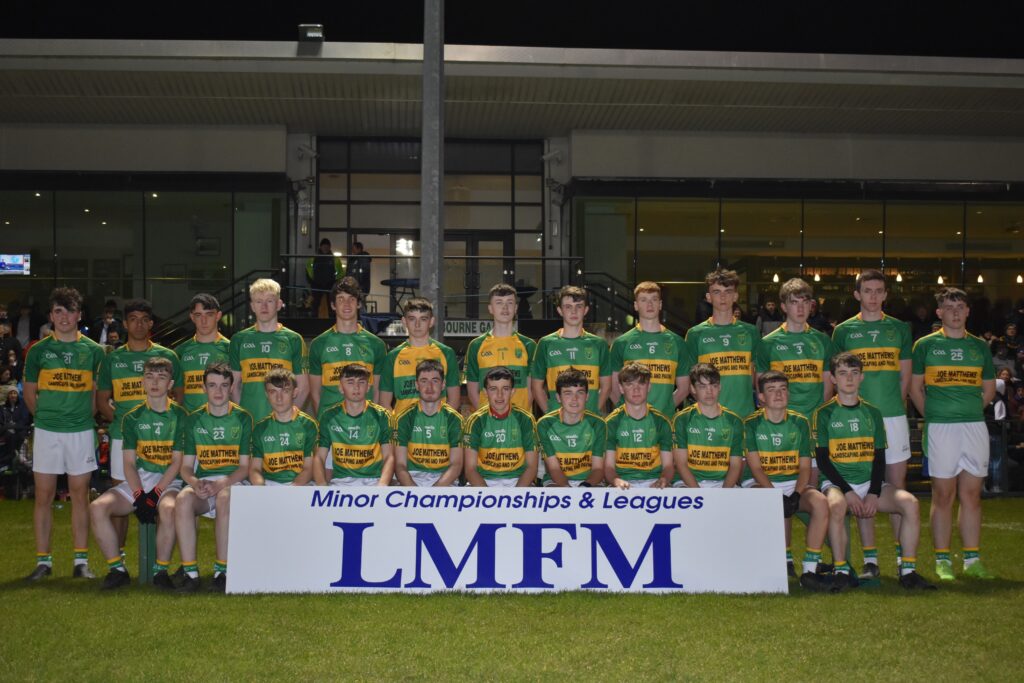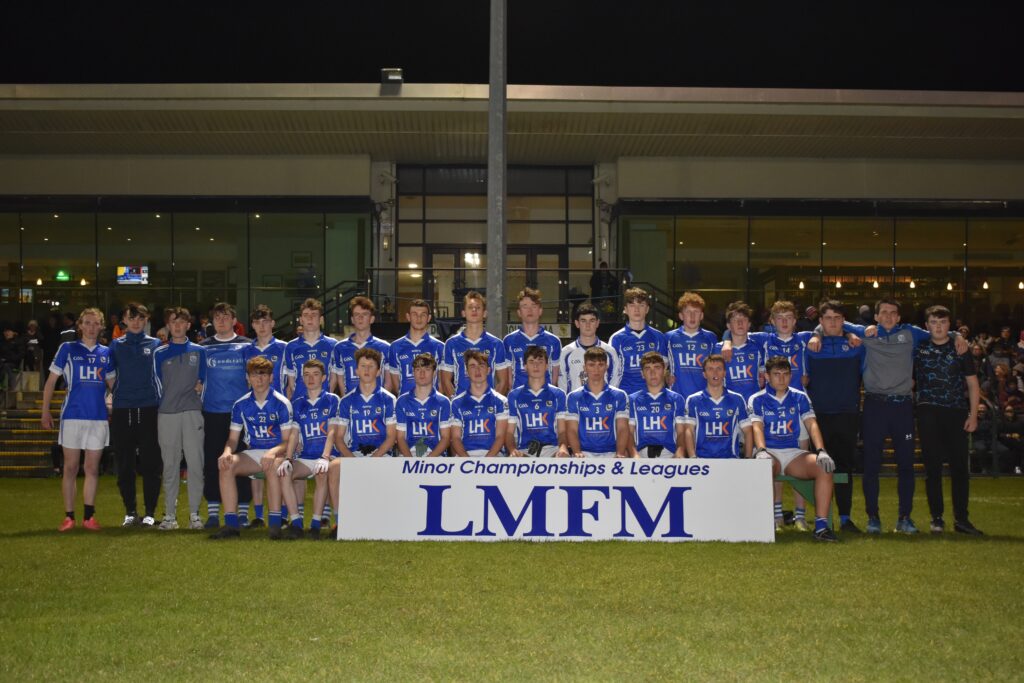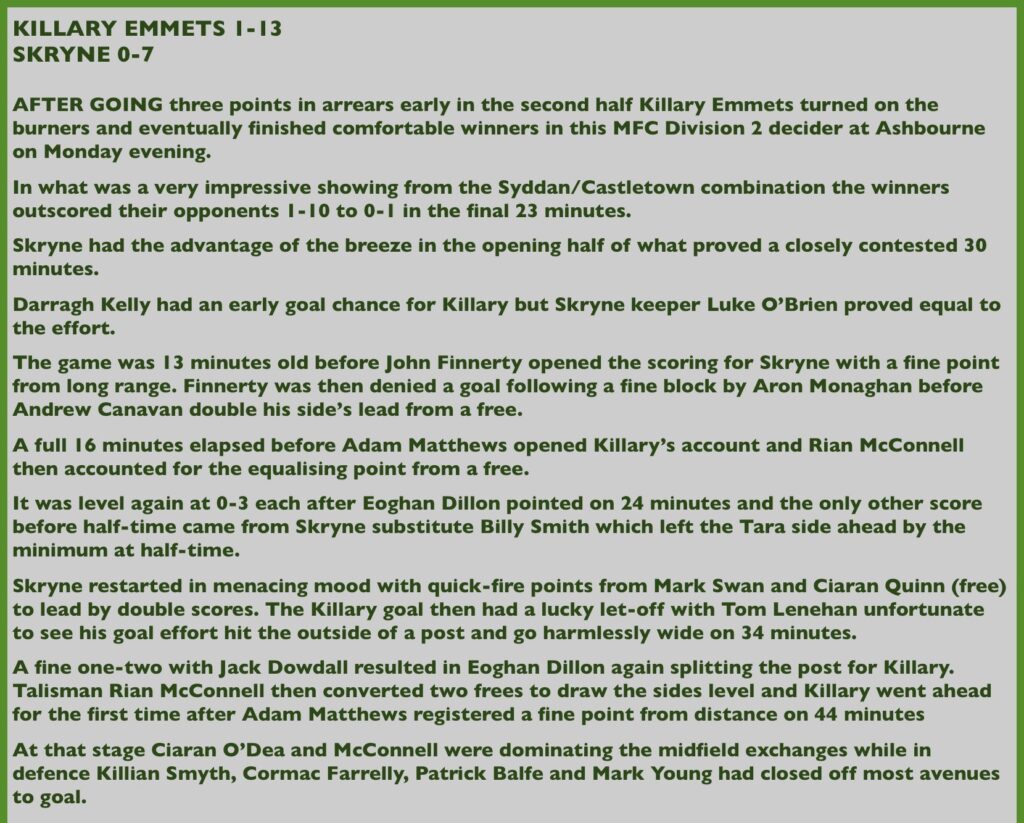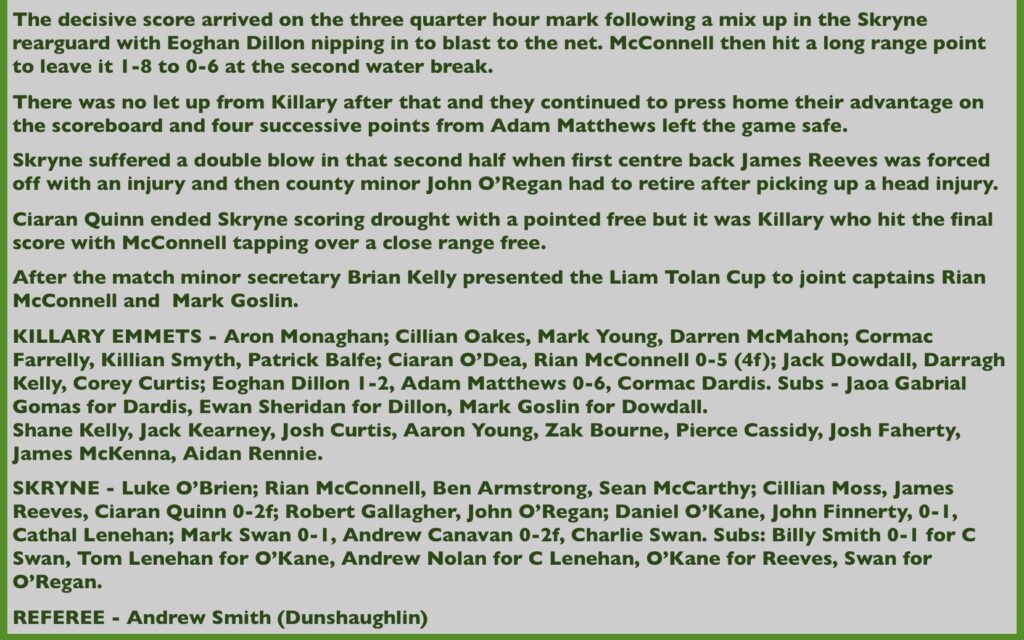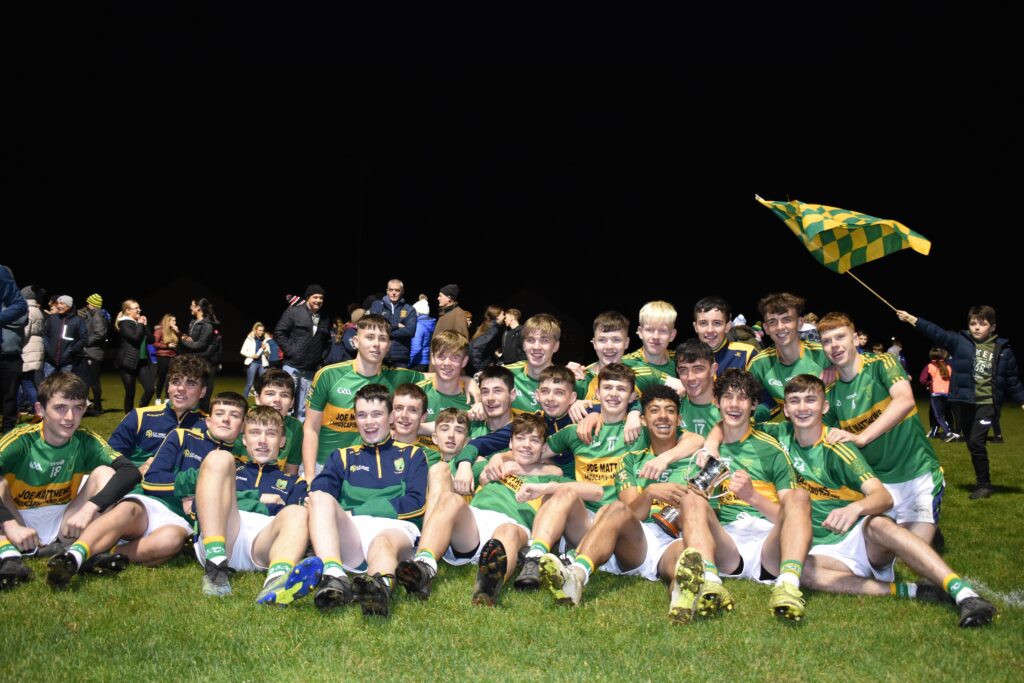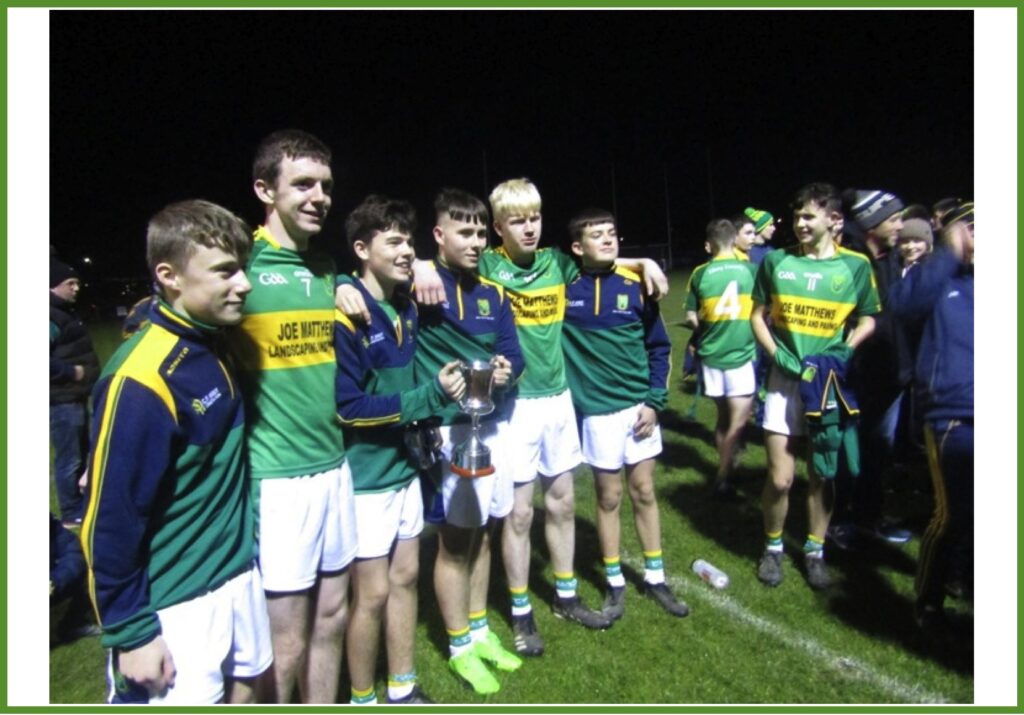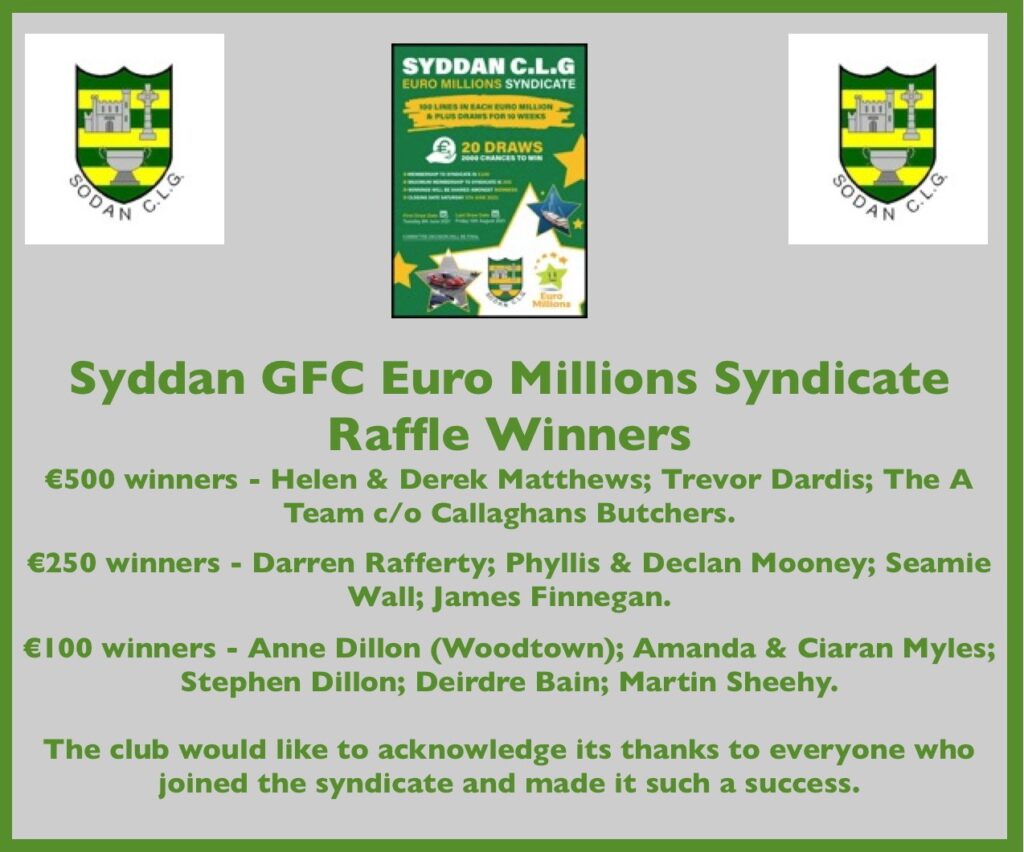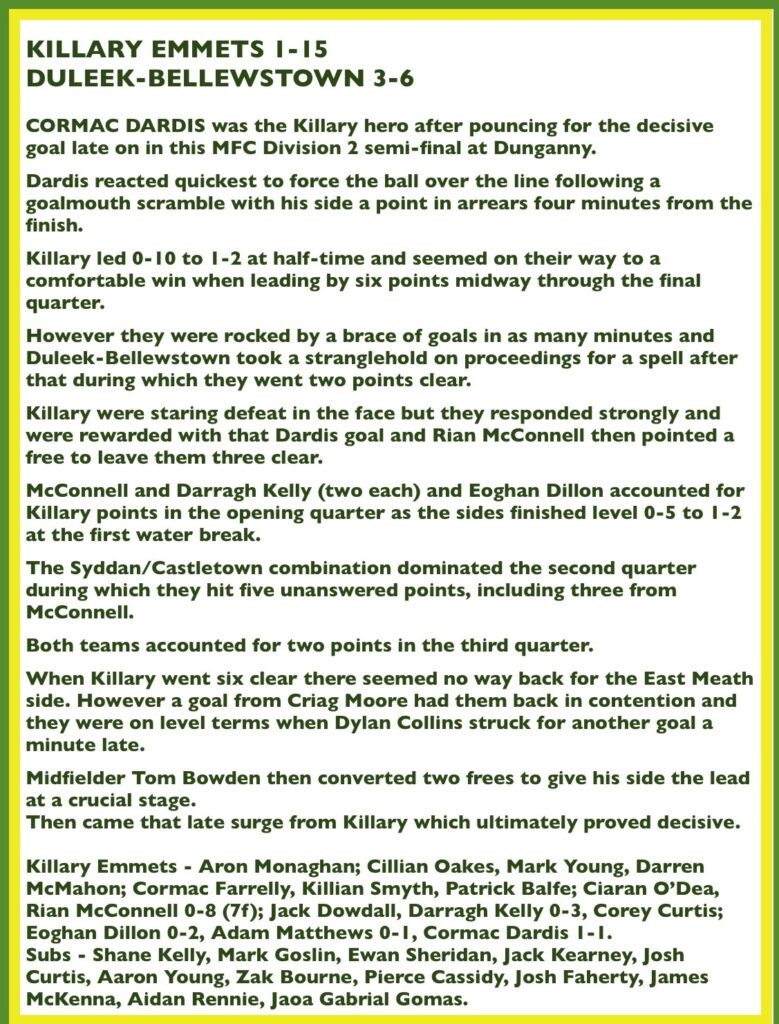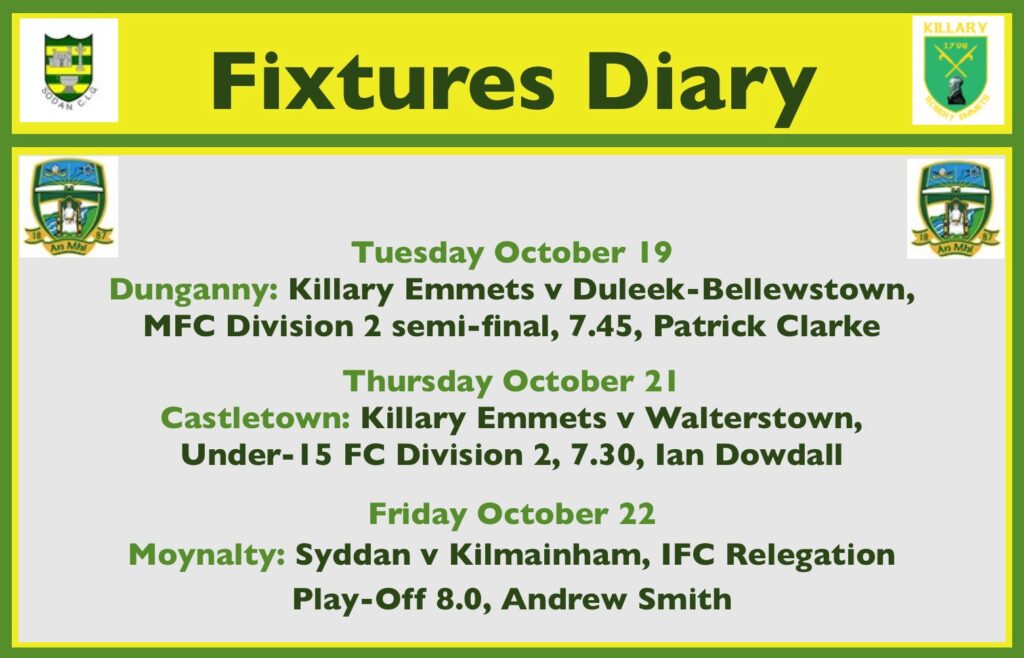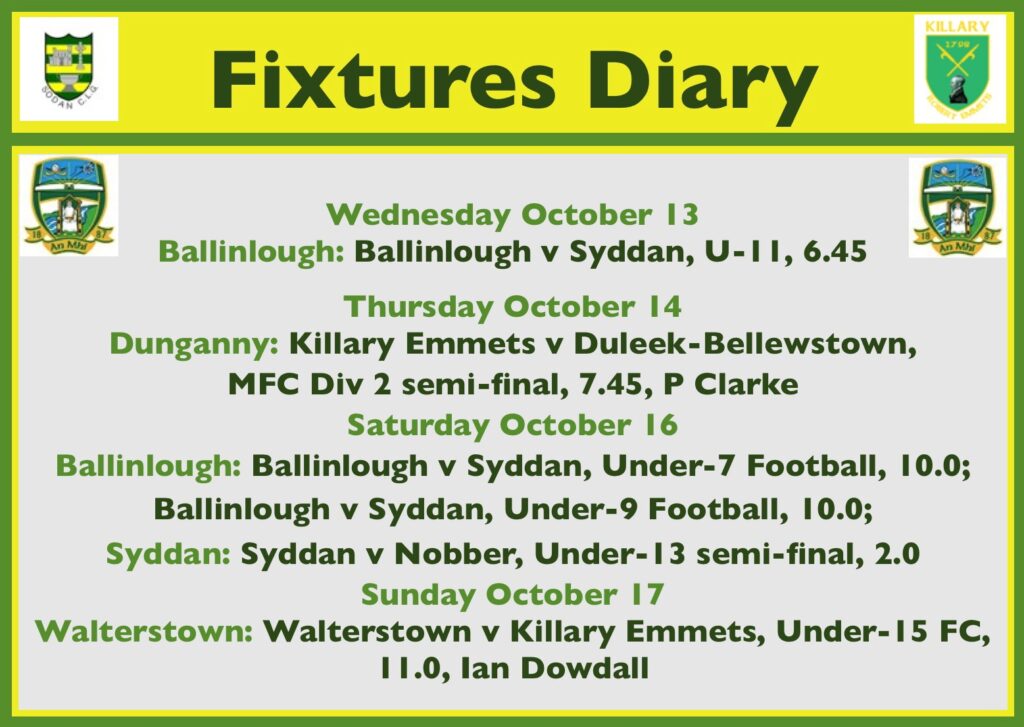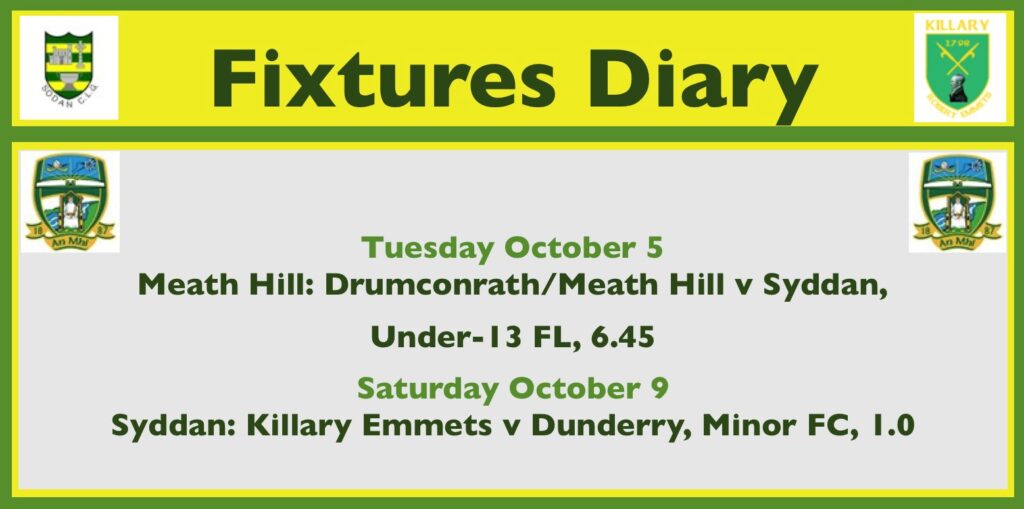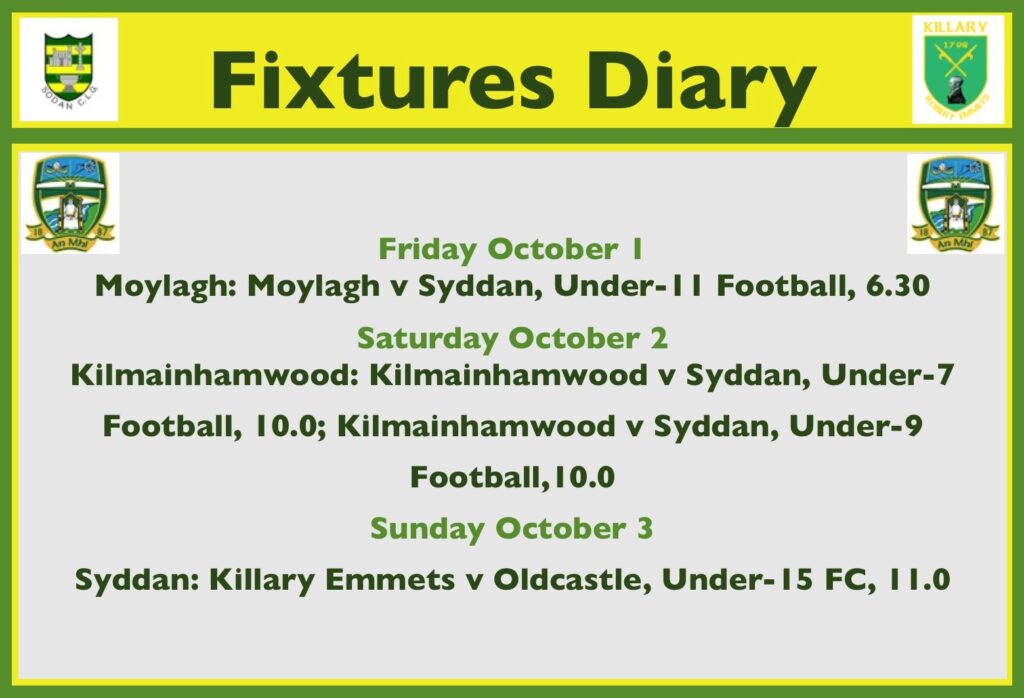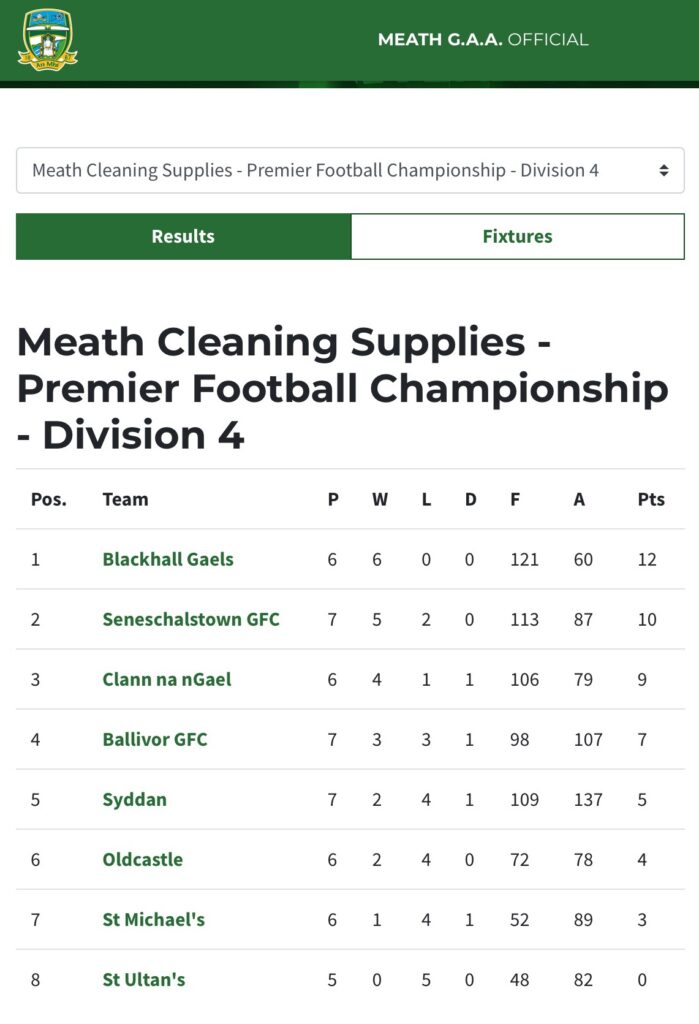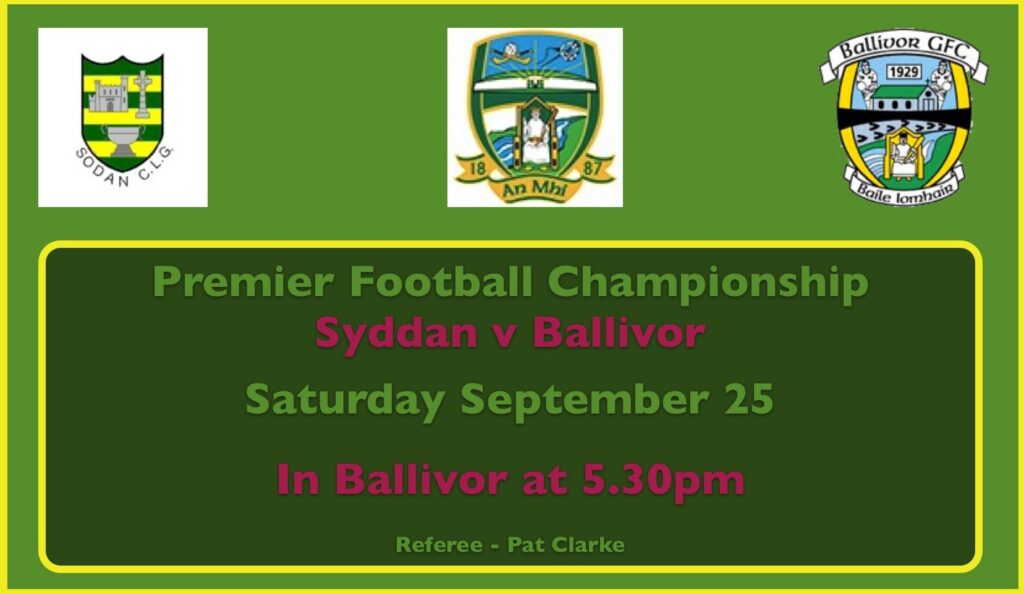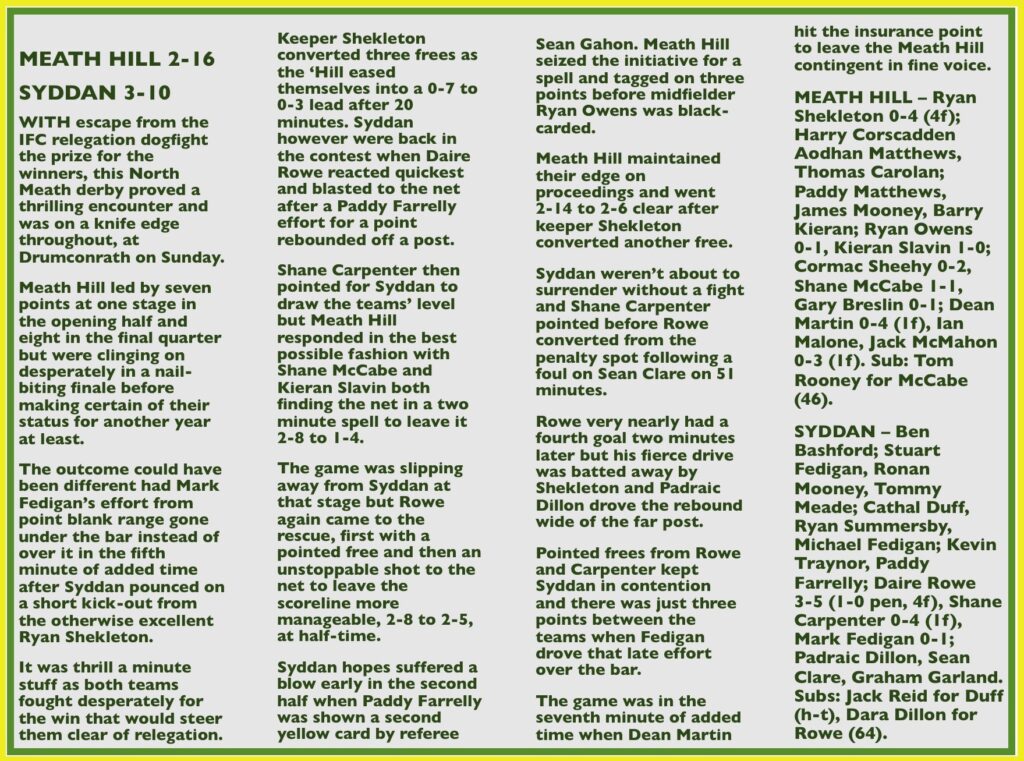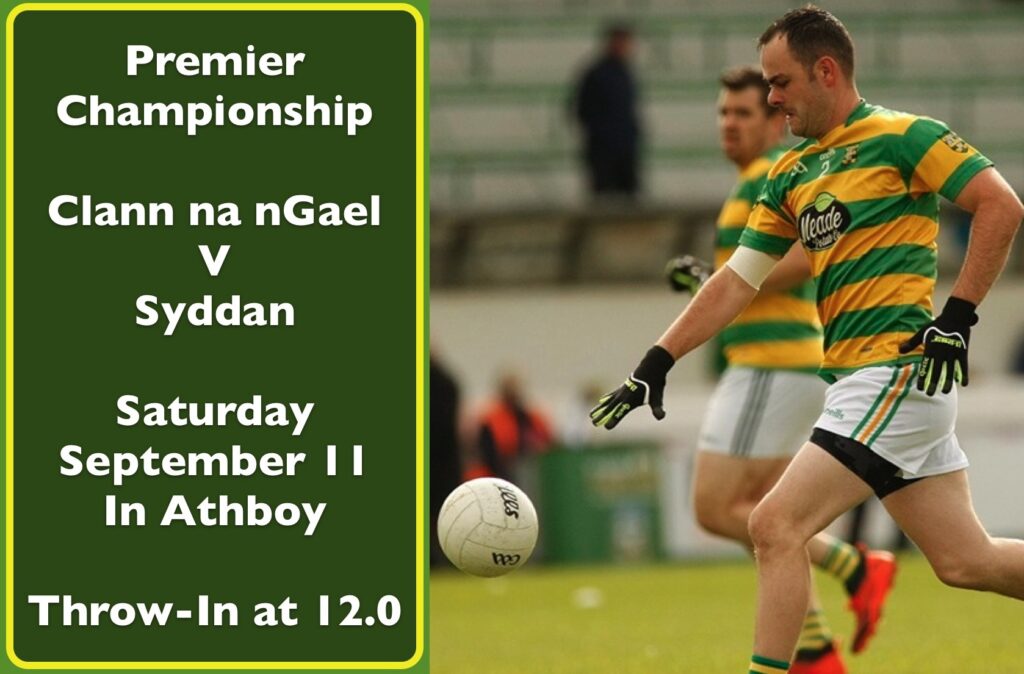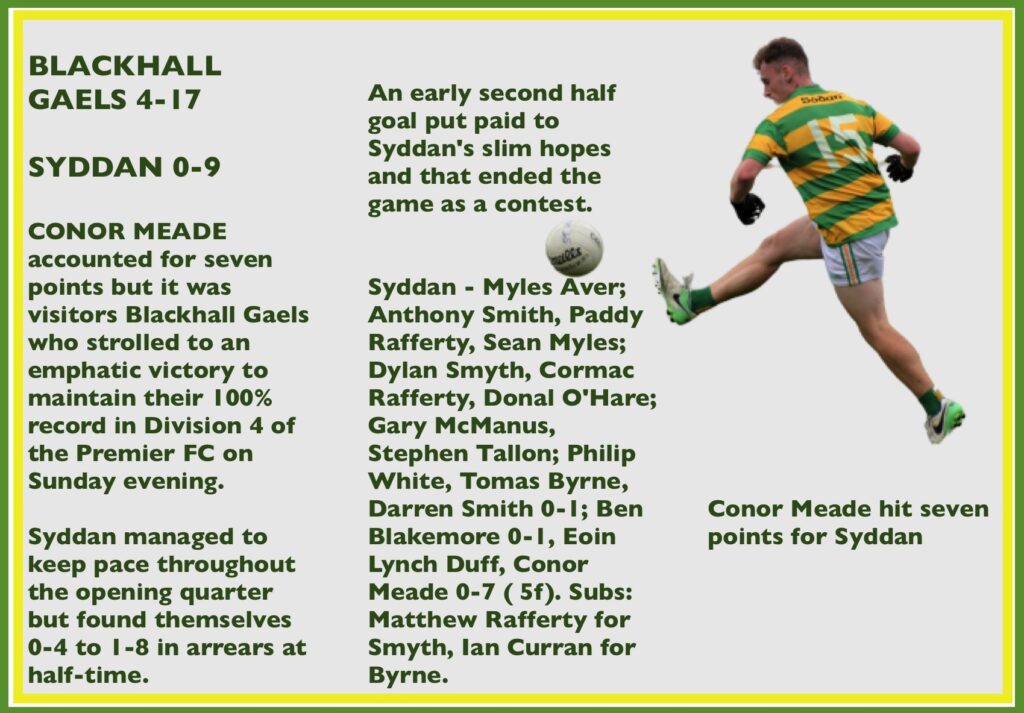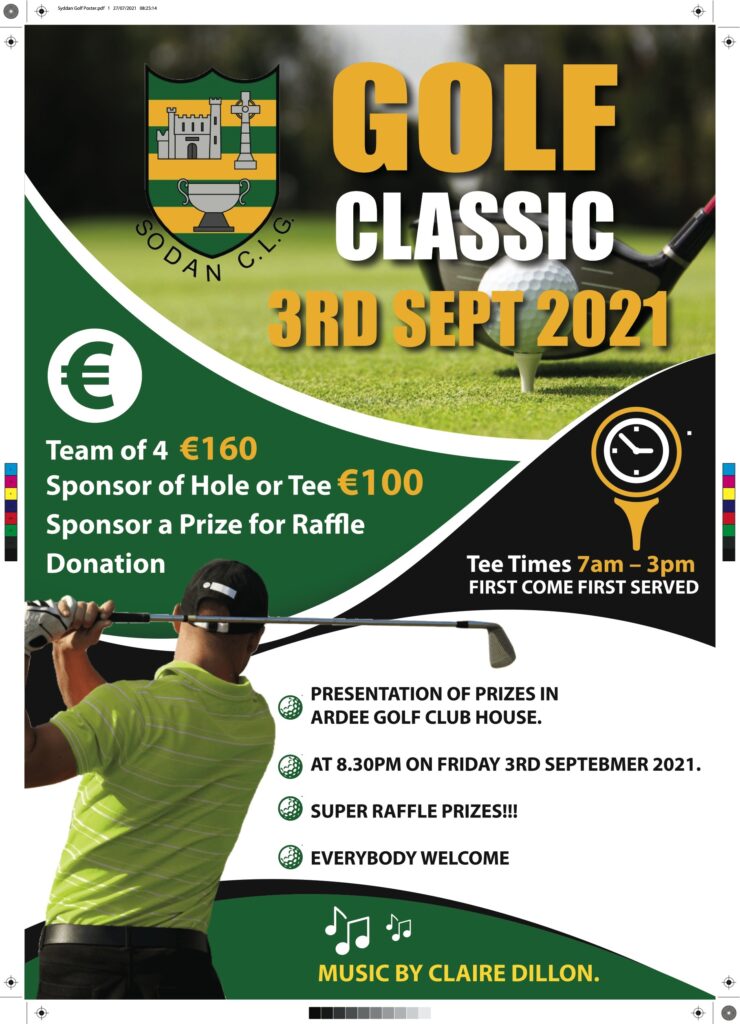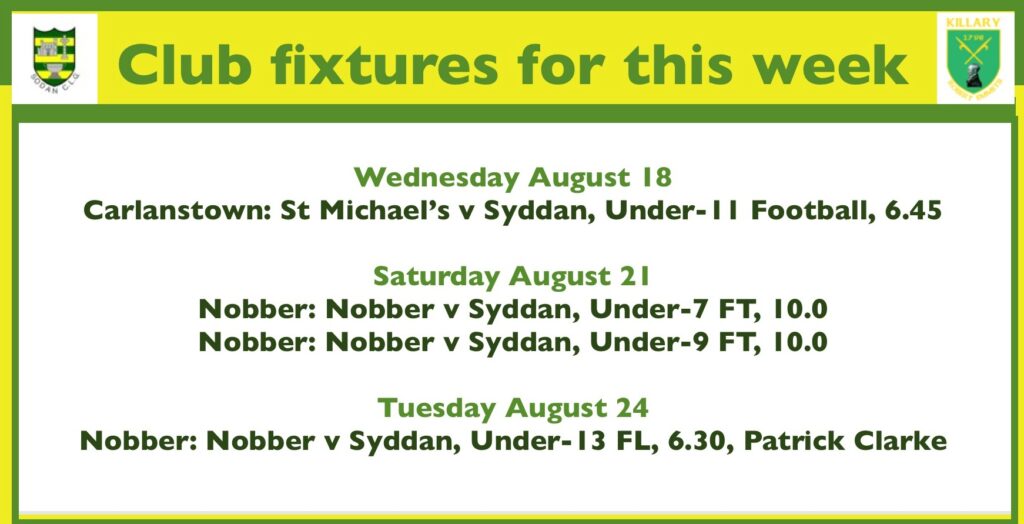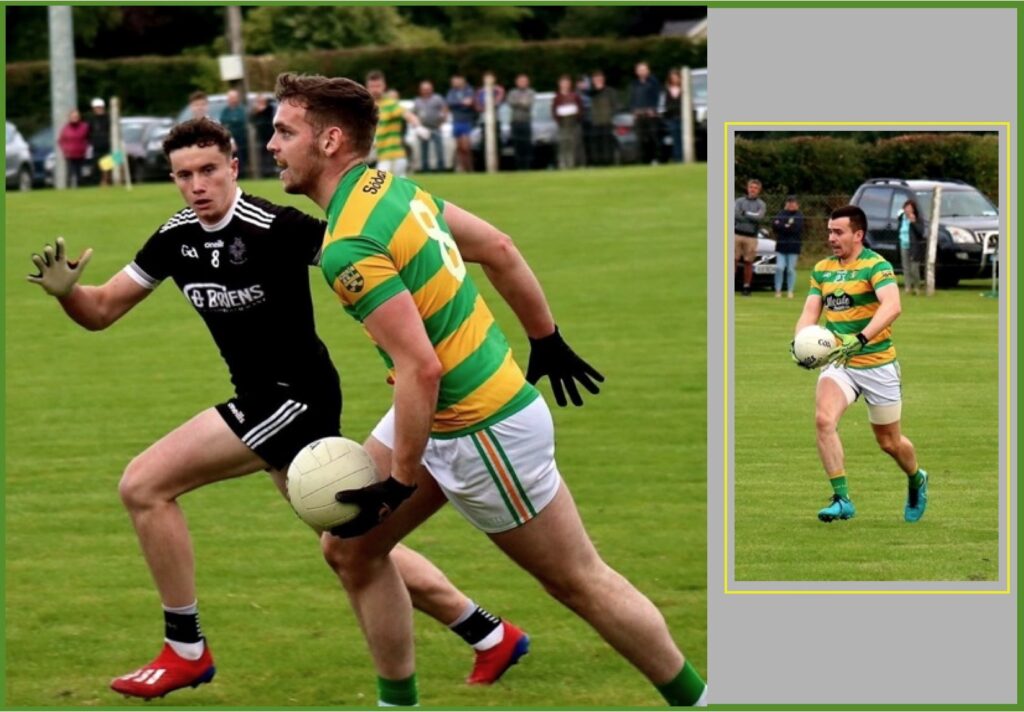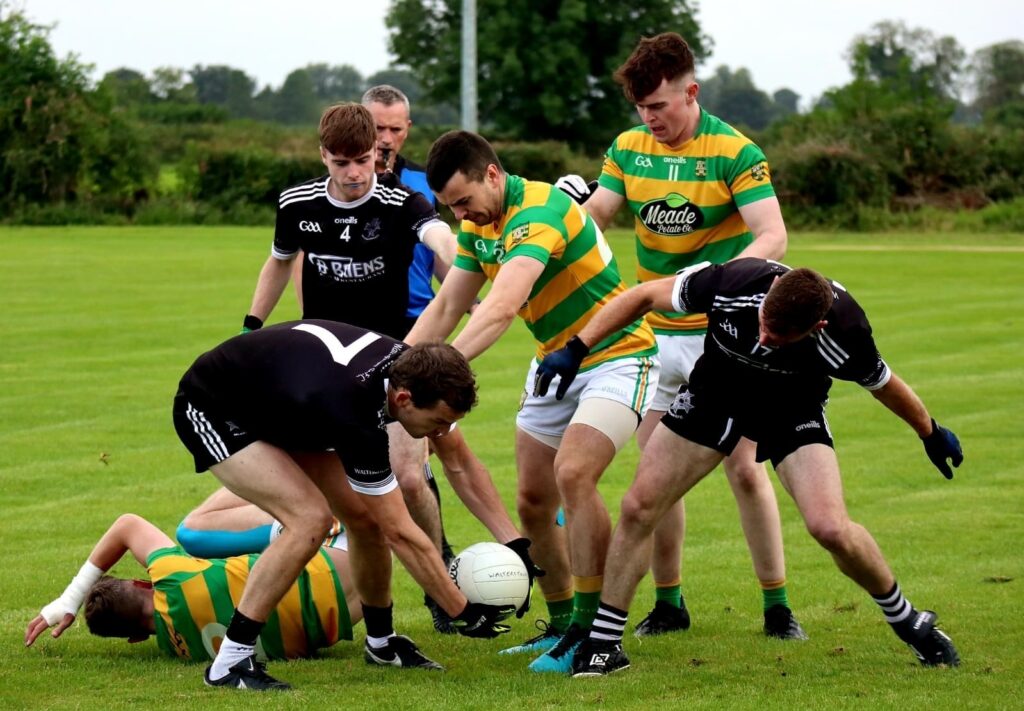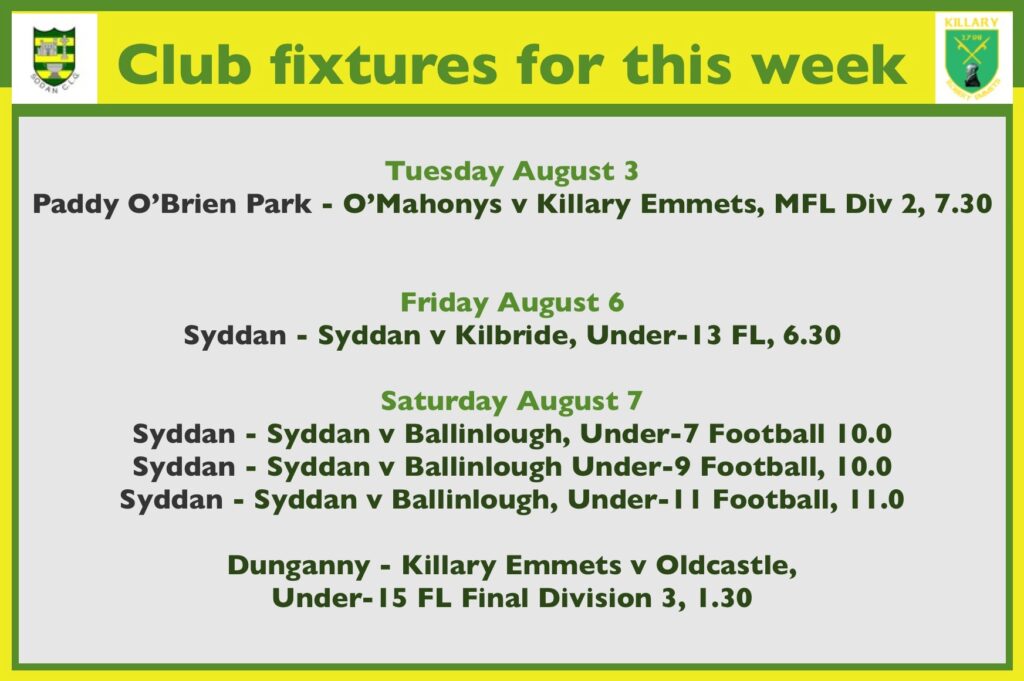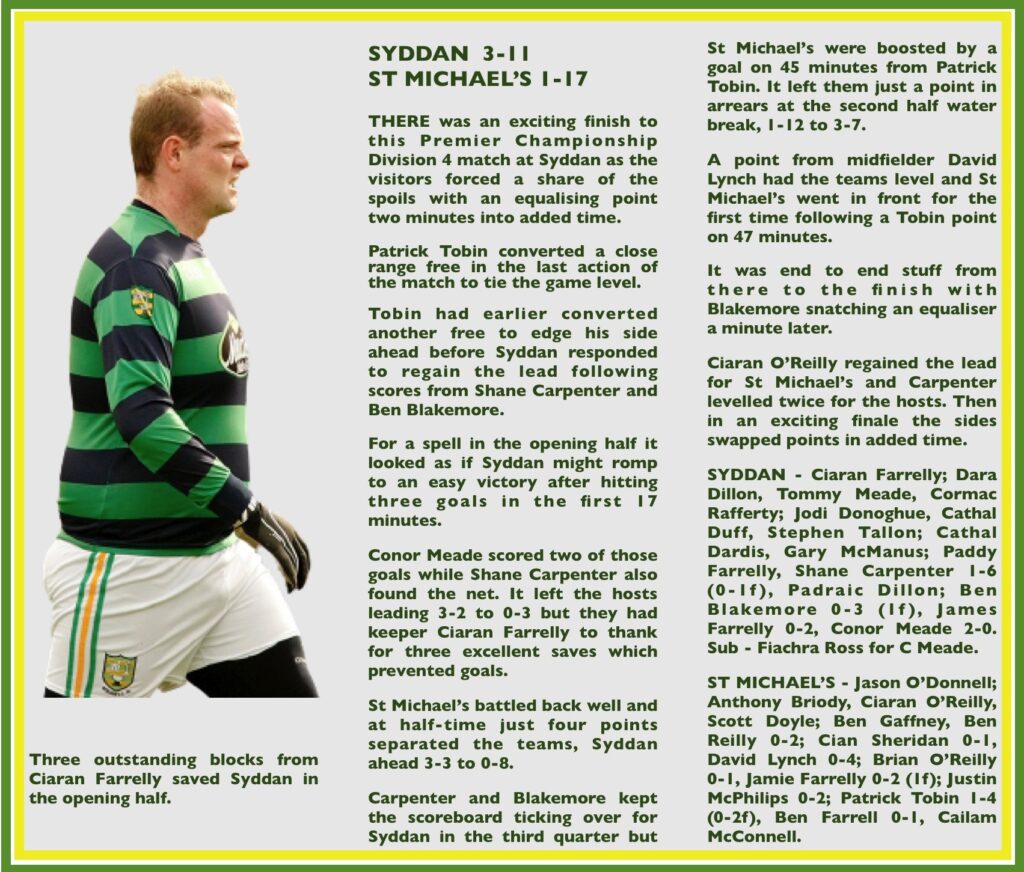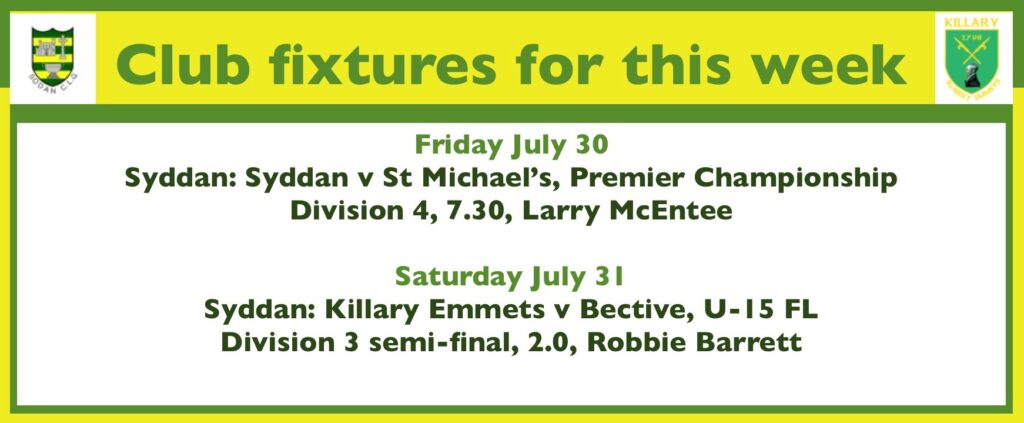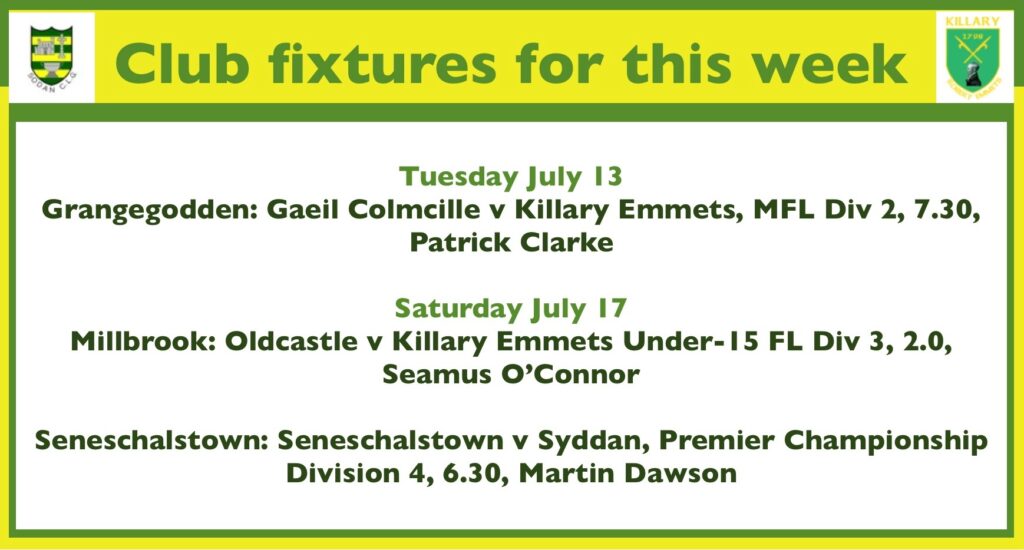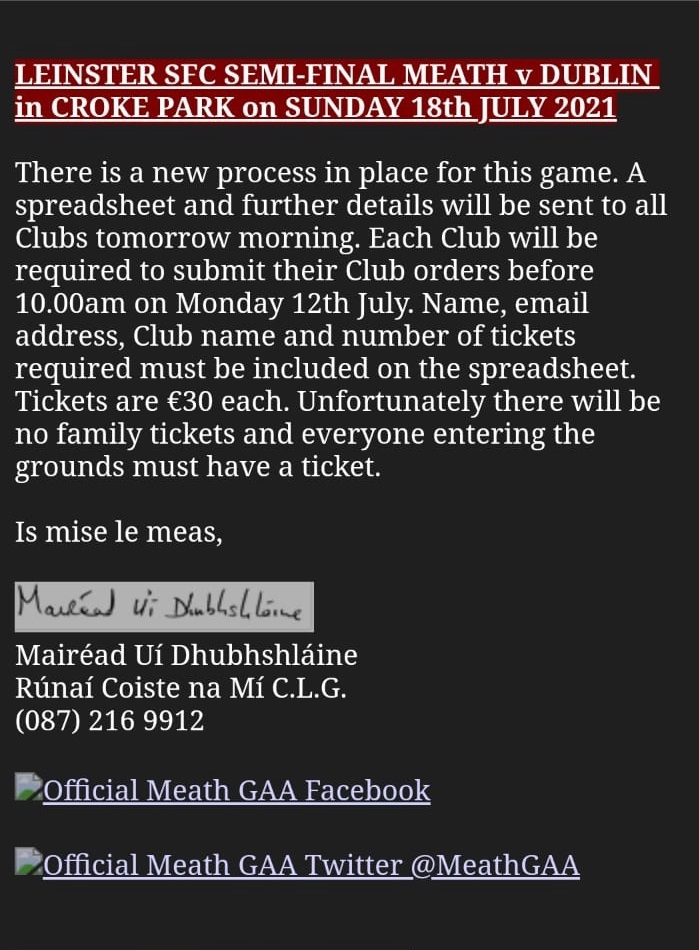 secretary.syddan.meath@gaa.ie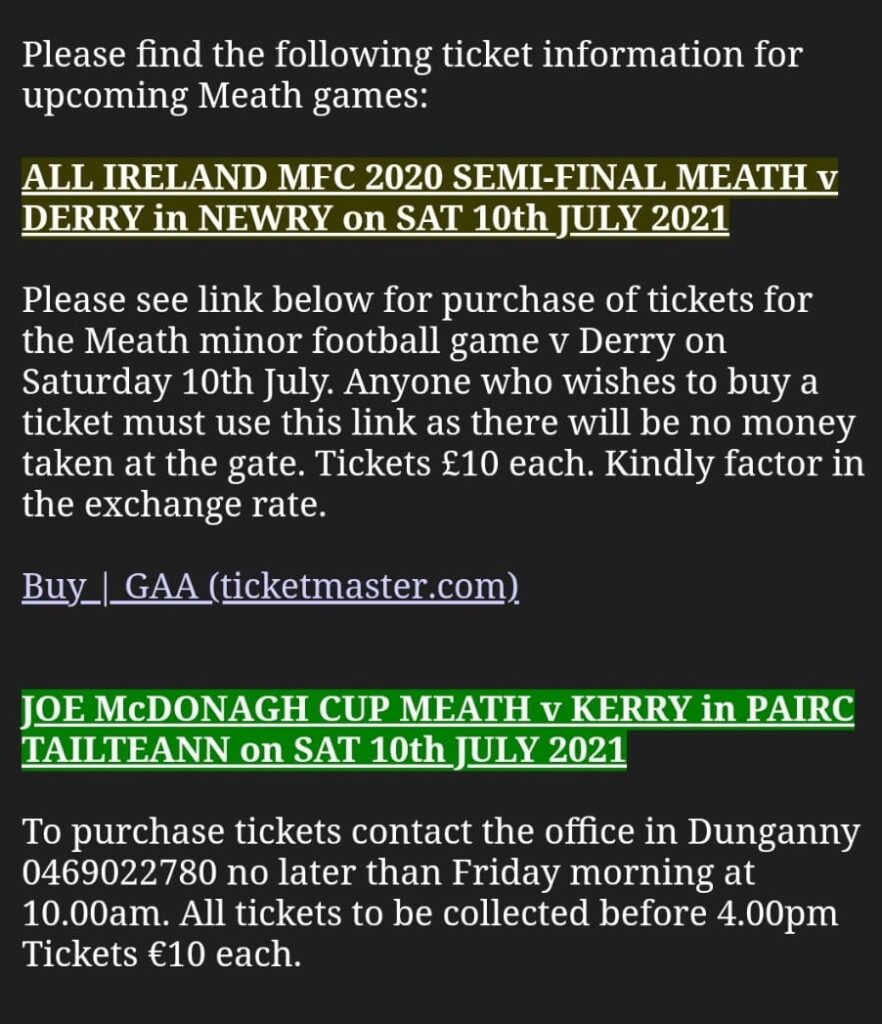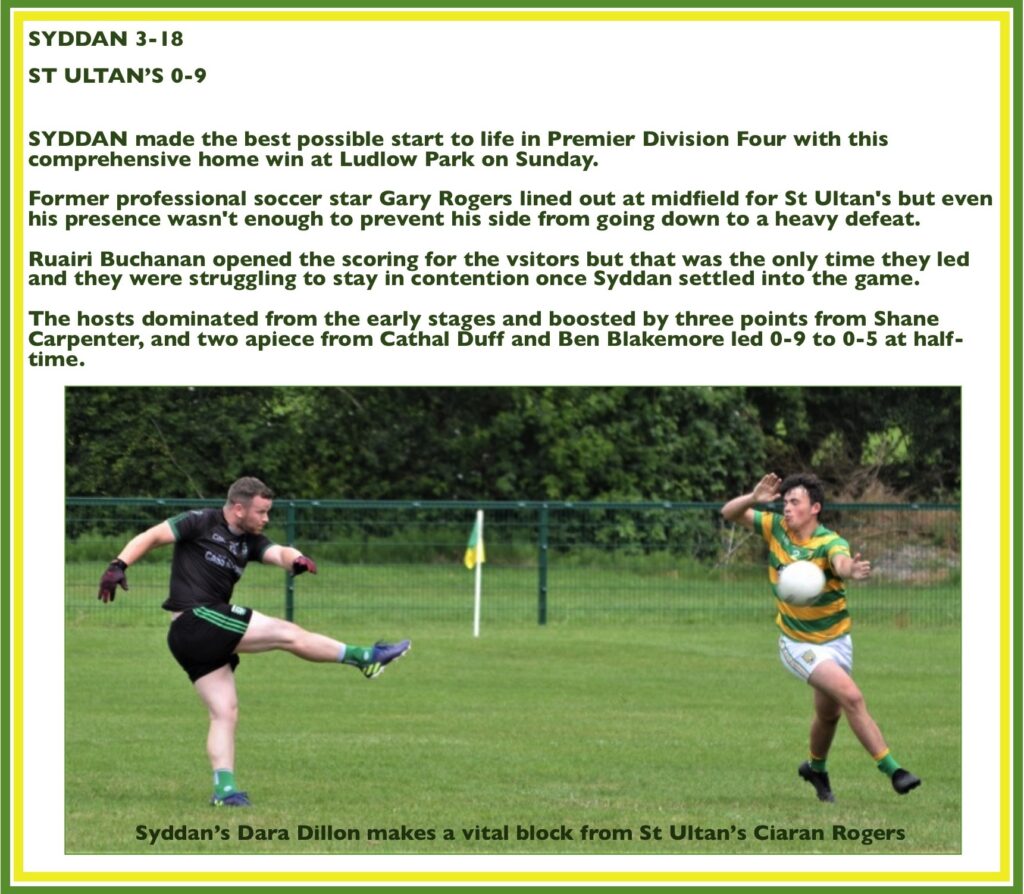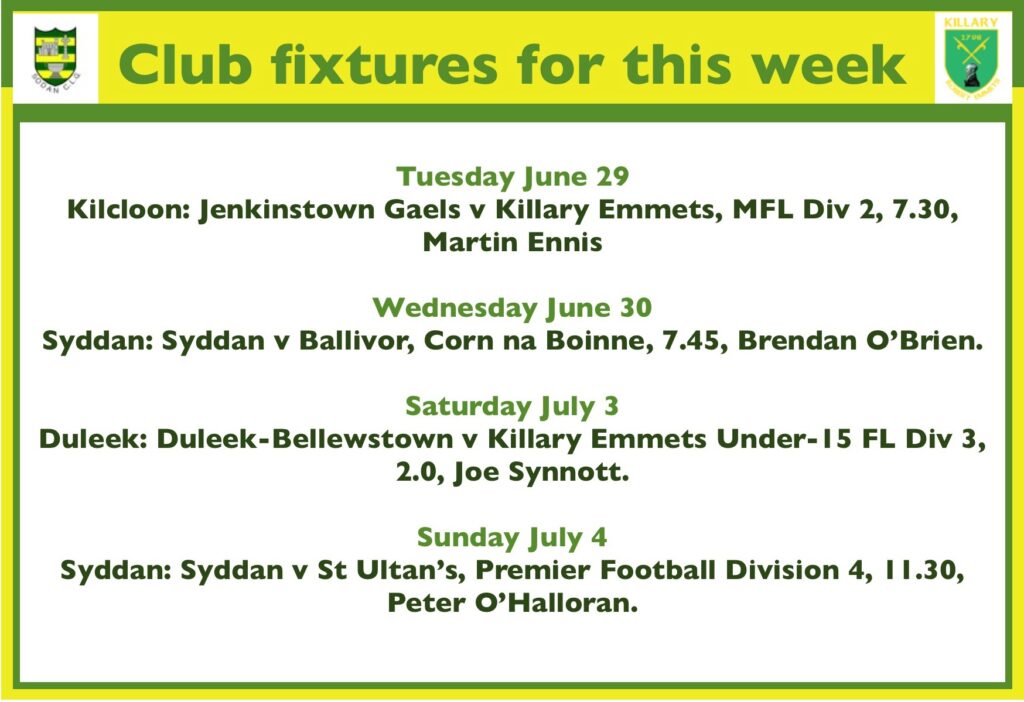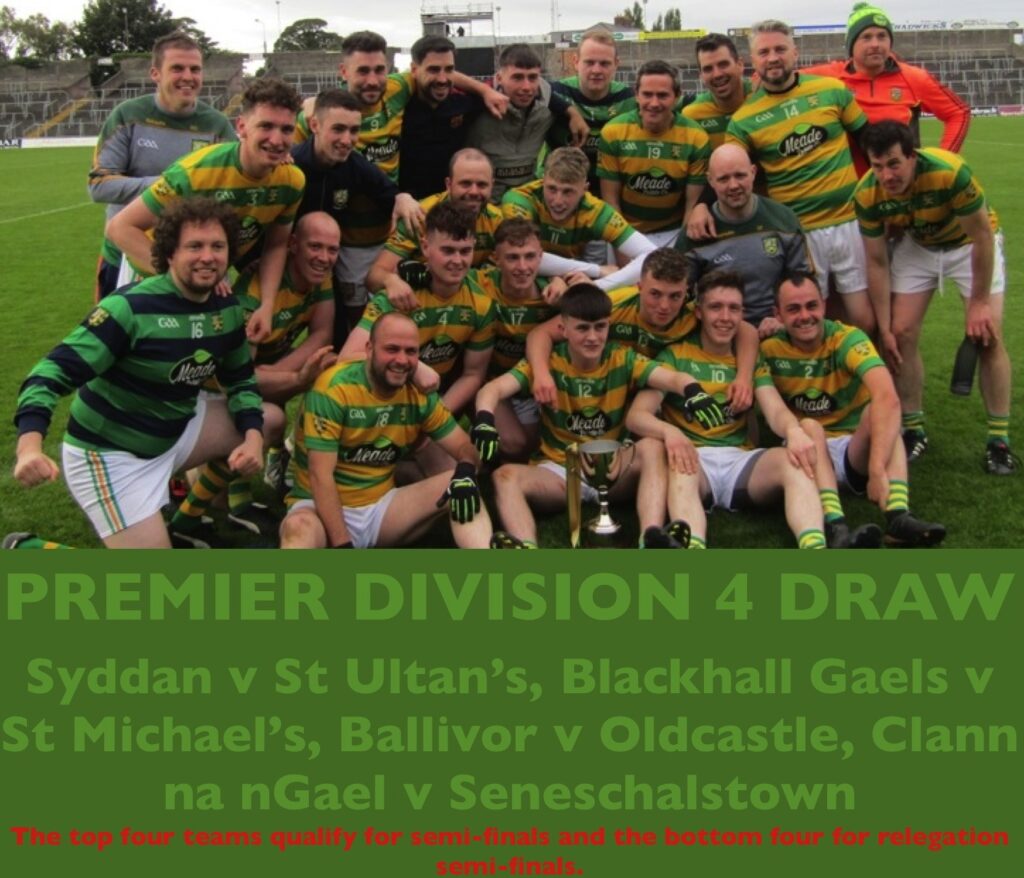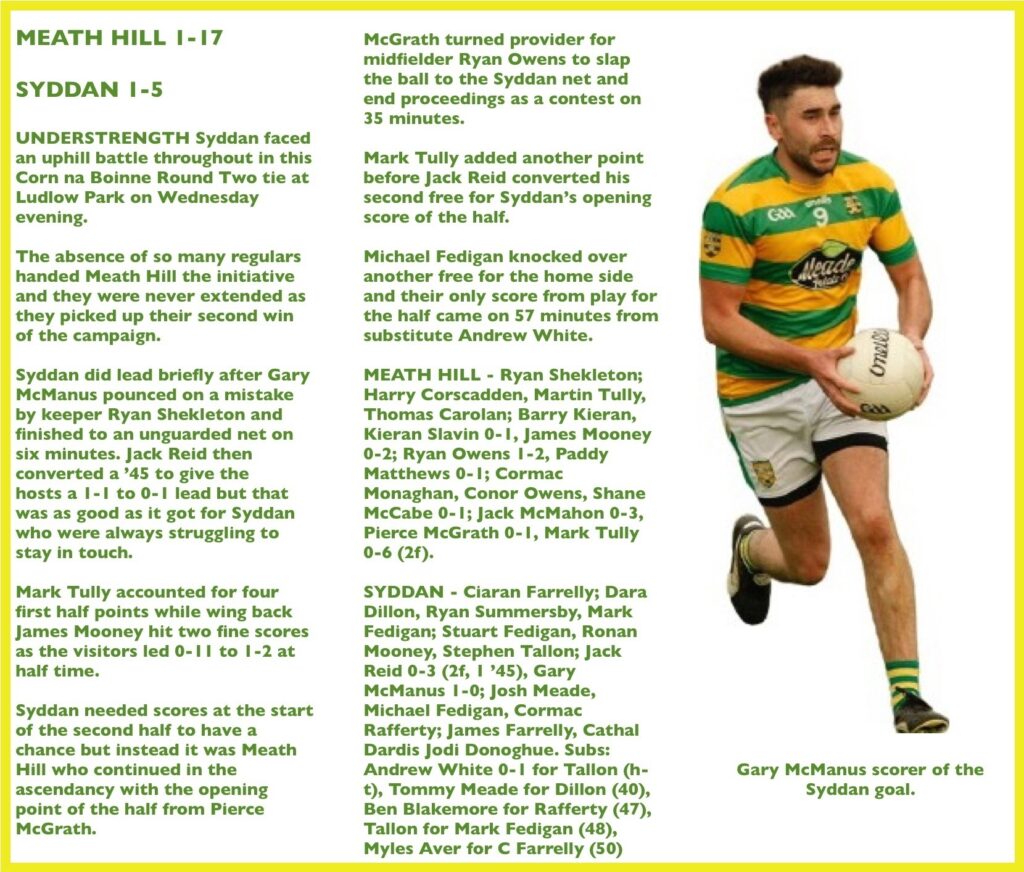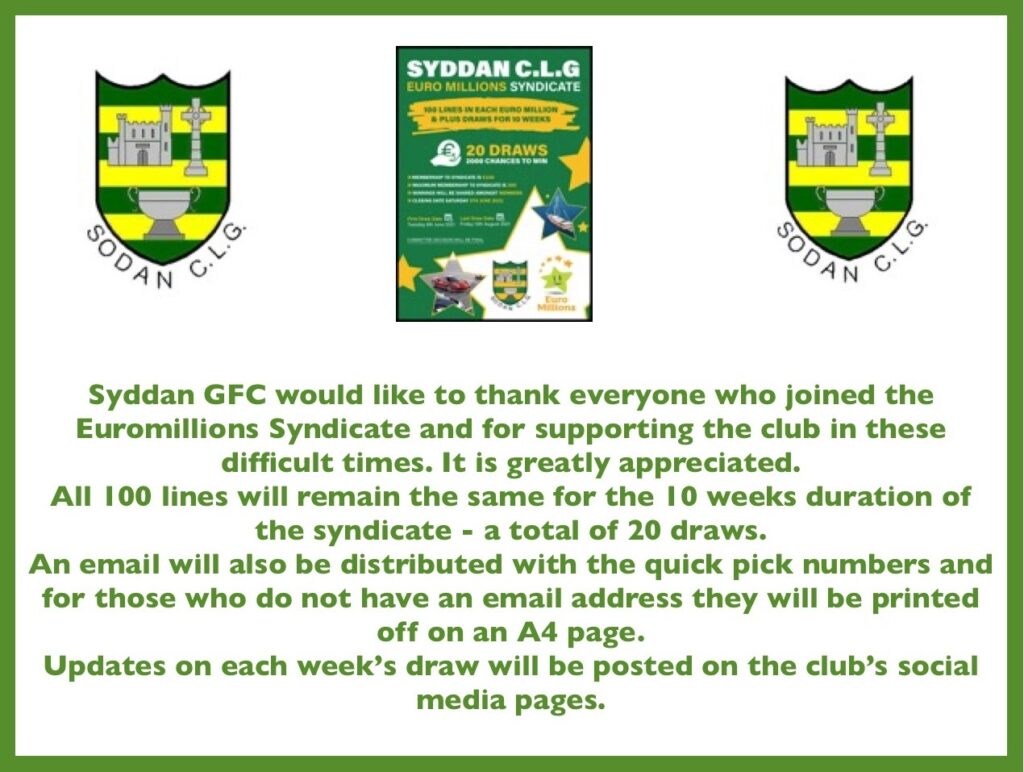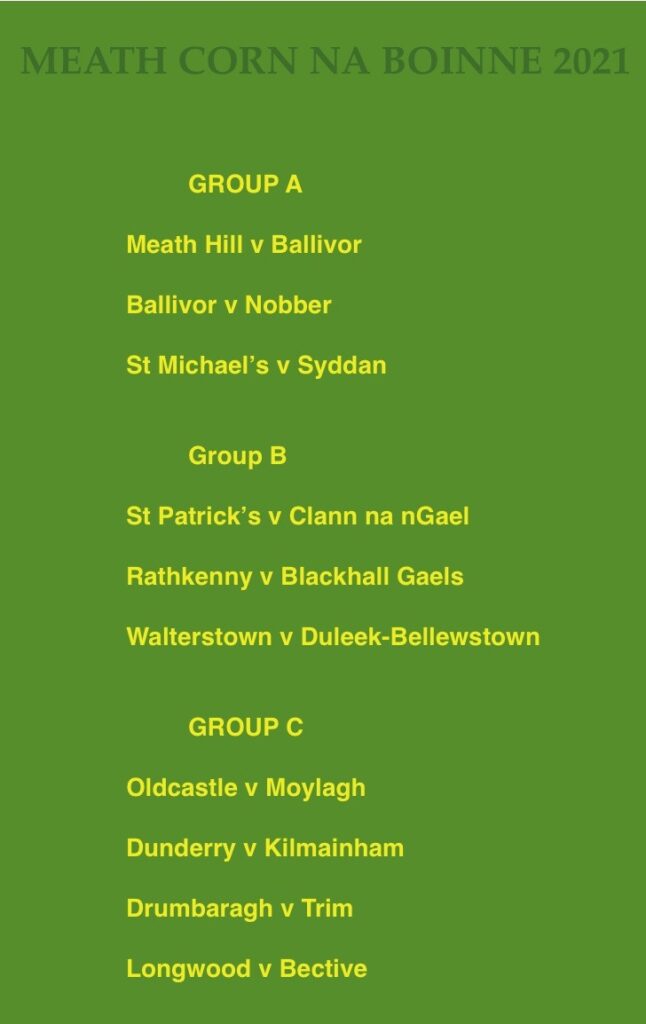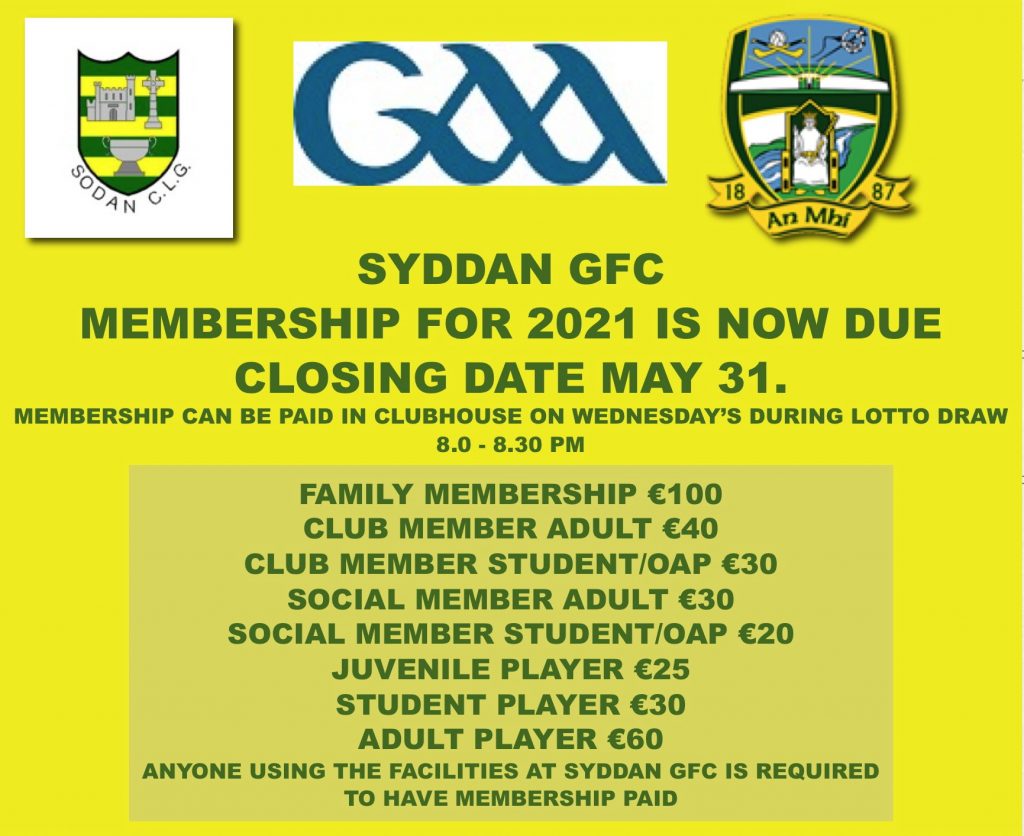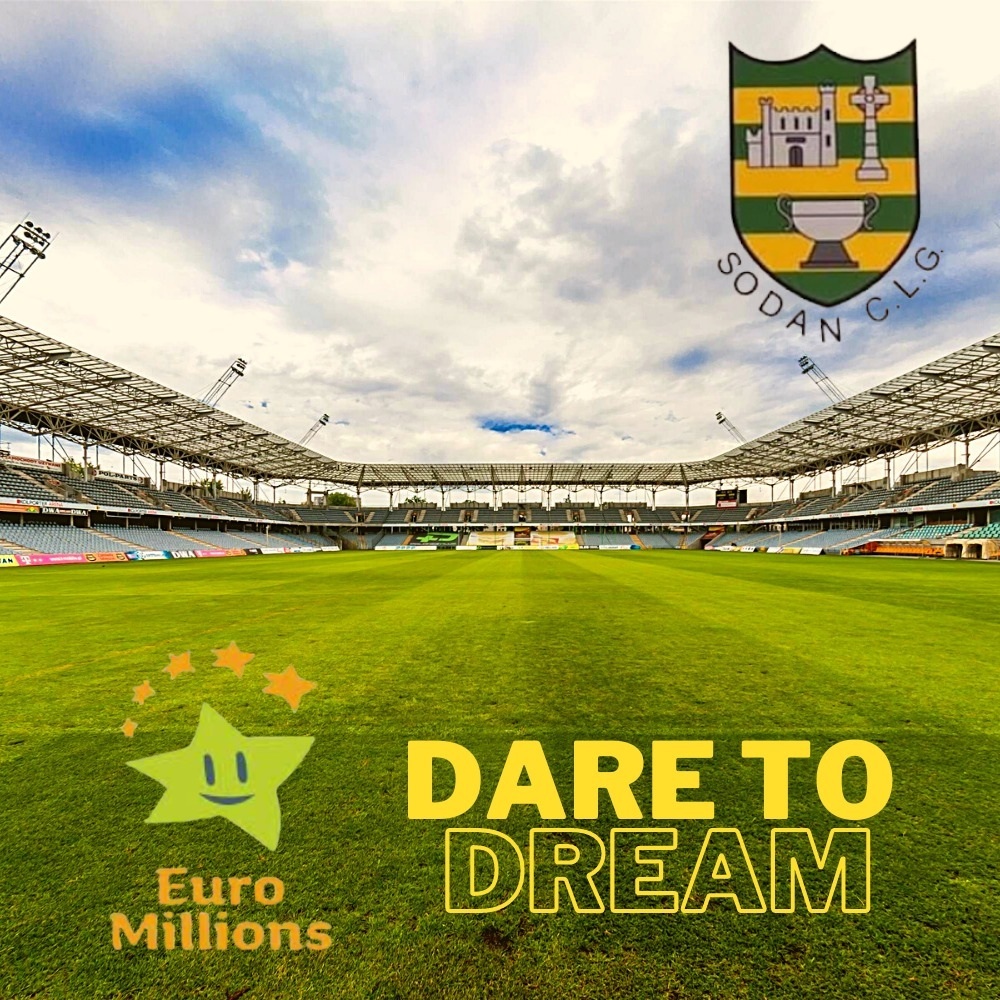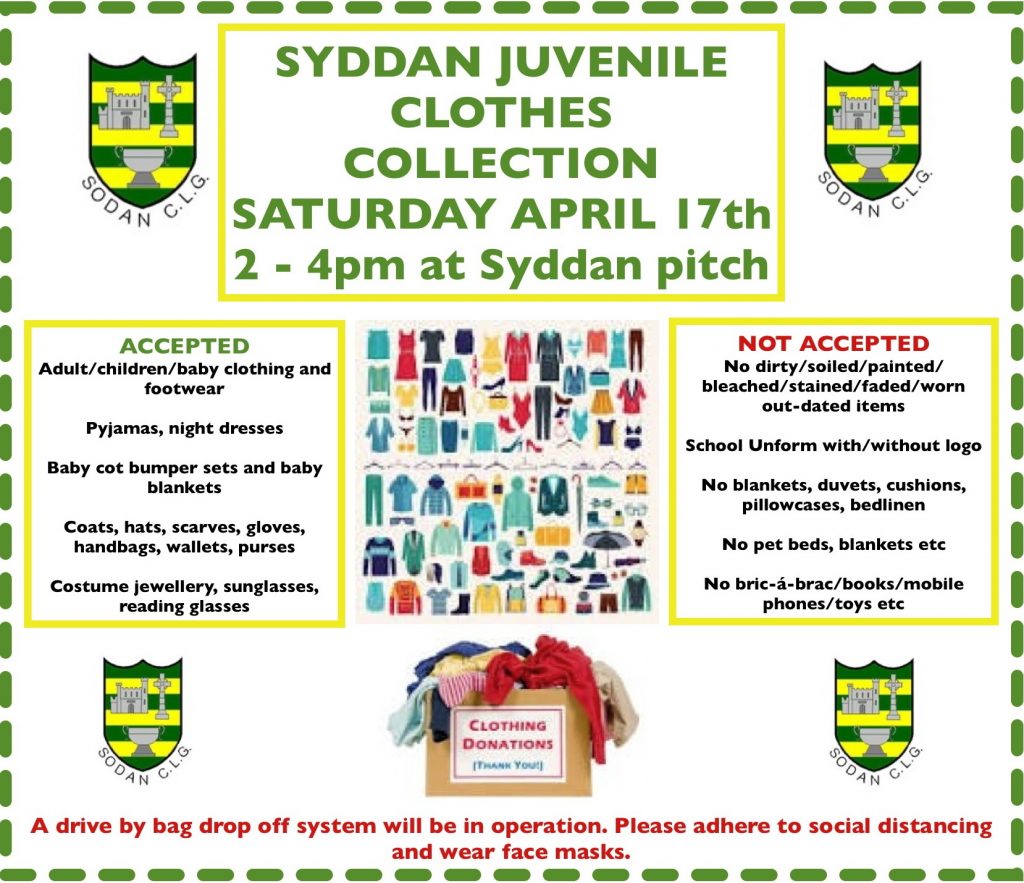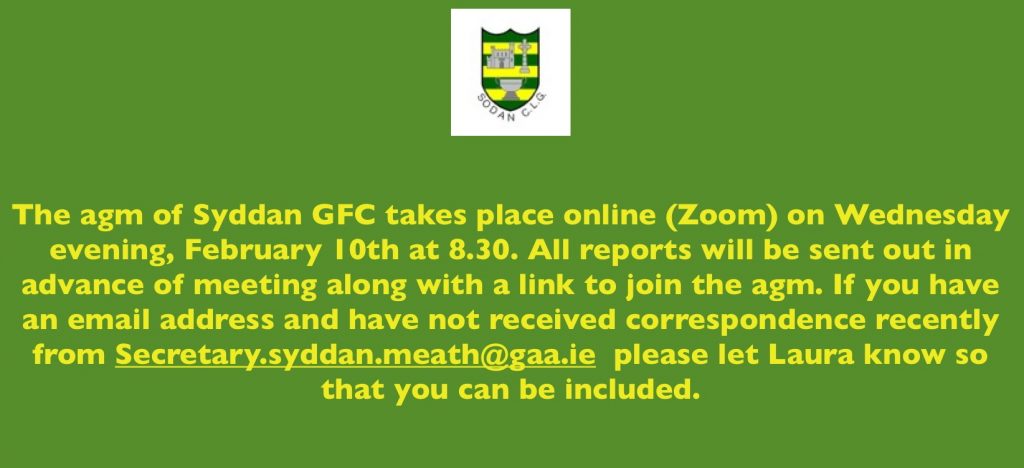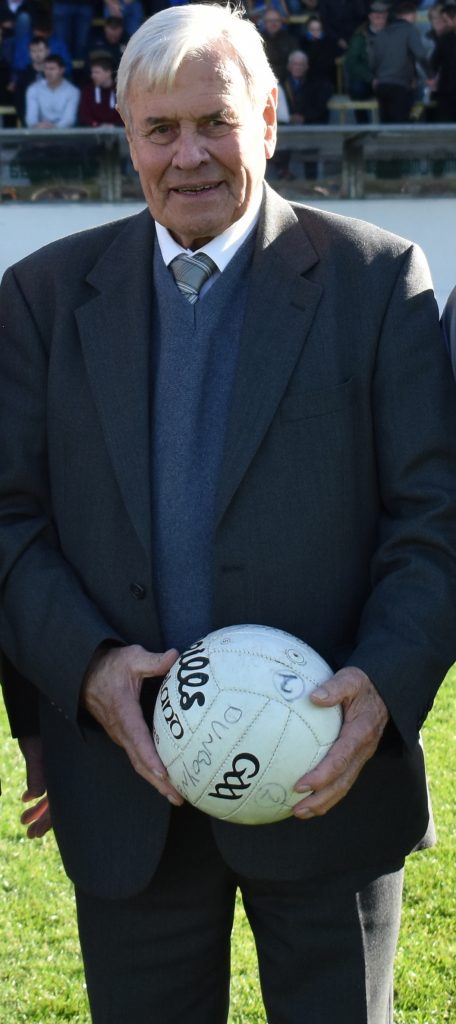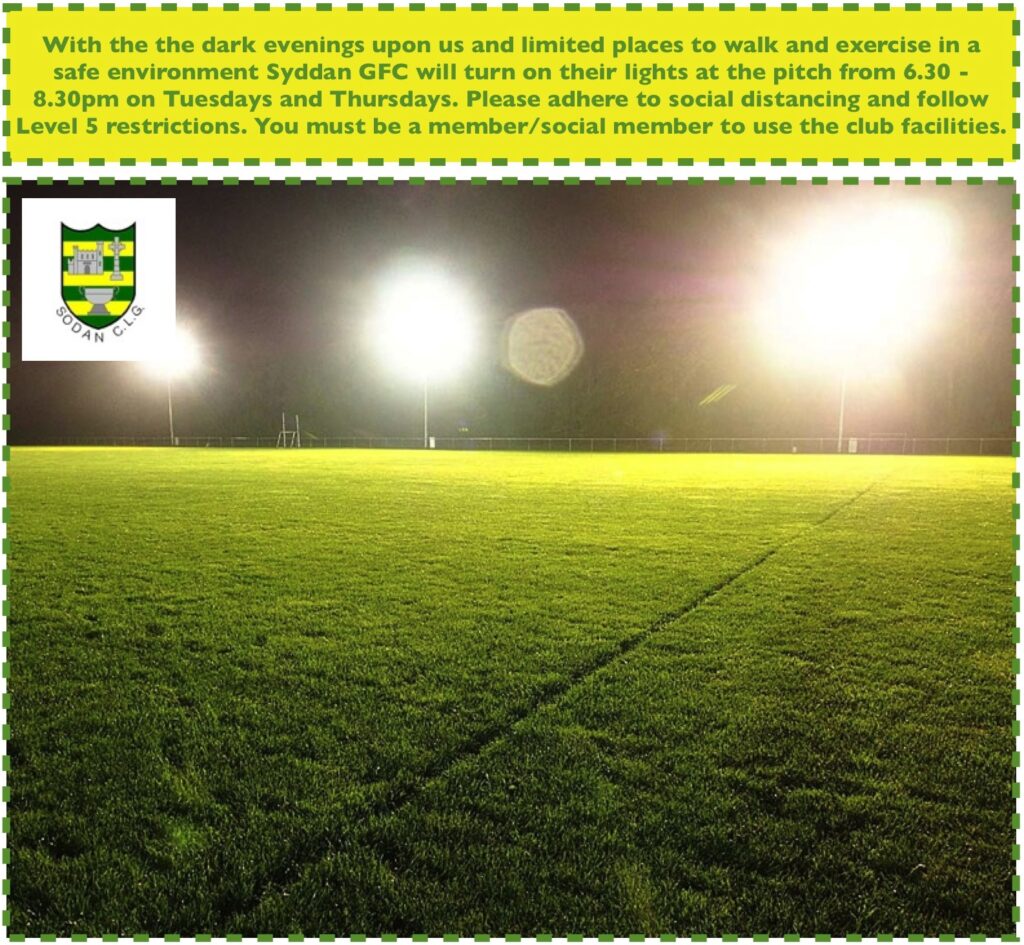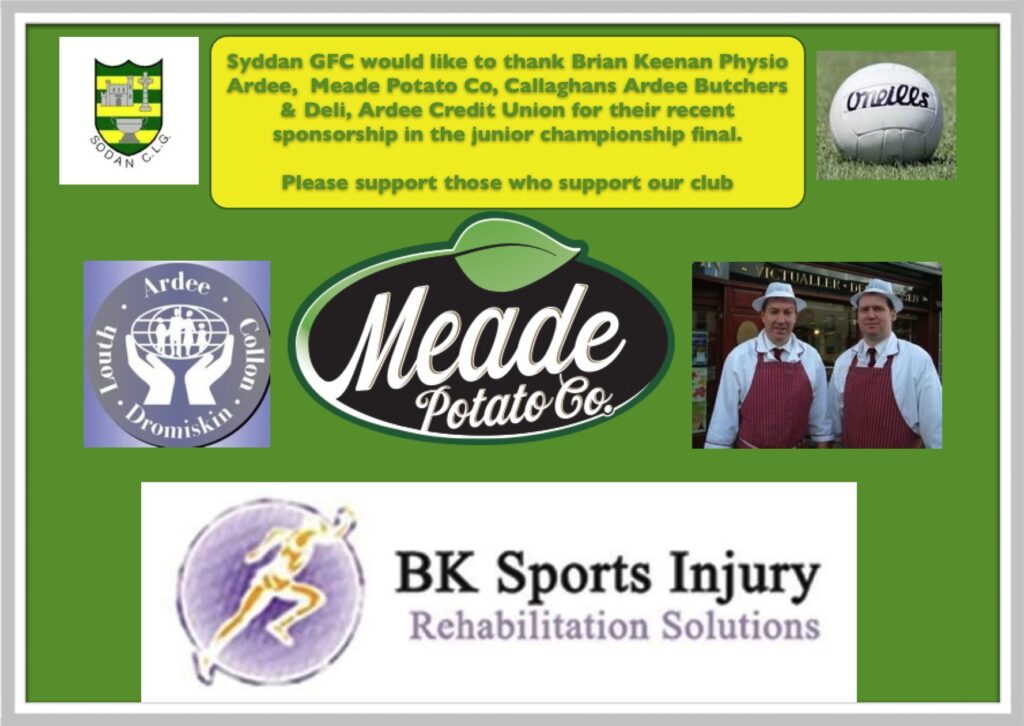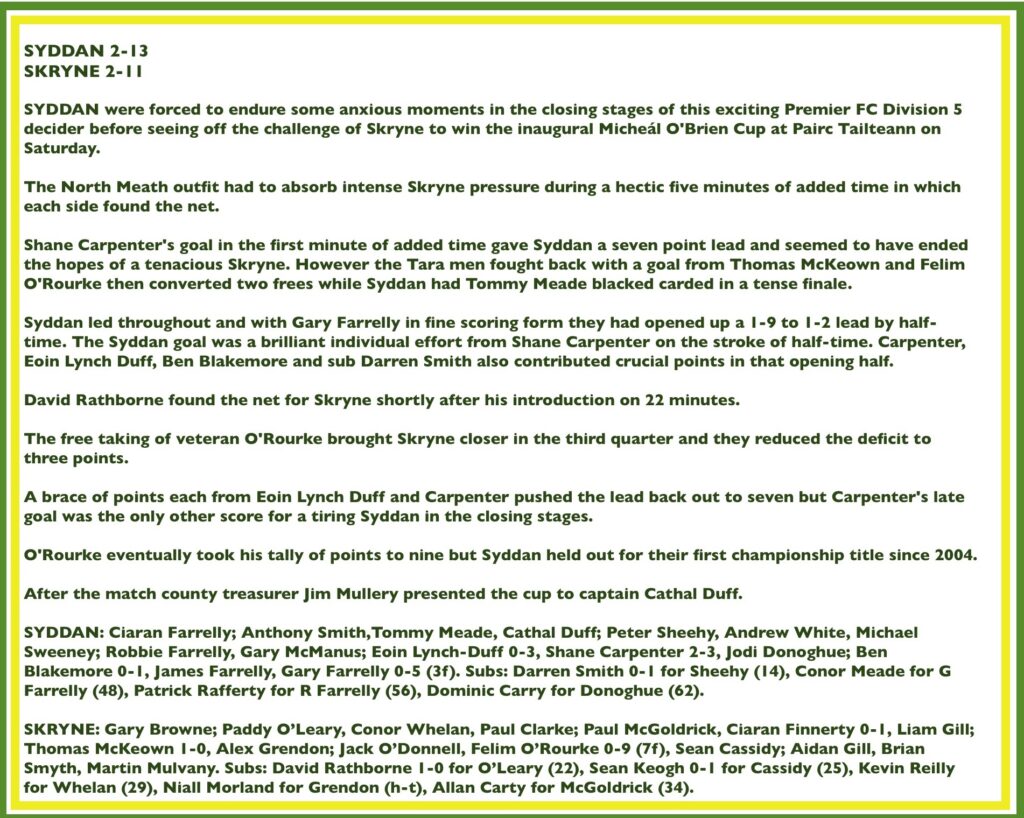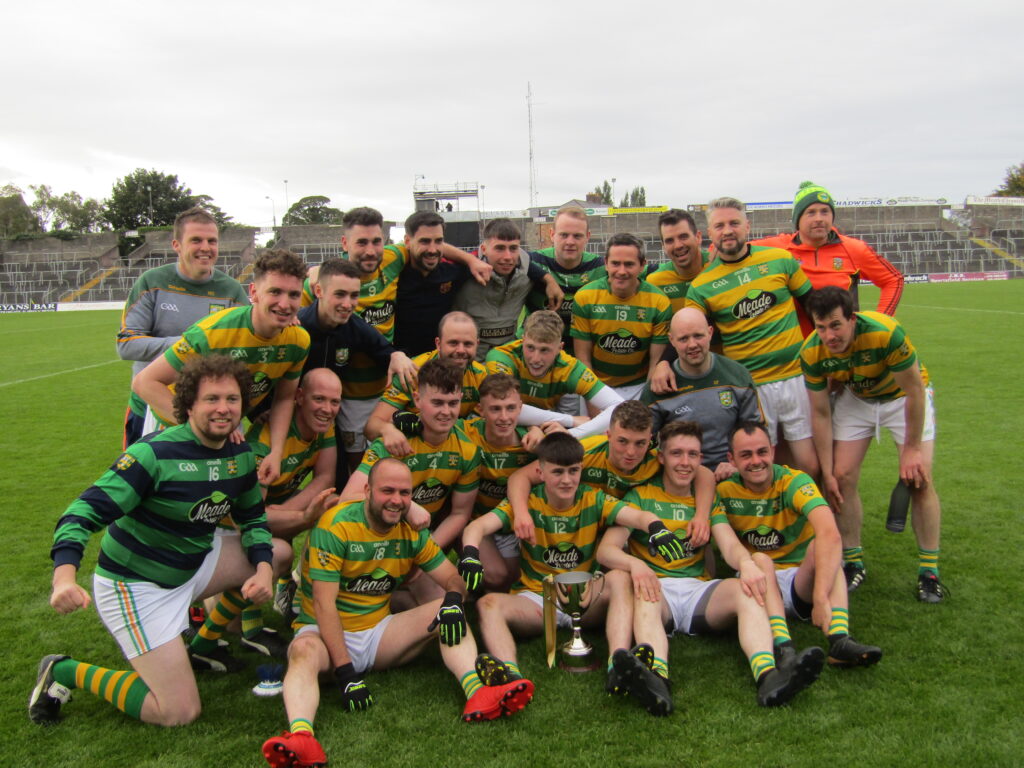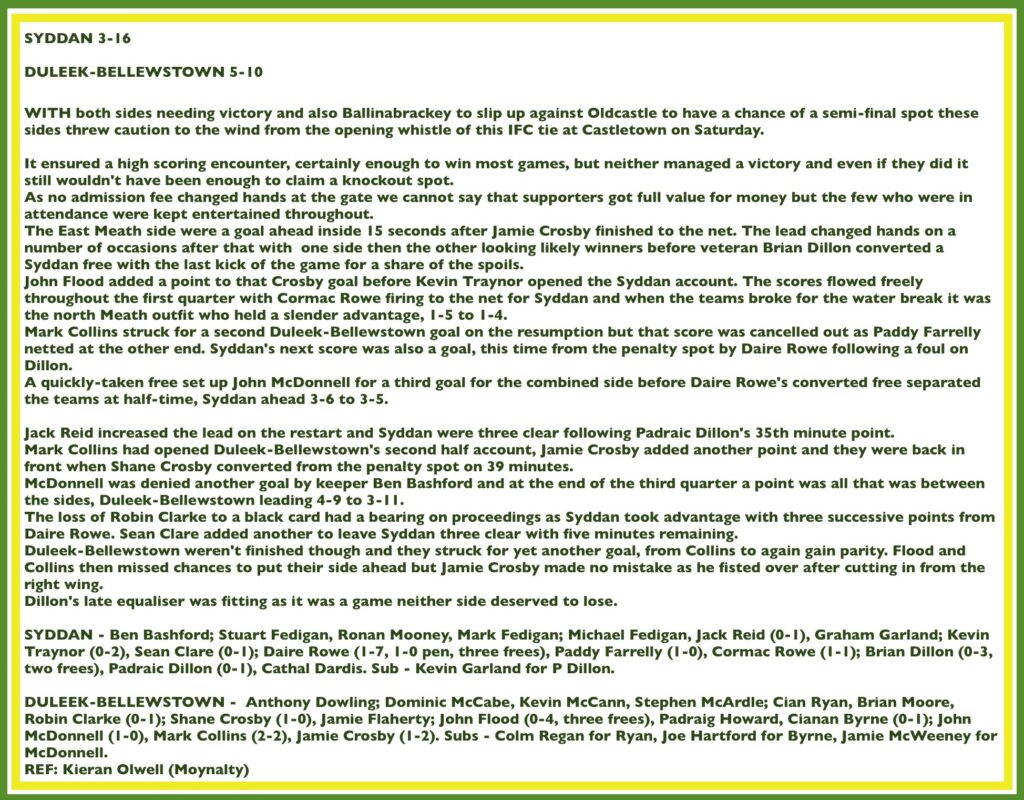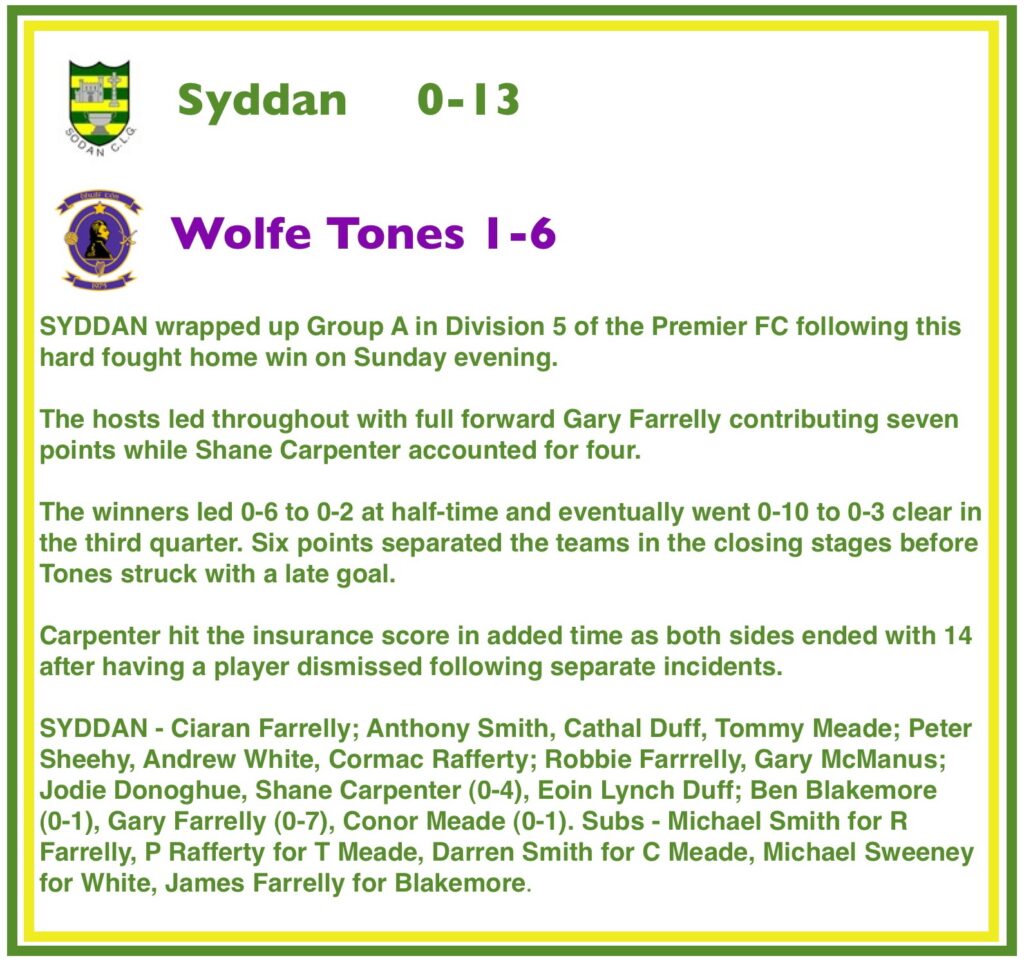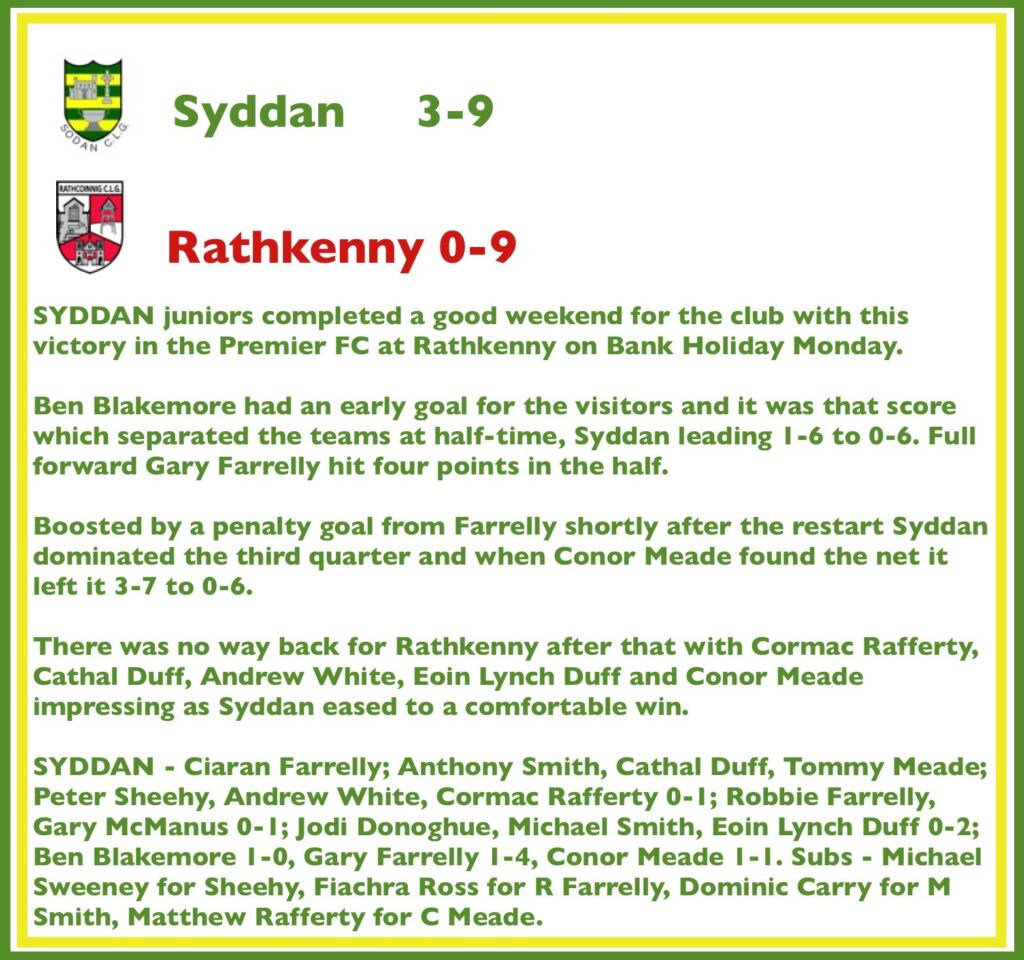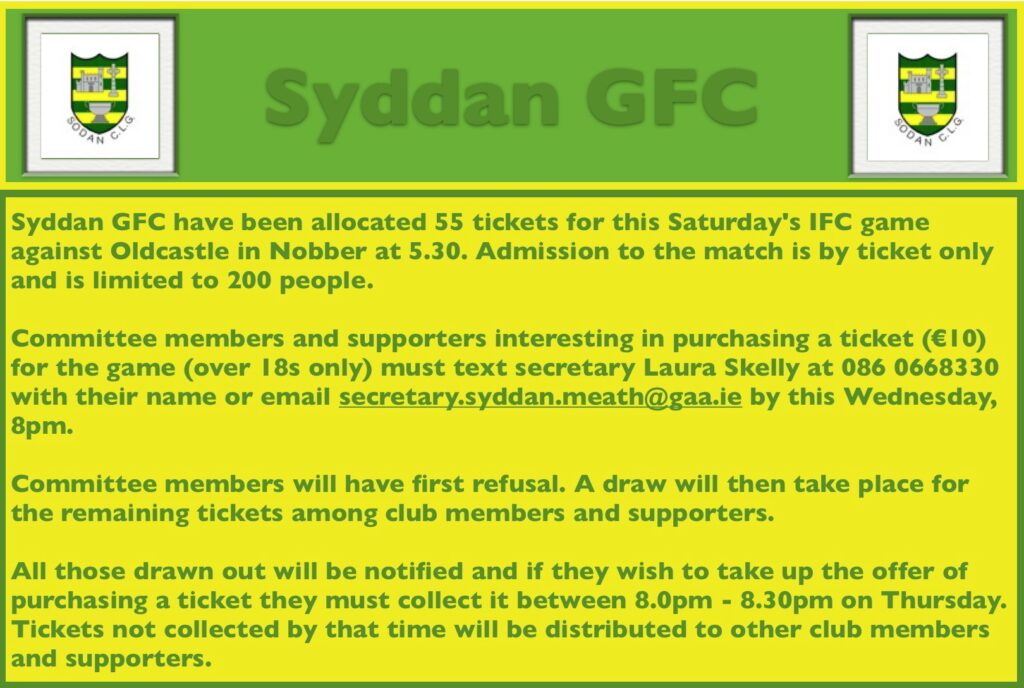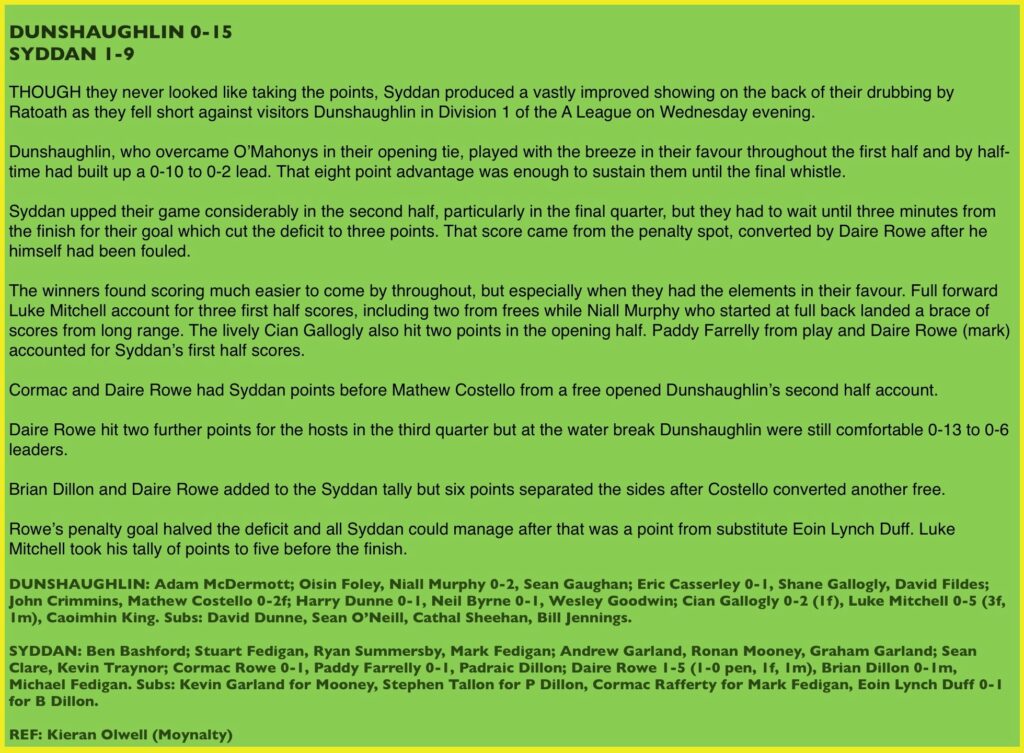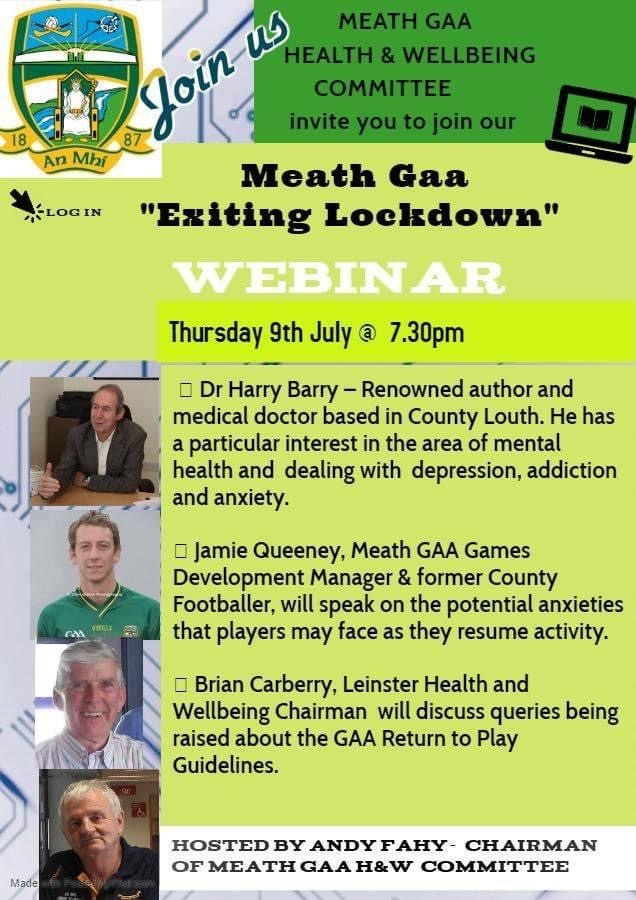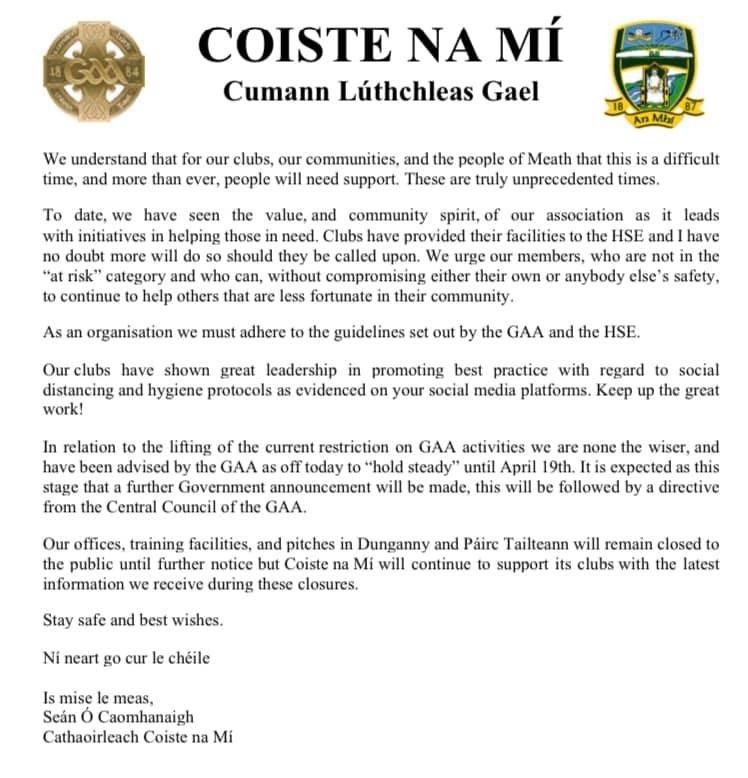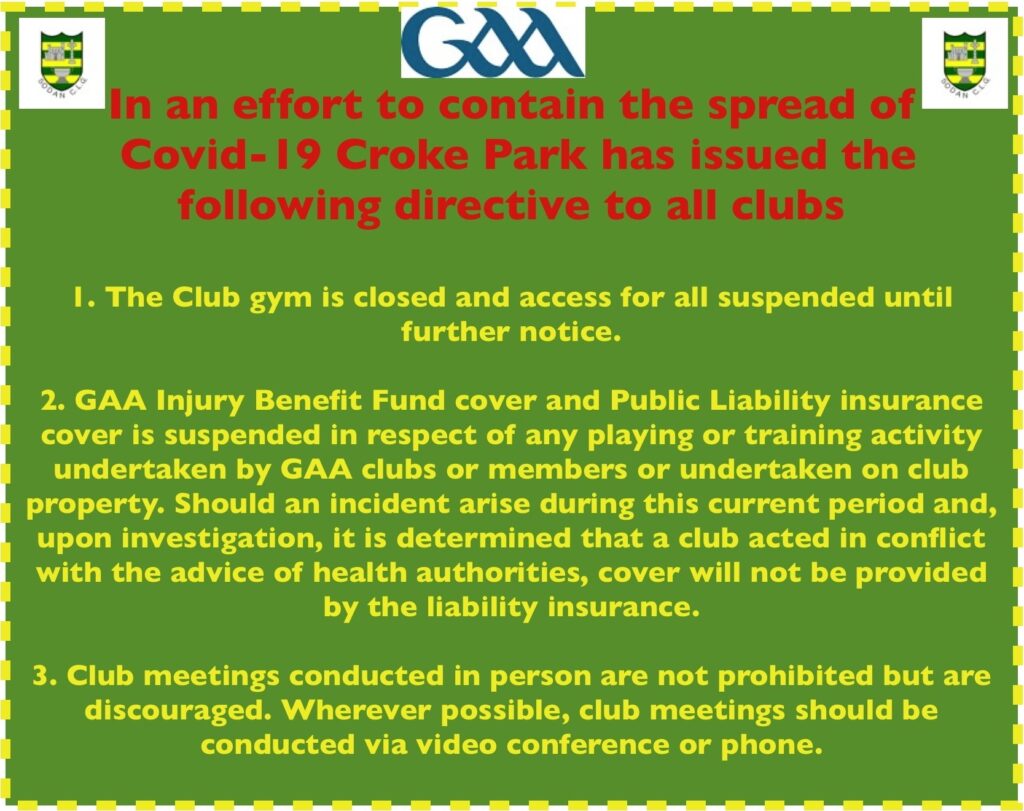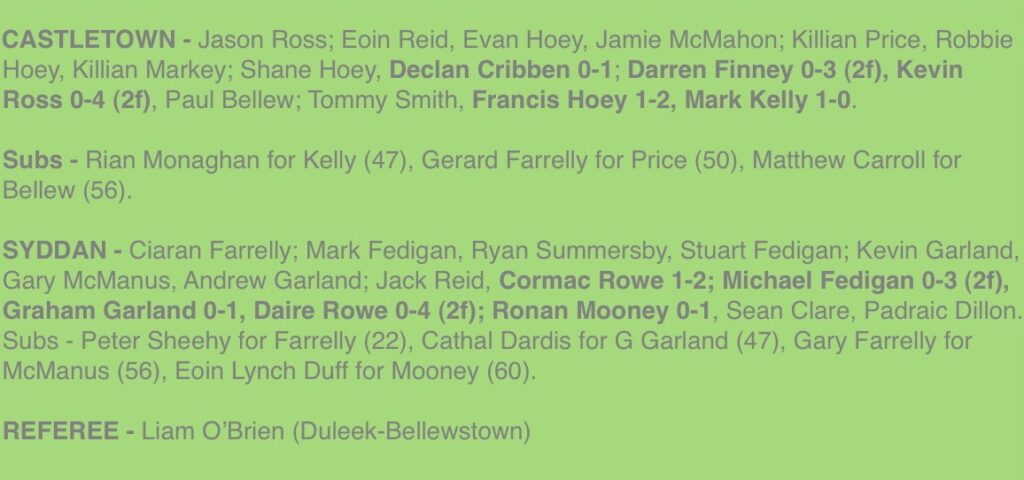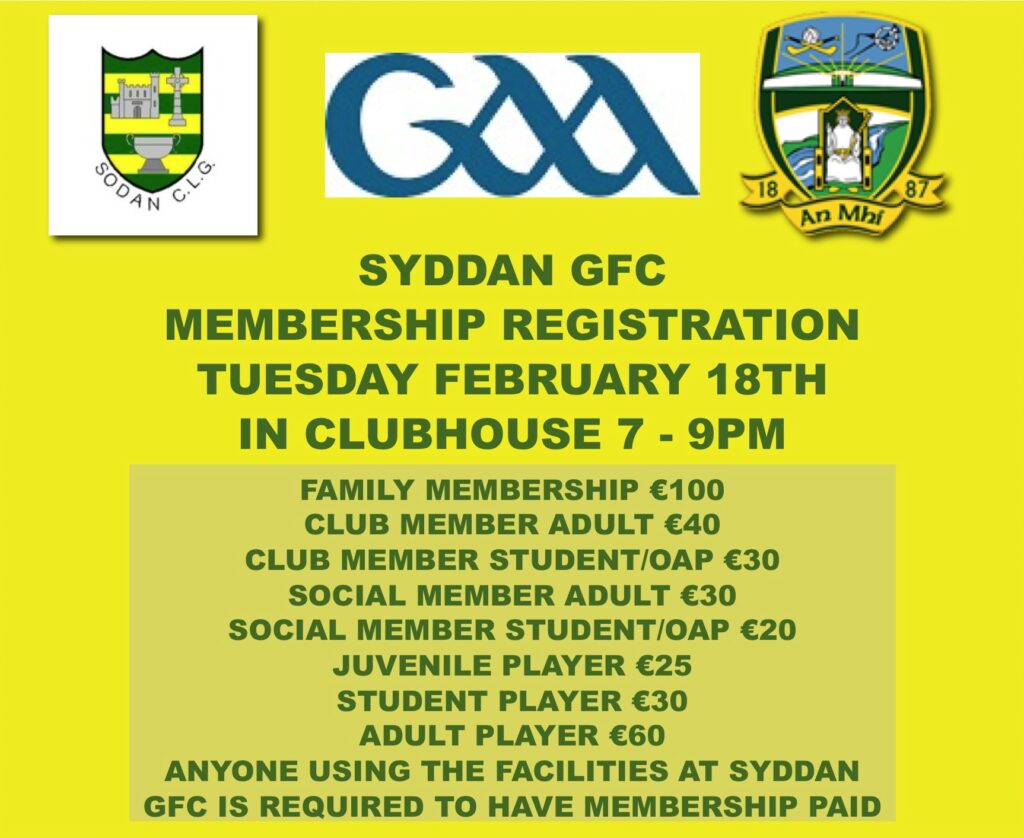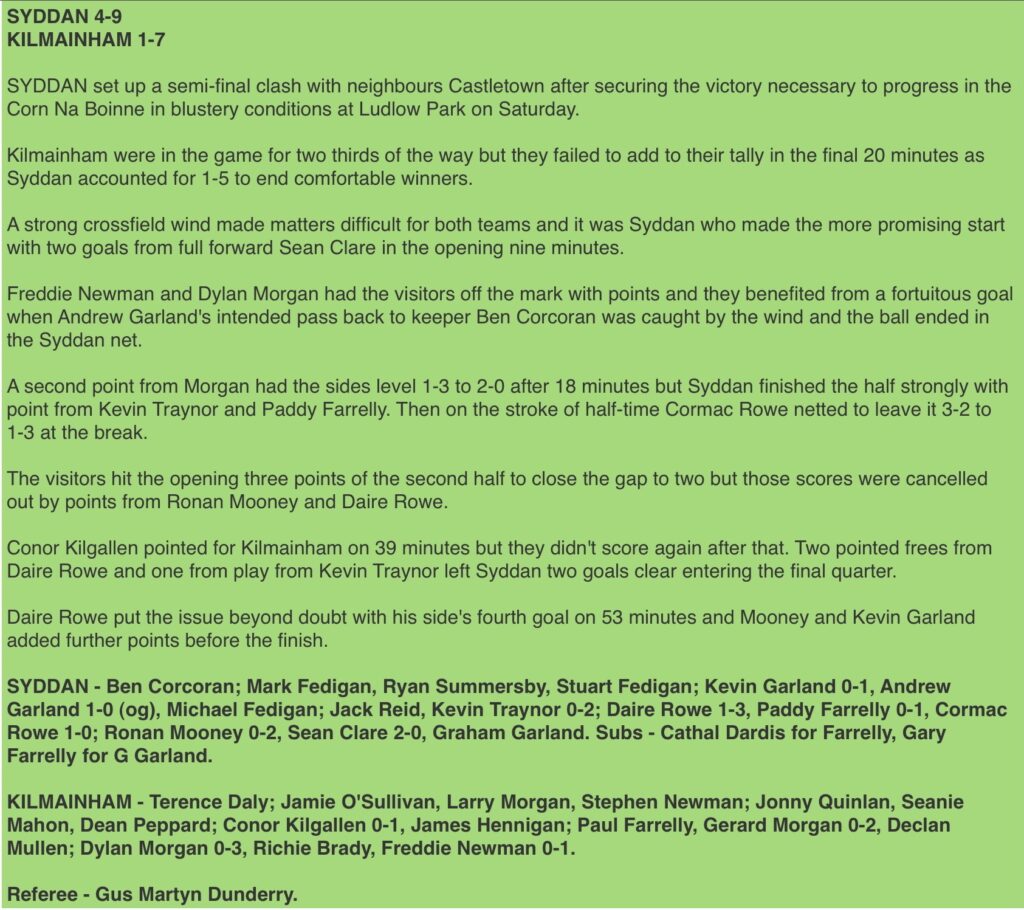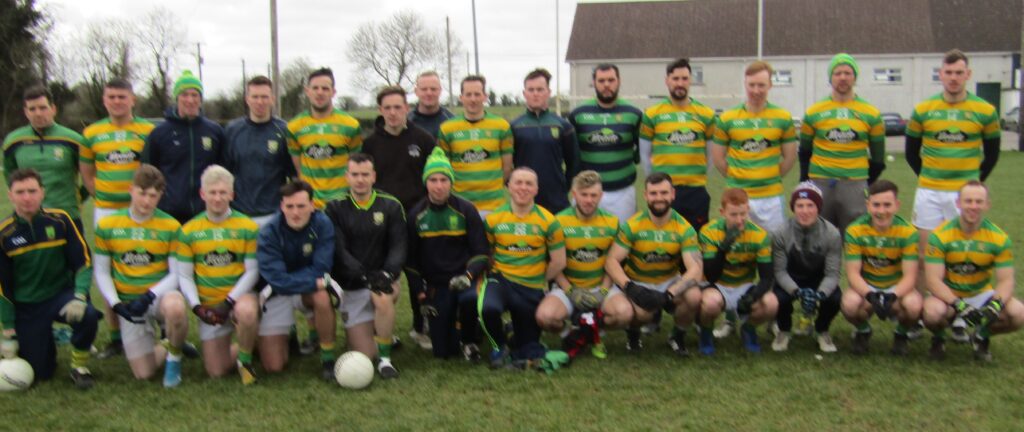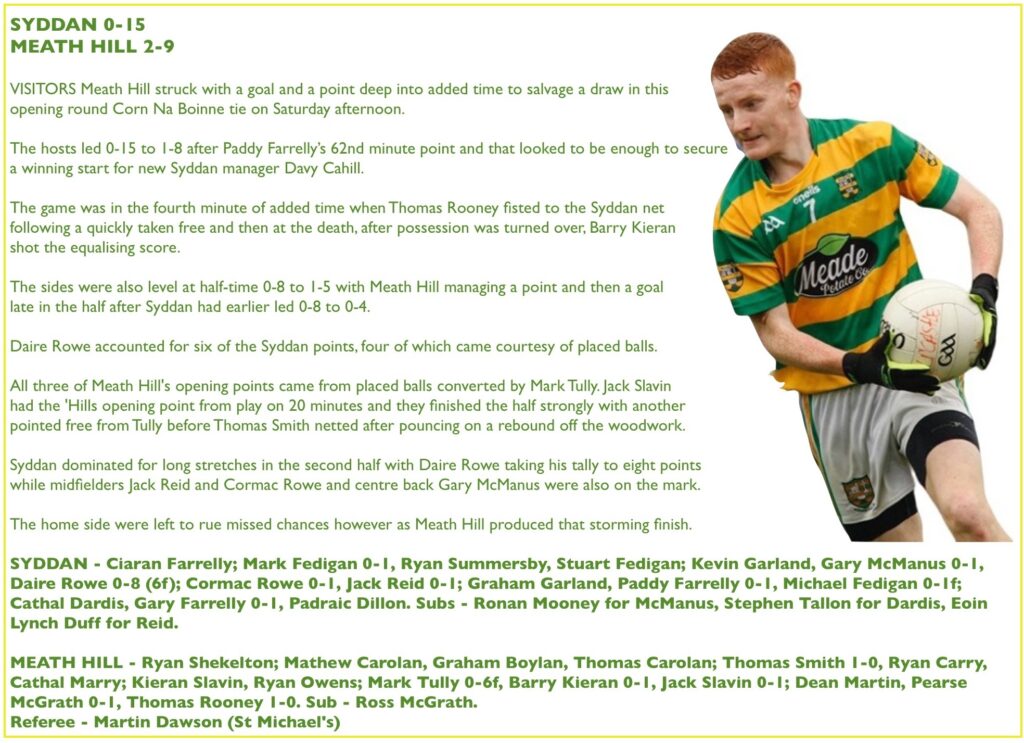 Syddan GFC AGM 2020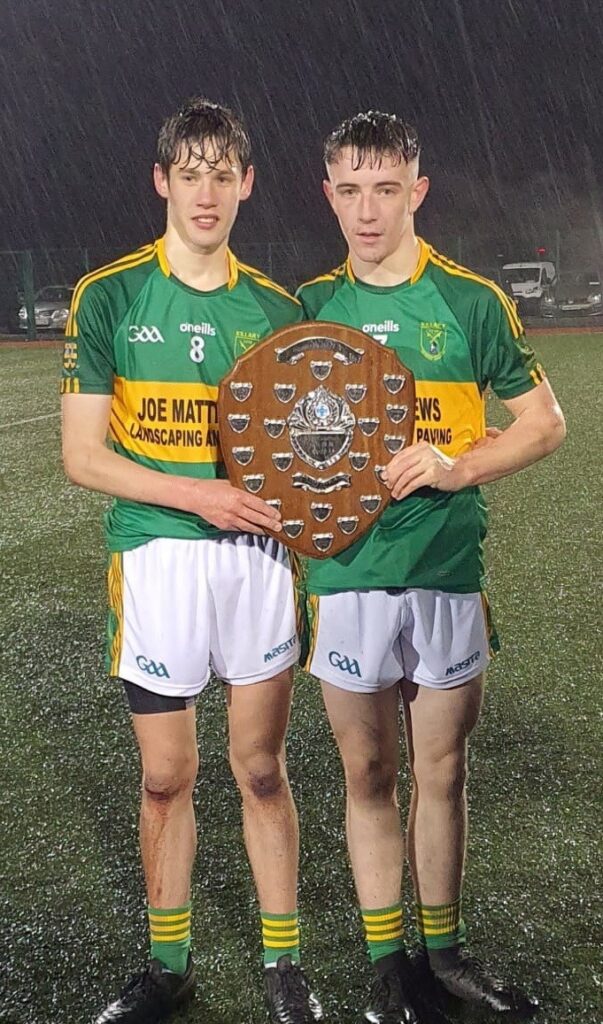 Under-15 FL Division 3 Final
KILLARY EMMETS 1-18
TRIM 4-5
GOALS usually win matches – but it didn't win this one – as Killary deservedly took the honours in this U-15 FL Division 3 decider at Dunganny on Friday evening.
The conditions were atrocious with incessant rain throughout but it didn't dampen Killary spirits as they recovered from the concession of three goals inside 16 minutes to lead by seven points entering the closing stages.
A Trim goal deep into added time left for a nervy finish but the Syddan/Castletown combination held out and Rian McConnell hit the insurance score from a free just before the final whistle.
Killary made a promising start with points from Killian Smyth and Darragh Kelly but by the time Rian McConnell accounted for their next point Trim had struck for two goals.
Both came from live-wire full forward Sean Foley who was virtually unstoppable in the early stages. Foley's third goal left it 3-1 to 0-5 for the town side but Trim only managed another point for the remainder of the half and by half-time Killary had forced their way back into the game and were on level terms 1-8 to 3-2.
It was McConnell who got Killary back on track with a goal on 21 minutes and Darragh Kelly (two) and Adam Matthews added points as the combined side finished the half strongly.
McConnell, who was unerring from frees throughout, hit the opening two points of the second half but Trim replied to regain parity by the 40th minute.
Ciaran O'Dea regained the lead for Killary on 41 minutes and that was the start of a dominant spell for the North Meath outfit.
Four points from Adam Matthews and two more from Darragh Kelly left Killary leading 1-17 to 3-4 by the 57th minute.
Substitute Darragh Heffernan pulled a point back and the game was deep into added time when Tadhg Carty blasted a close range free to the net.
Trim went all out for a match saving goal but the Killary defence held firm and victory was assured when McConnell converted a free with the last kick of the game.
After the match county minor secretary Brian Kelly presented the shield to joint captains Ciaran O'Dea and Mark Goslin.
KILLARY EMMETS – Shane Kelly; Cillian Oakes, Mark Goslin, Ewan Sheridan; Mark Young, Killian Smyth 0-1, Cormac Farrelly; Ciaran O'Dea 0-1, Rian McConnell 1-5 (0-5f); Darragh Kelly 0-5, John Gabrial Gomez, Jack Dowdall; Adam Matthews 0-6, Aaron Monaghan, James McKenna. Subs – Darren McMahon, Josh Faherty, Cormac Dardis, Bernard Doherty, Zak Bourne, Pearse Cassidy, Aaron Young, Corey Curtis, Keelan Sheerin.
TRIM – Caelum Casserly; Victor Barbu, Eoghan Ryan, Ronan McGinley; Sam Kennedy, Evan Collins 0-1, Dylan Coyle; Tadhg Carty 1-0f, Ian Byrne 0-1; Cian Geraghty, Max McGowan 0-1, Ethan Shiels; Aaron O'Sullivan, Sean Foley 3-1, Mark Jordan. Sub – Darragh Heffernan 0-1.
REF – Joe Synnott (Donaghmore/Ashbourne)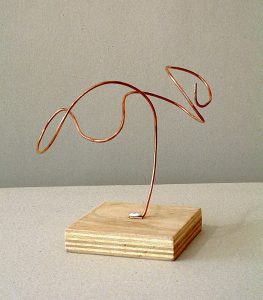 Aeroplane
Copper wire, wood base. I created this piece in late 2008. For this work, I aimed to convey both the industrial heaviness of an aeroplane, but also the cloud like floating quality you feel when you're in one.